Details

Created: Friday, 17 August 2018 03:49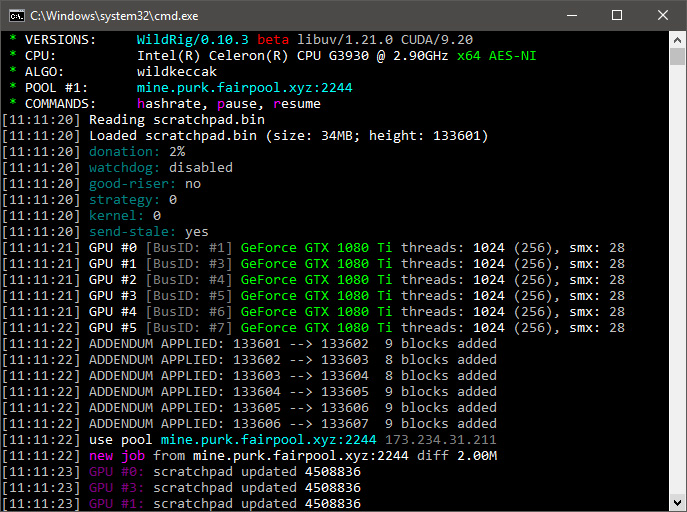 With the gradual replacement of video cards with improved devices on Asiq chips, the developers of Linux software increasingly began to pay attention to new or not popular algorithms for which there are not yet asik miners. One of the long-existing, but unpopular algorithms can be called Wild Keccak, on which there are only two crypto currency Boolberry (BBR) and PURK. For this, the Algo developed a new miner for AMD and Nvidia video cards called WildRig. In the current version of 0.10.3 WildRig offers slightly higher performance for Nvidia graphics cards than other competing products. For AMD graphics cards, the WildRig hash is comparable to other miners supporting this algorithm. The software presented has a closed source code and takes a commission of 2% of your hashed. You can download the miner on the official thread of the Bitcointalk forum, where developers offer compiled versions of the miner for Windows, Linux and HiveOS.
Details

Created: Friday, 17 August 2018 02:43

Read more: Asicminervalue.com - a handy calculator for asic miners
Details

Created: Saturday, 02 December 2017 12:52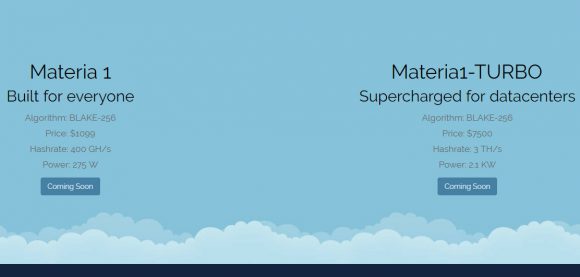 It seems that there is another company that is working on the creation of ASIC miners for the extraction of coins Decred (DCR). Therefore, the recently announced ASIC Obelisk DCR1, apparently there will be a competitor.
Details

Created: Saturday, 02 December 2017 12:47
HitBTC - is the first large exchange crypto-currency, which added support for deposits (address generation) and trading for Bitcoin Gold (BTG). At the HitBTC, pairs with Bitcoin (BTC), Ethereum (ETH) and USDT for Bitcoin Gold are now available.
Read more: Exchange HitBTC added support for deposits and trade Bitcoin Gold (BTG)
Details

Created: Saturday, 02 December 2017 12:43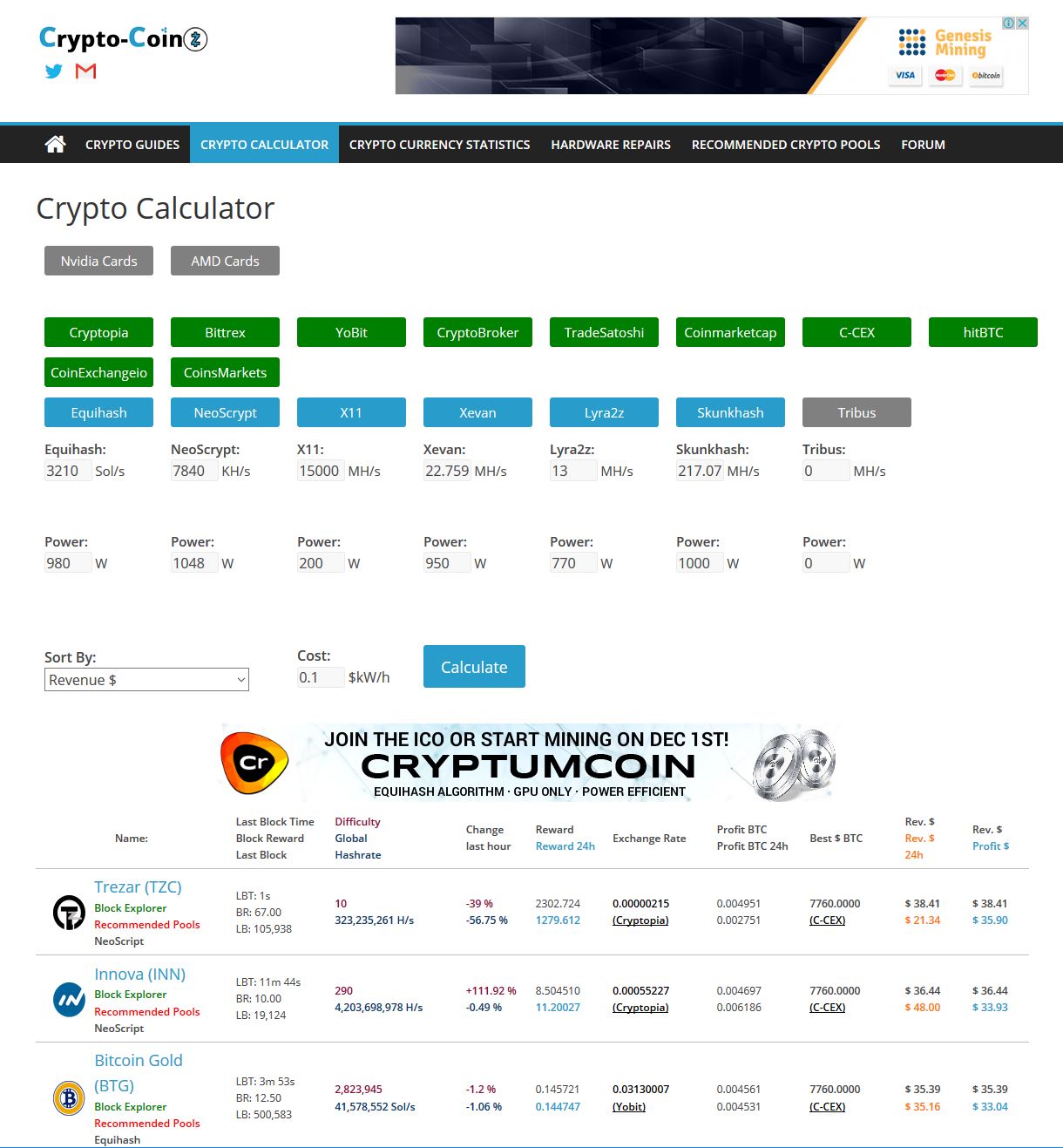 Crypto-CoinZ.net - is a new crypto-currency portal for miners and crypto-enthusiasts. The basis of this resource is the Mining Profit Calculator, similar to Profit-mine and WhatToMine resources. The Crypto-CoinZ.net calculator supports all altcoys based on the Equihash and NeoScrypt mining algorithms, as well as some coins on the algorithms X11, Xevan, Tribus, Lyra2Z and Scunkhash. Also, the calculator keeps calculating the profitability of mining for BitcoinGold (BTG), the new Bitcoin fork on the algorithm of Equihash.
Details

Created: Friday, 17 November 2017 10:12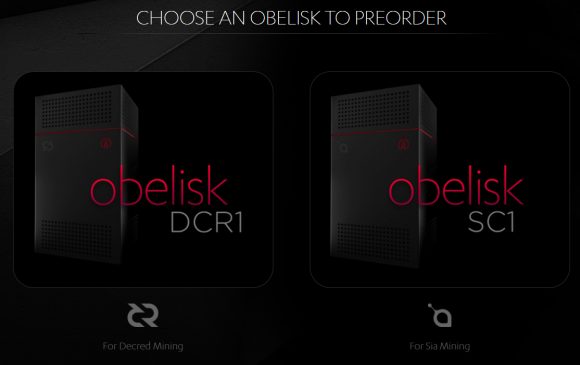 Perhaps you remember that back in June, Sia announced their plans to develop a specialized ASIC miner for SiaCoin mining called Obelisc SC1, capable of delivering a hash of about 300+ GH / sec on this algorithm with an energy consumption of less than 500 watts. Considering that in Decred a very similar mining algorithm is used, as in the mining of SC (SiaCoin), both these algorithms are variations of the Blake algorithm, the company also decided to develop and ASIC a miner for the mining of Decred. Obelisc DCR1 will show performance at 475 GH / sec at 500 watts of power consumption. Both these ASIC miners will be on sale at the same time.
Read more: Announced the first ASIC Miner for the mining of Decred (DCR) - Obelisk DCR1
Details

Created: Friday, 17 November 2017 10:05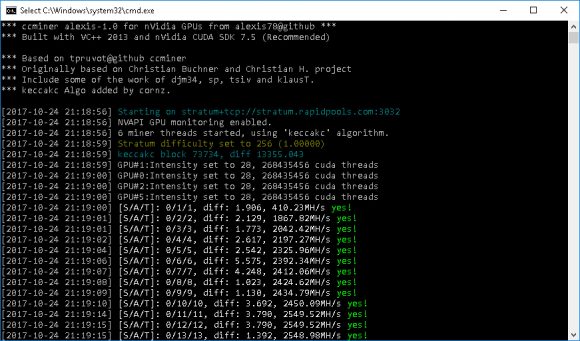 We present for your attention the fork ccMiner based on the alexis78 code, but with the support of the new KeccakC algorithm (source code), which is used to extract CreativeCoin (CREA).
Read more: NVidia ccMiner fork with KeccakC support for CreativeCoin mining (CREA)
Details

Created: Friday, 17 November 2017 09:59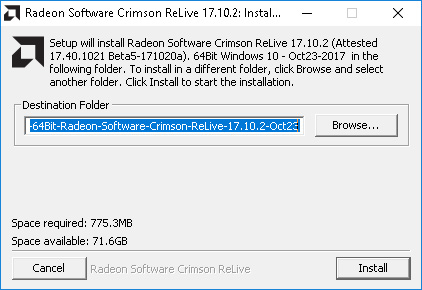 All new drivers, starting with AMD Radeon Software Crimson ReLive Edition 17.10.2 now support up to 12 GPUs on a single system running Windows 10. In addition, the new drivers now have the option GPU Workload.
Read more: AMD Radeon 17.10.2 drivers add support for up to 12 GPUs for Windows10
Details

Created: Friday, 17 November 2017 09:51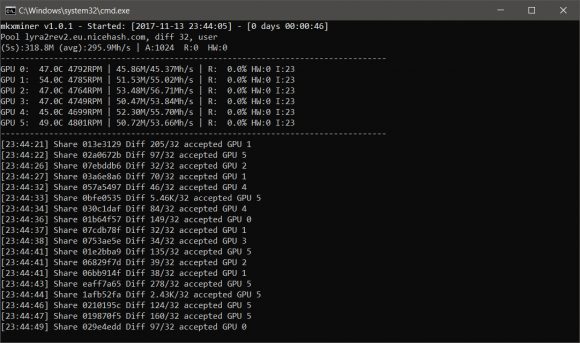 A new miner for Lyra2rev2 algorithm with closed source code, which works with video cards from AMD, was released. Miner Mkxminer should improve the performance of mining for AMD GPU owners, to the same level as the mining rigs based on NVidia graphics cards. Mkxminer is compatible with the latest AMD graphics processors, such as the Radeon 200 series or newer, including support for the latest Vega GPUs (Vega does not yet have ASM cores). For those GPUs for which the kit has ASM cores, the production performance will be really good.
Read more: Mkxminer - new optimized Lyra2rev2 miner with Asm core for AMD GPU
Details

Created: Monday, 13 November 2017 14:15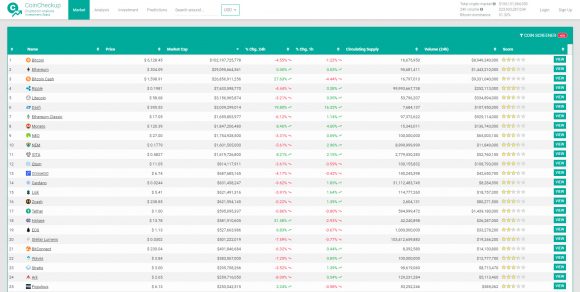 CoinCheckup - is an interesting website that will help you to better explore the various altcoins. The site contains much more data than just basic information about crypto-currencies and their current market capitalization. Currently, the site contains information about 430 different altcoins, with which you can get acquainted with their market capitalization, and in addition to get even more information due to a fundamental and investment analysis of coins. The website also publishes certain price forecasts based on market growth patterns, which can be useful, even if you are already familiar with a particular crypto currency. All information is available in a simple and minimalistic interface.
Read more: CoinCheckup - analysis of the Crypto-currency and investment statistics
Details

Created: Monday, 13 November 2017 14:12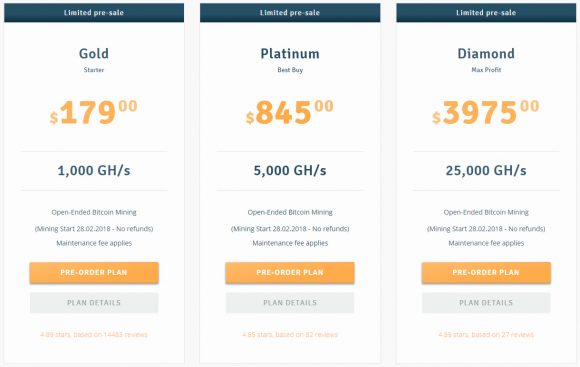 It seems that, due to the peak of the price and interest in Bitcoin, even the largest cloud-provider companies, such as Genesis-Mininng, have begun to experience difficulties in providing enough equipment to cover the ever-increasing demand for BTC cloud mining contracts. Genesis-Mining has launched a preliminary sale of Bitcoin mining contracts, which will be launched in about 3 and a half months, on February 28, 2018.
Read more: Genesis-Mining: limited pre-sale of contracts for cloud mining Bitcoin
Subcategories