New Miner Control Tool Pack for AMD and Nvidia GPU
Details

Created: Thursday, 28 May 2015 10:58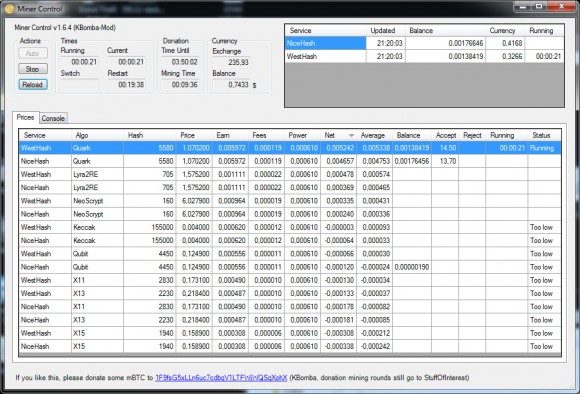 We have updated our package on the basis of Miner Control Tool for GPUs Nvidia GeForce GT 750 Ti and AMD Radeon R9 280x and including all official updates Miner Control Tool, which have occurred in recent years. The latest version of our package, which you can download via the link below, which includes the updated stratum servers NiceHash and WestHash. The new servers are already stratum full working in parallel with the old, but old will be disabled in the next month, so we recommend that as soon as possible to move to a new version of the stratum servers.
In addition, we have decided to remove support for the pool YAAMP, who never regained his job after a recent hack. If the service will restore its work in the future, we will refund its support in future versions Miner Control Tool Pack. This pack also includes the latest versions of ccMiner SP-mod graphics card Nvidia Maxwell and the new sgminer-fork with improved performance on algorithms Qubit and Quark complete with pre-compiled for the graphics card Radeon R9 280x binaries. We also removed support algorithm Whirlpool, since there is currently no "live" altkoins based on the algorithm of mining.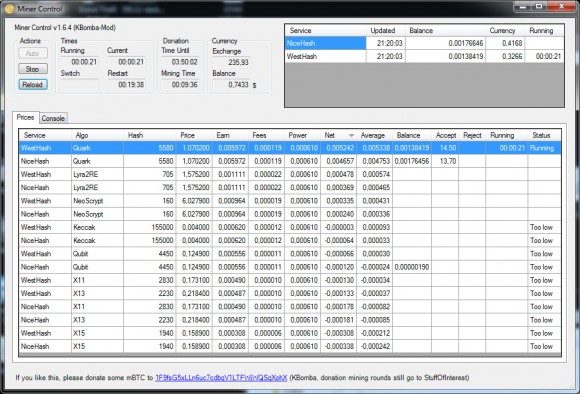 In order to use the Miner Control Tool Pack simply update your account for each pool by filling BTC address for payment for the mining. Note that the default setting is meant for mining application developer from time to time as an alternative to support the developer. If you do not like this fact, you can easily disable this option.
This package is ready to be used on video cards Nvidia GeForce GT 750 Ti or AMD Radeon R9 280x. If you are using a different video card, you will need to reflect its settings heshreyt and energy to properly calculate the profit cryptocurrency at Meiningen. Due to the fact that the miners are part of Miner Control Tool Pack, it is compiled to work with Nvidia GeForce GT 750 Ti and AMD Radeon R9 280x, you can get a little smaller heshreyt on other cards. Use core binaries for your video card to obtain the maximum performance of mining.
Download Miner Control 1.6.4 for AMD R9 280xDownload Miner Control 1.6.4 for Nvidia GTX 750Ti