Mintsy - public beta-test of cloud mining service from cryptsy creators
Details

Created: Sunday, 07 June 2015 10:58
Mintsy - cloud mining service and and lease of mining rigs for the developers of one of the oldest and largest Bitcoin forks exchanges Cryptsy, finally launched a public beta test of its service. Now you can buy contracts for cloud Bitcoin Mining and SHA-256 altkoinov, as well as rent or lease of mining rigs for altkoinov other algorithms, such as the X-11, Scrypt & nbsp; and the other, about the same as those provided in MiningRigRentals.
We decided to test the service and bought two minimum contract 100 Ghs/s for a period of 60 days for $ 19, paid a total of $ 38 for 60 days of 200 power Ghs/s. Upon Mintsy a successful blend of classic cloud service of mining, such as Genesis-Mining or BitcoinCloudServices and service rigs for lease of mining, such as MiningRigRentals, NiceHash, WestHash with easy integration with Exchange cryptocurrency Cryptsy.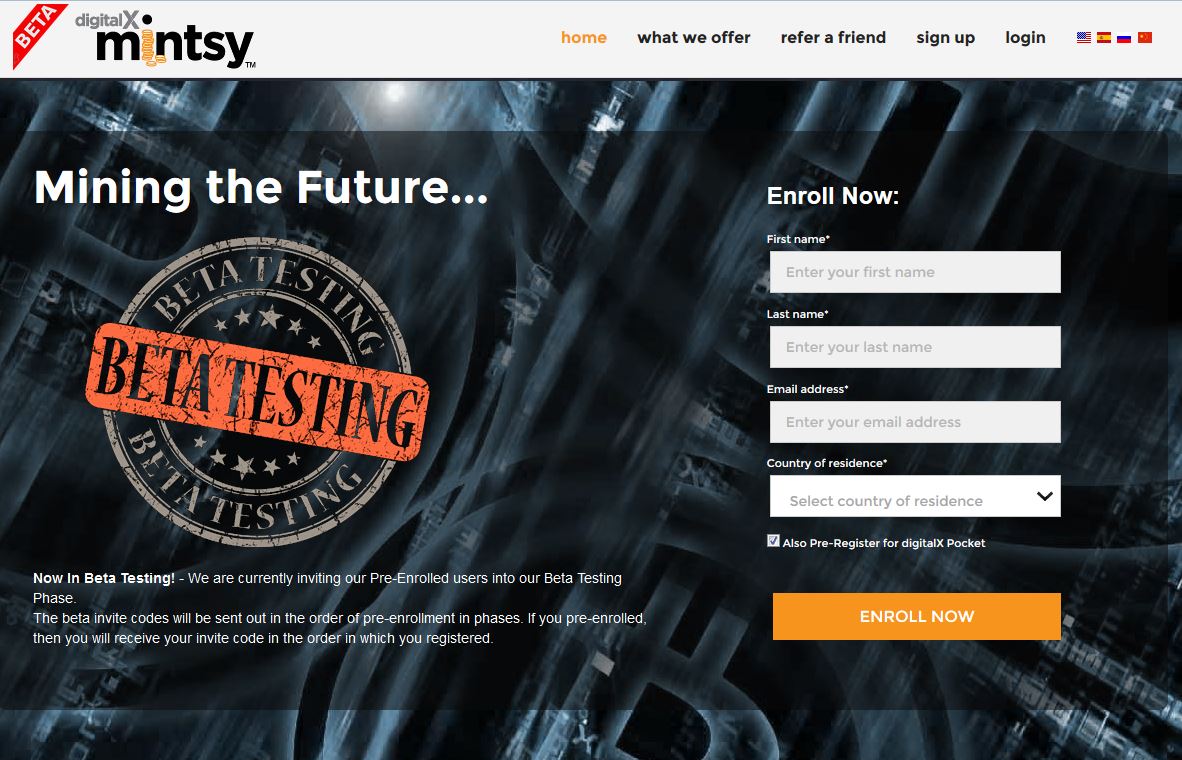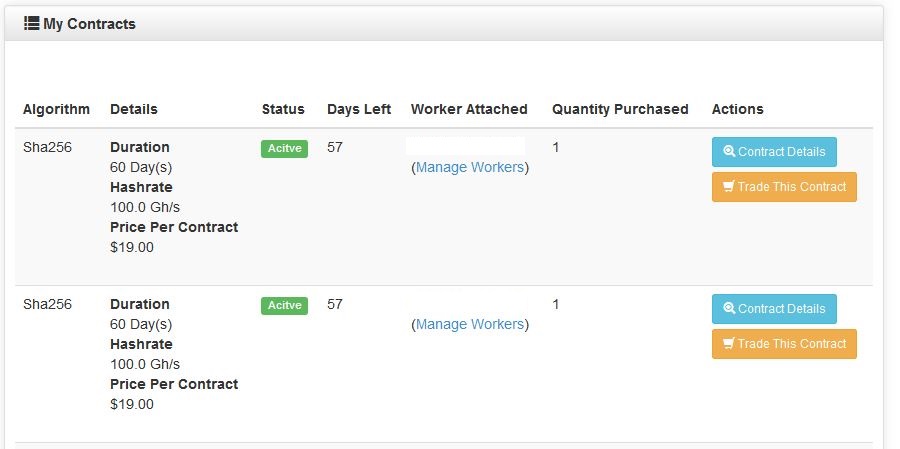 At first, the interface may seem overly complicated, but you will understand it easily with the built-Wizard-Assistant, which appears on the new tabs, and explains how to use the service. It may be noted that not all of the functional site still works, in addition, some sections, such as FAQ are still empty and will be available shortly. Another interesting feature of the service that in addition to the built-in Mintsy mining pools, service support any third-party pools. Just add your desired pool to the list of third-party pools, enter its IP-address or domain name, port, or cryptocurrency algorithm (to define the settings), worker`s name and password to it.

Thus, you can connect their power purchased for any large pools, and monitor mining. This approach confirms the reality of the equipment in the company and confirms the openness of its policies with respect to its customers.
On the main page shows real service heshreyt your workers` at the moment, and as you can see the history of hashrate.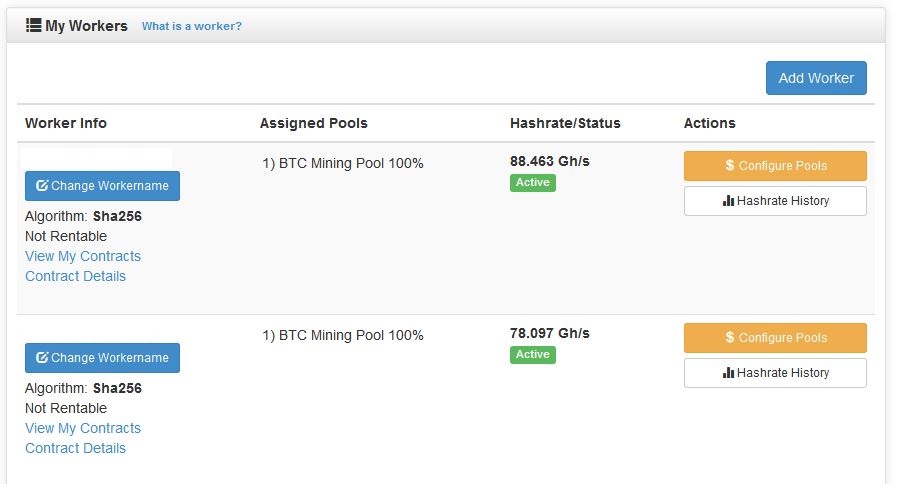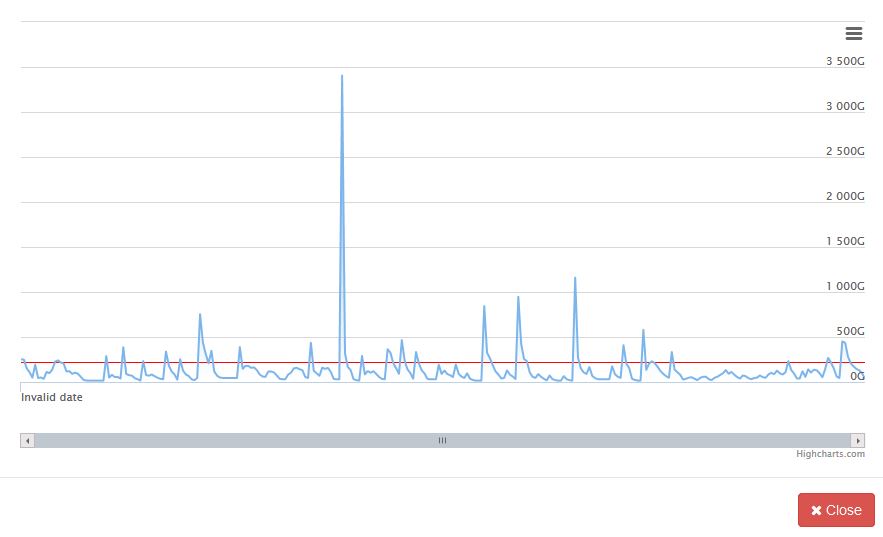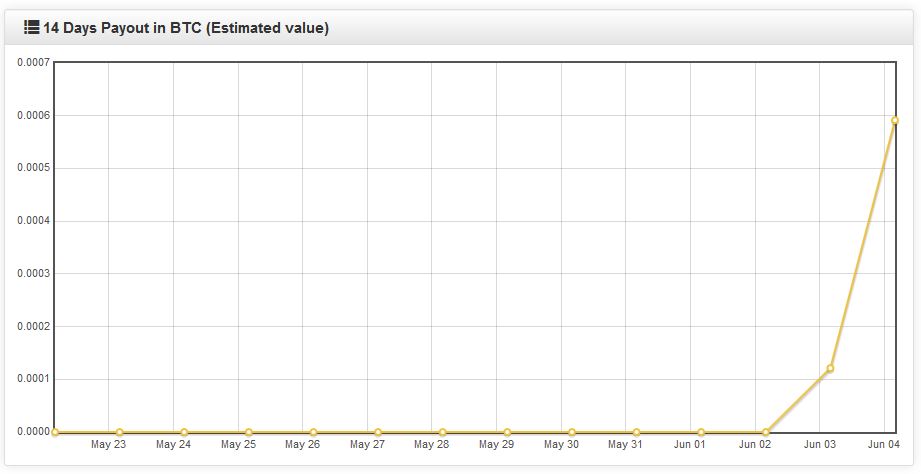 In addition, as mentioned above, Mintsy allows you to rent and lease their own rigs configured for various mining algorithms.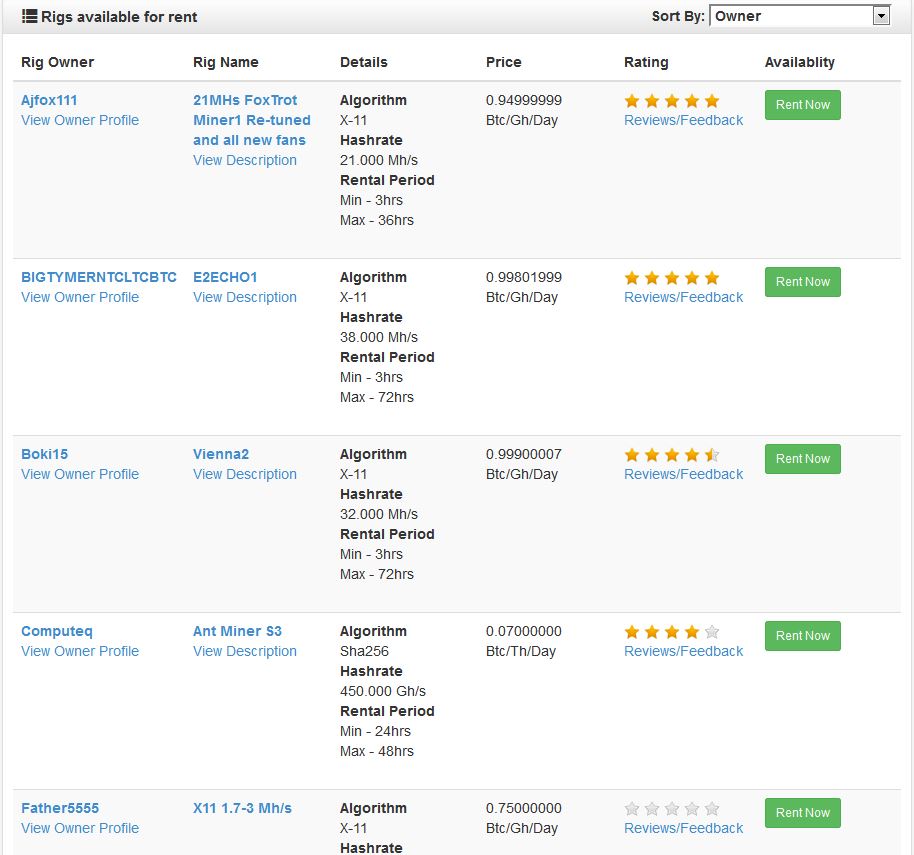 Mintsy cloud mining contracts:
Total service offers customers 5 types of contracts for SHA-256 hashrate:
| | | |
| --- | --- | --- |
| Hashrate: | Term: | Сontract price: |
| 100 Ghs/s | 30 days | 19$ |
| 250 Ghs/s | 3 months | 69$ |
| 250 Ghs/s | 6 months | 119$ |
| 2500 Ghs/s | 3 months | 599$ |
| 2500 Ghs/s | 6 months | 999$ |
As you can see, recently I changed the cheapest deal worth $ 19. When we bought it, its duration was 60 days, the duration is now the cheapest contract 100Ghs/s is reduced to 30 days. It is also worth noting that the price of the contract is already included management fee and electricity for the entire duration of the contract.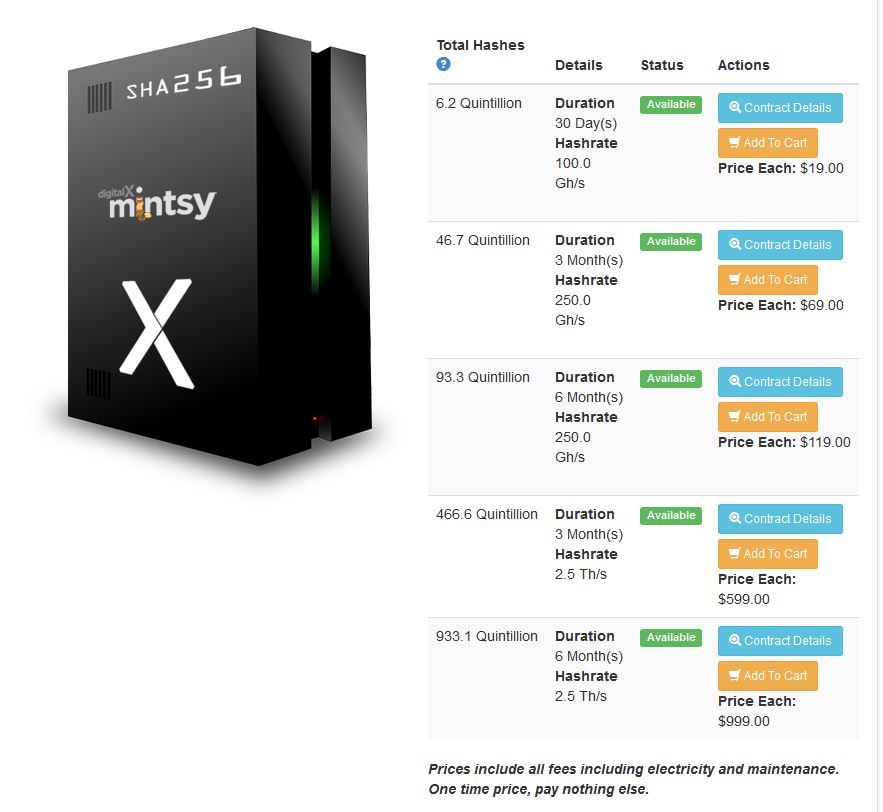 Calculation of profitable contracts with the same complexity of the network and aware of Bitcoin on June 5, 2015:
All calculations were performed with the difference of the network Bitcoin 47589591154 and the course BTC = $ 225.
| | | | |
| --- | --- | --- | --- |
| Contract: | Price: | Profit: | ROI: |
| 100 Ghs/s on 30 days | 19$ | 0.0315 BTC = 7.08$ | 37% |
| 250 Ghs/s on 3 months | 69$ | 0.242 BTC = 54,64$ | 79% |
| 250 Ghs/s on 6 months | 119$ | 0.484 BTC = 108,9$ | 91% |
| 2500 Ghs/s on 3 months | 599$ | 2.42 BTC = 544.5$ | 91% |
| 2500 Ghs/s on 6 months | 999$ | 4.84 BTC = 1089$ | 109% |
We sincerely surprised when they calculated the profitability of tariffs on mining from the cloud Mintsy, positive ROI can be achieved only with the last contract, with a net profit of 9%, and this on the condition that the rate will not fall below Bitcoin and complexity of the network will not grow. The remaining contracts are frankly unfavorable. The only reason for buying contacts remains a serious belief in the future growth of Bitcoin. However, unlike most other services cloud Mining - this service can be trusted completely, since, firstly, its creators have developed a major stock exchange which has been running for several years, and secondly, due to the open circuit of the service, you can be sure of the real presence of equipment . In general, you get to decide whether to believe in the future of Bitcoin mine in zero or at a loss to wait for take-off course. We decided to buy 200 Ghs/s and we will monitor the service and monitor payments.
Go to site MintsyAn other cloud mining services