List of the largest Bitcoin mining pools
Details

Created: Monday, 08 June 2015 08:35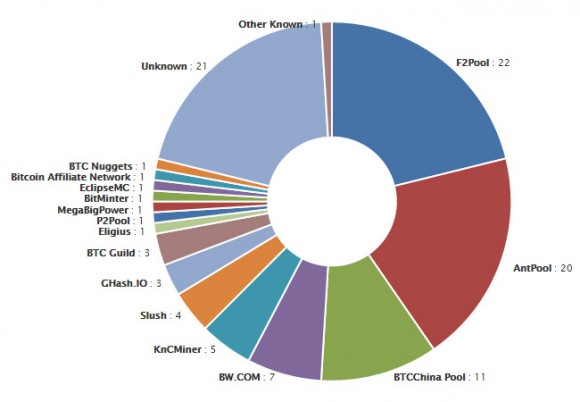 In this article, we present a list of the biggest at the moment of mining pools for cryptocurrency Bitcoin.
The schedule, which you will see below reflects the distribution of the world among the top heshreyta Bitcoin mining pools in accordance with the data Blockchain. It may not be 100% accurate, but give you an idea about the market situation and trends. schedule clearly shows that 50% of the power is concentrated in the network Bitcoin 4 main largest pools: F2Pool, AntPool, BTCChina, BW.com. All of this major Chinese pools, although some users from around the world and extract Bitcoin to them. Most likely, such a distribution is due to the fact that most major Asian mining companies and equipment manufacturers use these pools for mining Bitcoin. The situation with the previously fairly large European and American pools are not so favorable in Asia. This is most likely due to the fact that Bitcoin mining is becoming less attractive for private clients and moving toward large-scale industrial of mining.
We could not draw your attention that the pool KnCMiner currently has 5% of the total capacity of the network Bitcoin, and this is obviously the fifth largest Bitcoin pool. What is important is the fact that the pool is not open to all comers. In fact it is a private pool of KnC Miner, which the company produces Bitcoin for themselves. KnC Miner no longer sells the equipment to end-users and other large mining companies. Currently KnC Miner positions itself "Technology provider of transaction processing Bitcoin", rather than just a manufacturer of mining equipment for. We remind you that KnC Miner recently announced the construction of data centers to deploy their new devices Meiningen built on chips at 16 nm technological standards. This means that KnC Miner will continue to strengthen its capacity for the extraction of Bitcoin. At the moment, they have developed the fastest and most energy-efficient ASIC chip, which will be used only for yourself.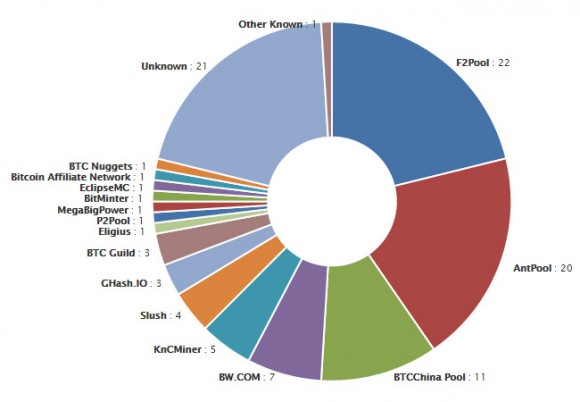 Top-8 Bitcoin pools:
F2Pool.
AntPool.
BtcChina.
BW.com.
KnC Miner.
Slush.
GHash.io.
BTC Guild.