Testing of the new AMD Radeon R9 Fury X in cryptocurrency mining
Details

Created: Friday, 03 July 2015 08:52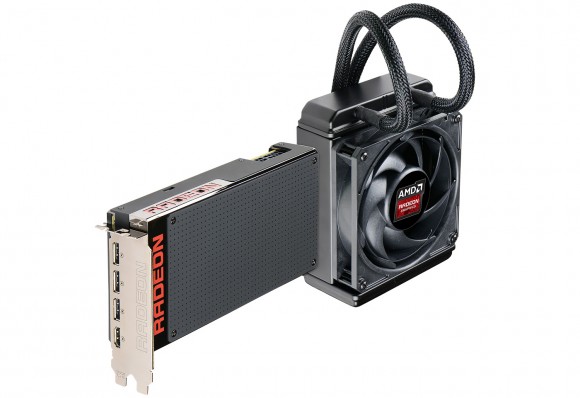 The last high-end GPU from AMD, namely the Radeon R9 Fury X, who recently appeared on the shelves and that provides adequate competition Nvidia Geforce GTX 980, has been tested by us in Meiningen cryptocurrency.
The main advantages of the new GPU, compared with previous products - is to use a new high-speed memory HBM and water cooling system that makes video cards based on this GPU silent and cold. From this video as a cold Fury X one would expect a high overclocking potential, but it was not so, at least not in the first samples of video cards sold. We barely managed to raise the GPU frequency up to 75 MHz, except at the moment there is no possibility to overclock the video memory HBM.
We decided to test the AMD Radeon R9 Fury X in Meiningen on the most popular algorithms. To test the latest version has been used sgminer optimized binaries for some algorithms such as Quark and Qubit. Keep in mind that while there are no specially compiled for the new chip .bin files that can significantly increase the performance of mining. We used bins and setting known to us for testing video cards of series 280 and 290.
Test results AMD Fury X:
| Algorithm: | Kernel: | Hashrate: |
| --- | --- | --- |
| X11 | default | 6.6778 MHS |
| X11 | Wolf0 Mod | 8.123 MHS |
| X13 | default | 5.614 MHS |
| X13 | Wolf0 Mod | 7.176 MHS |
| X15 | default | 4.69 MHS |
| X15 | Wolf0 Mod | 6.335 MHS |
| Quark | modified | 22.37 MHS |
| Qubit | modified | 21.15 MHS |
| Neoscrypt | default | 147 KHS |
| Lyra2RE | default | 287 KHS |
| Lyra2RE | Pallas Mod | 450 KHS |
as you can see according to the table above, the results of testing at the moment somewhat disappointing but of mining with the use of the modified core algorithms for Quark and Qubit, in which the results are really good, and achieve performance Geforce GTX 980 Ti. In other algorithms poor results can be explained by the unknown optimal settings for the new chip and are currently unavailable cores optimized specifically for this GPU.