GHPEX Hash Card: Hash More, Earn More!
Details

Created: Friday, 18 June 2021 00:59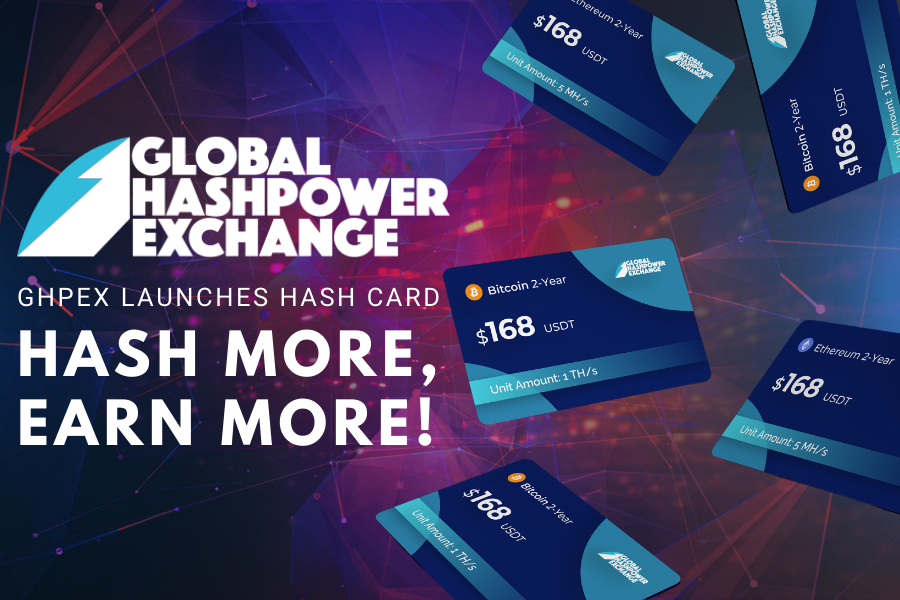 Cloud mining empowered millions of people with the opportunity to profit from mining cryptocurrency without the requirement of a high initial investment of advanced technical knowledge. GHPEX revolutionized crypto-trading by enabling people to easily purchase hashing power on a dedicated hashpower exchange. Now it's time for the next step in the evolution of cloud mining: the GHPEX Hash Card.
GHPEX: Hash More, Earn More!
GHPEX (Global Hashpower Exchange) is the world's leading hashpower exchange. Hashpower exchanges like GHPEX are similar to traditional crypto exchanges such as Binance or Coinbase, but instead of allowing you to buy different coins and tokens, they enable you to go straight to the source and directly invest in the hashing power used to mine these cryptocurrencies.
In other words, GHPEX gives you the ability to eliminate the middleman and increase your profit. Why buy coins and tokens from the miners if you can buy hashing power and share a part of the income that crypto miners make?
GHPEX Hash Card: The Easiest Way to Buy Cloud Mining Contracts
Originally, GHPEX allowed the users to purchase hashing power futures. In other words, GHPEX completely revolutionized cloud mining by empowering people with a way to invest in hashpower as if it was any other commodity, including the ability to trade hashing power while utilizing leverage. 
But what if there was an even easier way to invest in Bitcoin and Ethereum hashpower?
GHPEX Hash Card is the easiest, most accessible and most transparent way of investing in Bitcoin and Ethereum hashing power. You don't have to worry about price volatility and the changing profitability of crypto mining - you know exactly what you pay for.
"As part of our growth strategy, we are thrilled to announce the launch of our BTC and ETH Hash Cards mining plans. This new product marks the beginning of a new stage as we aim for GHPEX to become a trading platform that delivers an exceptional experience to our customers", says Eno Chen, CEO of Global Hashpower Exchange. "Our Hash Cards will make mining crypto secure and accessible for all crypto-enthusiasts and common users."
Investing in hashpower with a GHPEX Hash Card is very simple. All you have to do is choose whether you want to purchase the hashing power of Bitcoin or Ethereum, and whether you prefer to buy a 1-month or 2-year plan.
How to Use the GHPEX Hash Card?
Investing in hashing power with a GHPEX Hash Card is much easier than purchasing hashpower futures. It allows you to start profiting from Bitcoin or Ethereum hashpower in just 3 simple steps:
1.   Sign-up
Register a GHPEX account - creating an account on a hashpower exchange is just as easy as registering an account on a traditional crypto exchange.
2.   Choose a plan
Pick between Bitcoin and Ethereum hashpower, and decide whether you want to purchase a 1-month or a 2-year plan. GHPEX is a flexible platform and enables you to invest in a cloud mining contract which suits you best.
3.   Buy a Hash Card
Finalize the transaction and start earning with cloud mining right away. Investing in hashing power was never easier!
Want to Know more?
In the future, GHPEX will release more contracts and expand the platform to offer more crypto-related products. If you want to stay updated with the most recent developments in cloud mining and hashpower investing, visit the GHPEX website!
Advertising