SNAP Token Public Sale 100% Sold, IEO Closes Successfully
Details

Created: Wednesday, 22 December 2021 00:38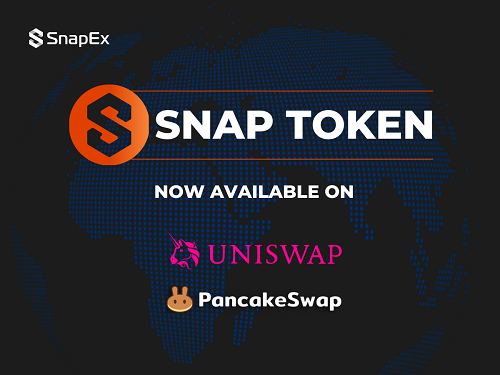 The SNAP token public sale closed successfully at 9:00pm (GMT+8) on Tuesday 14th December. All token allocations for private sale, public sale, and launchpads were fully sold.
Issued by SnapEx, a game-changing crypto derivatives platform, the SNAP Token IEO began with a private sale exclusively for SnapEx users on Friday 3rd December, followed by a public sale the next day on Saturday 4th December.
The SNAP token private sale quickly sold out within 1 hour and 43 minutes, with thousands of old and new SnapEx users grabbing tokens priced at $0.02.
Through its network of partners, SNAP Tokens were also issued and sold out on multiple launchpads, namely Daostarter, BSCLaunch, Roseon, KrystalGo, and Polkabridge.
"The level of support received from the community has been nothing short overwhelming. With the purpose of the token being to support the ecosystem that we are building at SnapEx, having this community backing means that we are in the perfect position to deliver world-leading products to the global market and expand our reach internationally as we integrate social trading, stocks, NFTs, and much more into our platform," says Cathal Donnellan, CEO of SnapEx.
Leading up to the successful completion of SNAP Token private and public sales, SnapEx secured up to 37 strategic partnerships spanning multiple regions across the crypto space. Through this effort, SnapEx has not only joined forces with leading names in crypto but also seen a strong 131% growth in the SnapEx community.
What's next for SnapEx
While there are talk of listings in multiple established exchanges, SnapEx have yet to confirm details pertaining to this matter. However, investors and traders can now trade SNAP on Uniswap and PancakeSwap.
SnapEx has also released a teaser video on an upcoming NFT launch, as also shown in their roadmap - expected to be officially launched in January 2022.
The next product releases for SnapEx seems like it will be nothing short of jam-packed. These includes:
SNAP NFT Drop
SNAP Swag Pack Release
World Trading Grand Prix - a global trading competition
SnapQuant and SnapSocial - quant trading and copy trading functionalities
New Trading Products - CBBCs, warrants, indexes, and prediction tokens
Crypto Options
From a simple contract trading platform, SnapEx is rapidly transforming into a one-of-a-kind crypto derivatives trading platform.
About SnapEx
SnapEx is a fast-evolving derivatives trading platform providing crypto derivatives trading to the retail and institutional markets.
Founded in 2018, SnapEx has since been funded by some of the world's leading Venture Capital organizations, setting the stage for SnapEx to scale and grow even further, with presence in Southeast Asia, the Middle East, and Europe.
SnapEx is set to become the only crypto derivatives platform to provide both an Ecosystem and a Platform Token to its audience.
Serving over 200,000 registered users, SnapEx will be offering an all-in-one suite of both CEX and DeFi, staking functionalities, licensed crypto stocks, quant and copy trading, options trading, and more.
The aim of SnapEx has been the same since day one - to bridge the gap between traditional and digital finance and encourage the mass adoption of cryptocurrency globally.
Advertisement