Bminer 16.1.0 with support for BFC and Cuckatoo32 algorithms
Details

Created: Sunday, 12 April 2020 04:14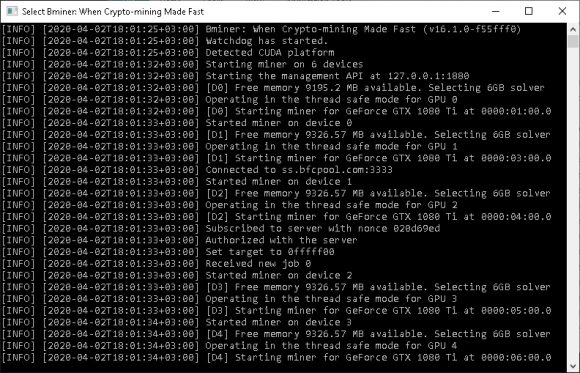 It has been quite a while since we talked about new versions of Bminer, therefore, we note that a new Bminer 16.1.0 has appeared in which support for the BFC and Cuckatoo32 algorithms has been added, and in addition, production errors on the Cuckaroo29m algorithm have been fixed, and there has also been Improved stability of mining ETH. The main reason that we decided to mention Bminer is the fact that many users encounter a problem when using this software for mining under the Windows operating system. Unfortunately, the developers have not yet fixed this annoying bug, but there is a way that will help users avoid this problem and not wait until the developers deal with it.
 If you see the error message "Failed to initialize the CUDA platform: CudaError: Could not initialize the NVML library" when you start Bminer, you should be aware that this is not a problem with your hardware , the whole snag is in Bminer. The reason is that in the new Nvidia GPU drivers, the nvml.dll library that the miner uses has been moved. And Bminer cannot find this file itself. Therefore, even if you copy this file to the miner folder, the error will still not be resolved.
If you use one of the latest Nvidia GPU drivers, you will have to copy the nvml.dll file from the "\Windows\System32\"folder to the"\Program Files\NVIDIA Corporation\NVSMI\" folder, keep in mind that you will have to manually create the "NVSM folder " Do not move, just copy this file, as otherwise other programs may stop working properly. After this procedure, Bminer should work fine.
Recall that Bminer is a closed source software for mining cryptocurrencies on video cards from Nvidia, available for Windows and Linux as executable files. For the extraction of Grin, Beam, Bytom Equihash, Zhash coins, a developer commission of 2% is charged, for Ethash 0.65%, and for double mining Ethash + Blake 1.3%. Download the latest version of Bminer 16.1.0 at this link.