ZANO mining using the new ProgPoWZ algorithm
Details

Created: Thursday, 23 April 2020 06:17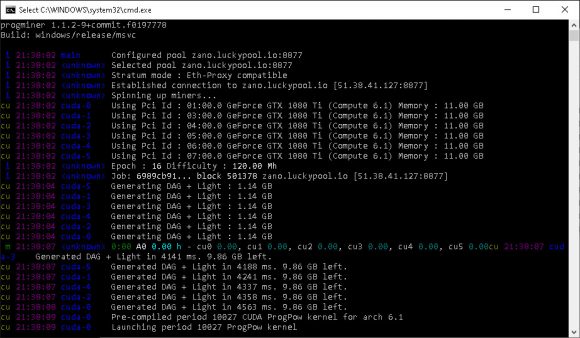 The crypto project Zano (ZANO) is a relatively new project launched last year. Zano - This is a hybrid coin (PoW / PoS) designed for e-commerce applications with a block reward of 1 ZANO. The project was launched with the exchange of coins with Boolberry (BRR) at the rate of 1 to 1, however ZANO is best known for being the first project that is mined using the new ProgPoWZ algorithm (based on the usual ProgPoW) and at the moment it is the only coin on this algorithm. Despite the fact that ZANO is one of the earliest projects for the new ProgPoWZ algorithm, it seems it has not aroused much interest among users yet. Our attention was drawn to the fact that ZANO was recently added to Profit-Mine.com, and now you can easily track the profitability of mining for this coin, although at the moment the coin is not in the top of the most profitable for mining.
ZANO can be mined using the central processor CPU (although at the moment this is almost pointless) or mined using AMD OpenCL or Nvidia CUDA GPUs, and in addition, the new algorithm is already available on the mining capacity rental service MiningRigRentals, where you can rent hashrate for mining ZANO or lease your hashrate to other users.
A fork of the Progminer miner with support for the ProgPoWZ algorithm (source code), as well as official pre-compiled executable files for the CPU, AMD GPU and Nvidia GPU are already available on the network. In addition, ProgPoWZ has also supported TT-Miner for some time now (a miner with closed source code for GPUs from Nvidia with a 1% developer commission). The TT-Miner looks a little better in terms of performance compared to the Nvidia CUDA Progminer (23 MH/s for TT-miner versus 21.5 MH/s for Progminer for one GTX 1080Ti graphics card).
According to CoinMarketCap data, ZANO is currently slightly below the 500th position in the rating and is traded on several small exchanges with a market capitalization of $ 4.4 million. ZANO is available for mining on two mining pools, with almost 95% of the total capacity concentrated in Luckypool, and the remaining 5% on Fairpool. If you are familiar with ProgPoW mining, then ZANO mining should not differ much, with its ProgPoWZ algorithm, and even though both algorithms are not exactly the same, you can expect that you will get approximately the same performance when mining on these algorithms. As with ProgPoW, there is also a fairer balance of performance between AMD and Nvidia GPUs. Depending on the class of the GPU, lower GPUs will be slower than the more expensive ones for both the red and green camps. There should not be an unfair advantage due to different specifications of video memory, since the new algorithm actually uses GPUs more intensively than Ethash, for example.