What cryptocurrency to mine on video cards instead of Ethereum
Details

Created: Friday, 16 September 2022 01:40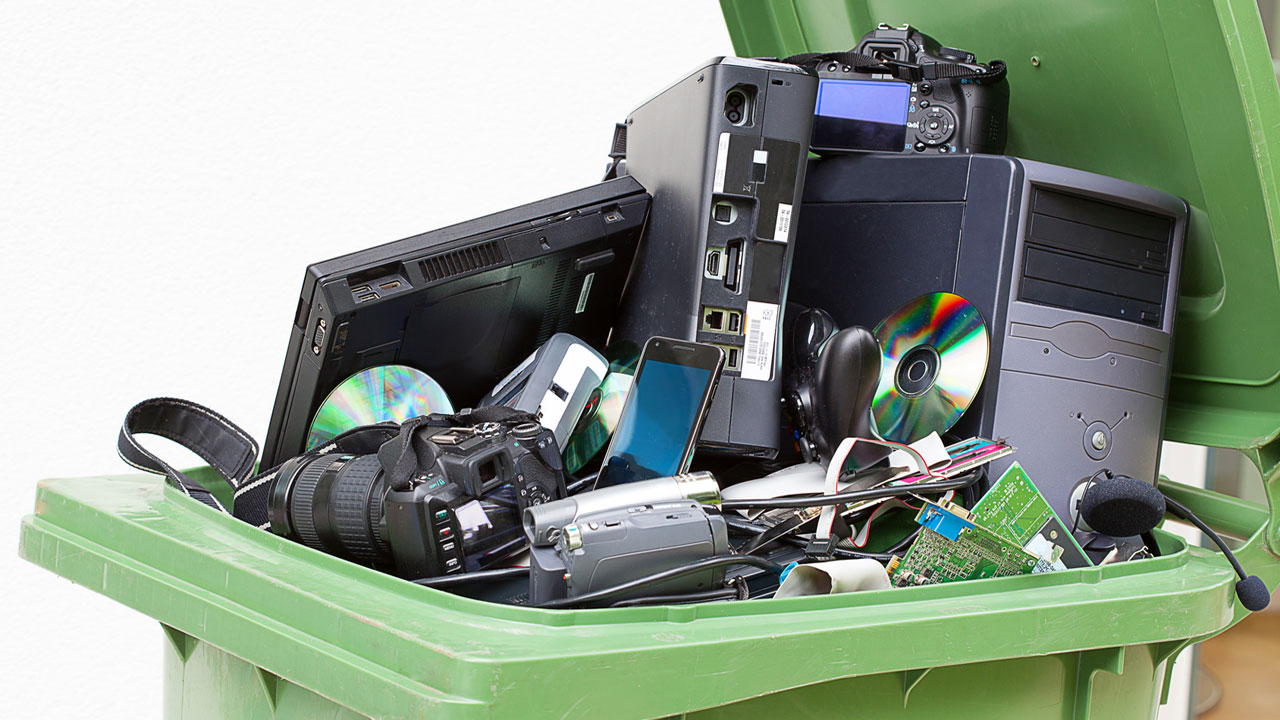 Yesterday, September 15, 2022, the long-awaited transition of the Ethereum cryptocurrency from POW mining to POS mining took place. As a result, about 900TH/s of power or about 30 million video cards of the RX580 level are now actively looking for a cryptocurrency that can replace Ethereum as a reliable and profitable mining.
According to the results of the first day after The Merge, it can be stated that all popular cryptocurrencies with POW mining have sharply increased their total hash rate, which is why the income per miner has also sharply decreased.
The Ethereum Classic (ETC) cryptocurrency was especially distinguished in this. in addition to video cards, ASICs, who previously mined ETH, also began to mine this cryptocurrency. As a result, the ETC network swelled more than 10 times in the last month from 30TH/s to over 300TH/s. Moreover, the maximum increase occurred on the last day from 60TH/s to 300TH/s.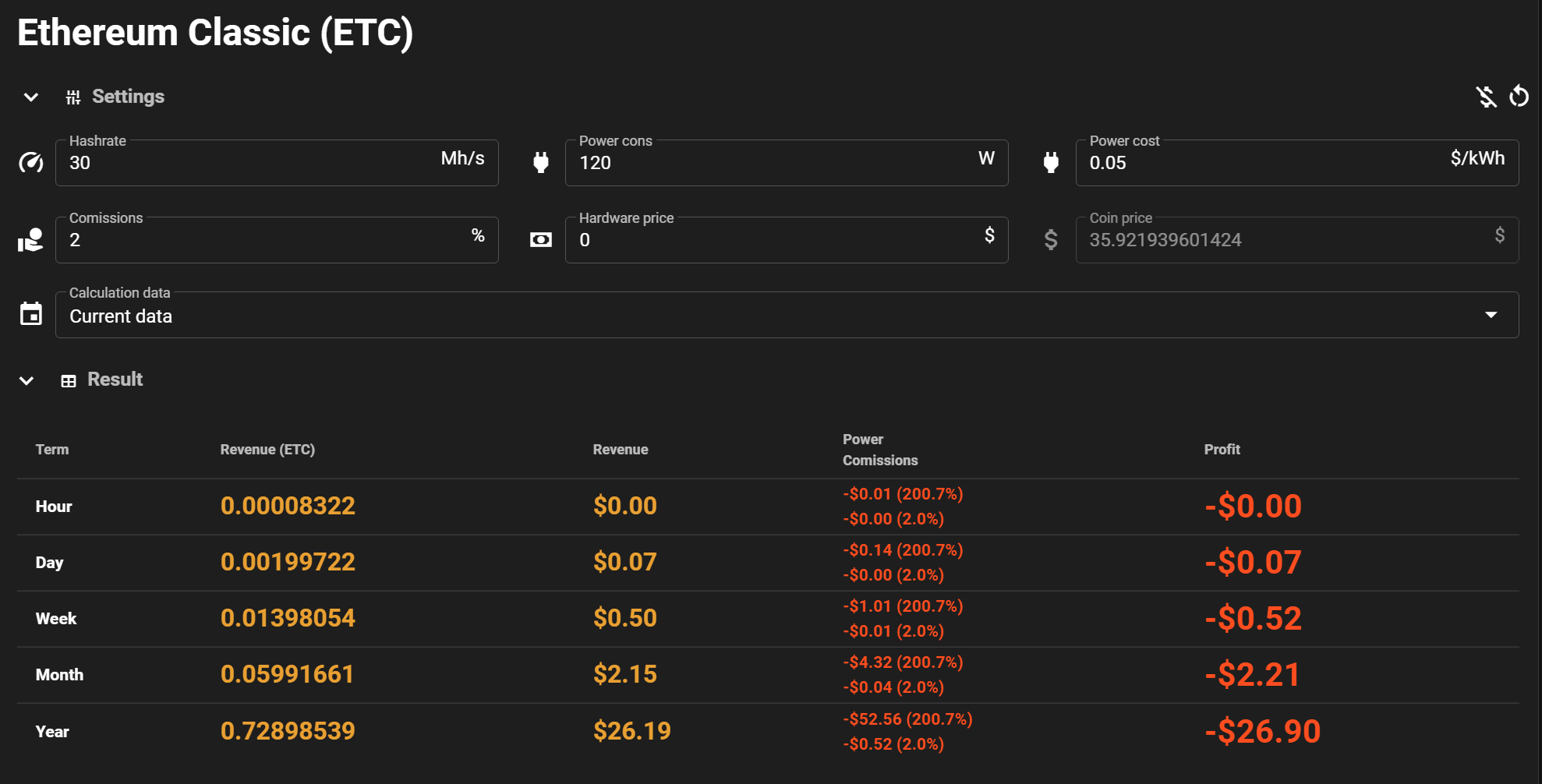 As a result, the profitability of ETC mining on video cards became negative even at an electricity cost of 0.05USD/KW. Therefore, now ETC as an alternative to mining ETH on video cards is definitely not worth considering right now. You can familiarize yourself with the current situation with Ethereum classic mining at this link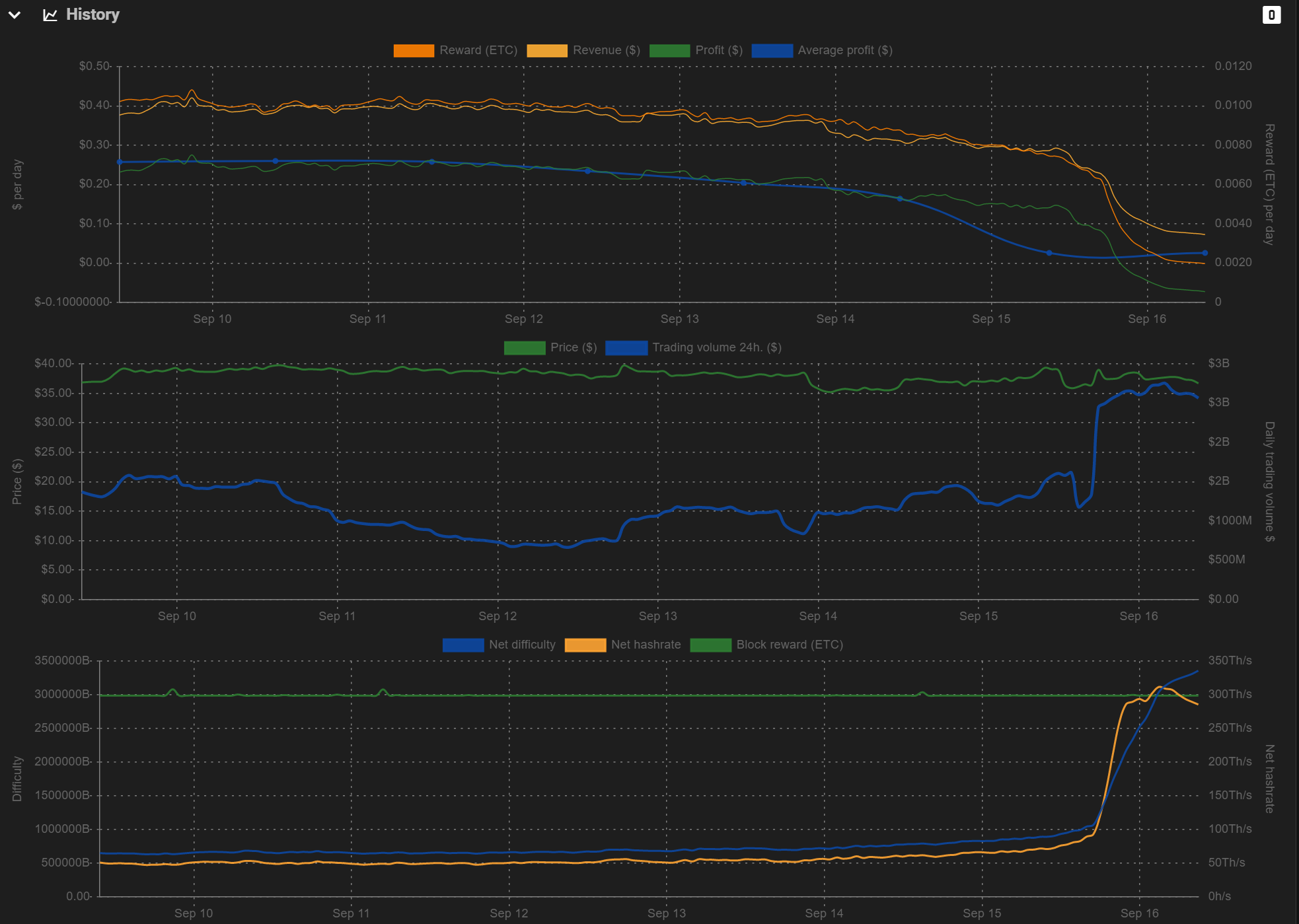 The second most popular cryptocurrency for migration, Ravencoin, also received its share of attention due to which the total hash rate of the RVN network has increased by 8TH/s to 20TH/s over the past 24 hours. 2.5 times. The price of Ravencoin did not change, which means that the profitability of RVN mining also fell by 2.5 times. Such a drop in profitability automatically made mining Ravencoin on RX580 and GTX1000 series video cards a near-zero solution. But for more modern video cards, Ravencoin mining also does not promise mountains of gold, because. income from the RTX3080 video card will be about 0.2 USD per day.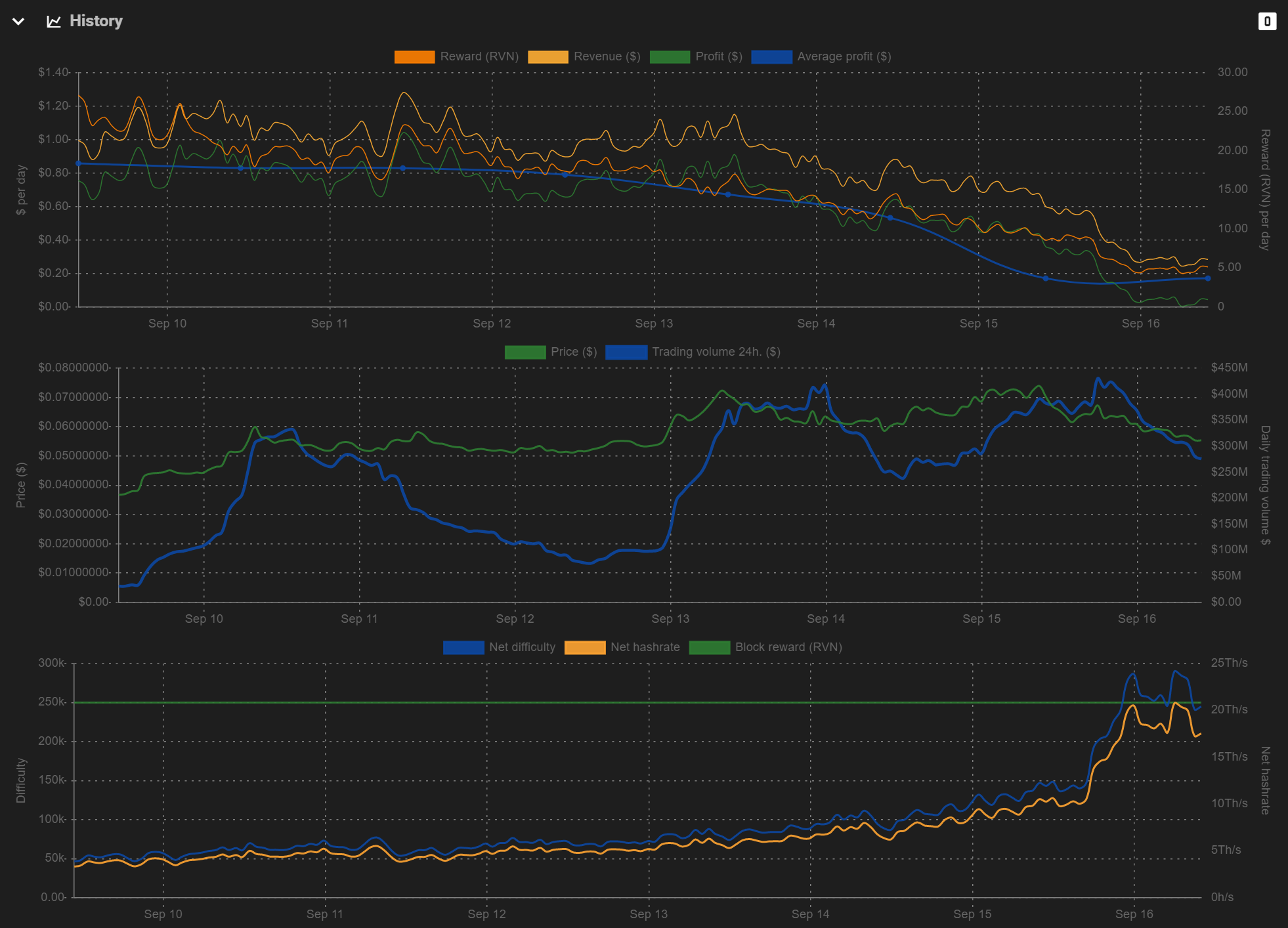 A similar picture with an increase in the network hashrate and a drop in mining profitability is observed on all popular cryptocurrencies with POW mining: Flux, Firo, Beam, Grin, Aion, Super Zero, BitcoinZ, Conflux, Vertcoin, Ergo, Aeternity.
The most profitable cryptocurrency for mining on video cards at the moment is Aeternity on the CuckooCycle mining algorithm, but even for it, a video card of the RX580 level can earn less than 10 cents at an electricity cost of 0.05USD/KW.
If we do not take into account the emergence of a new cryptocurrency ETHW (EthereumPOW) about the mining of which we will tell in our next article, then we can state the moral obsolescence of video cards released before 2019 in mining. And this is a large share of video cards of the RX400, RX500 and GTX1000 series generation.
You can calculate the profitability of ETHW mining on the Profit-mine.com website, you only need to indicate your hashrate and the cost of the EthereumPOW cryptocurrency (at the time of writing, the price for ETHW was 9USD) and one RX580 video card gives a net income of 6USD per knock, but how long will this last for anyone not known.
The current price of ETHW can be viewed on the Bybit.com exchange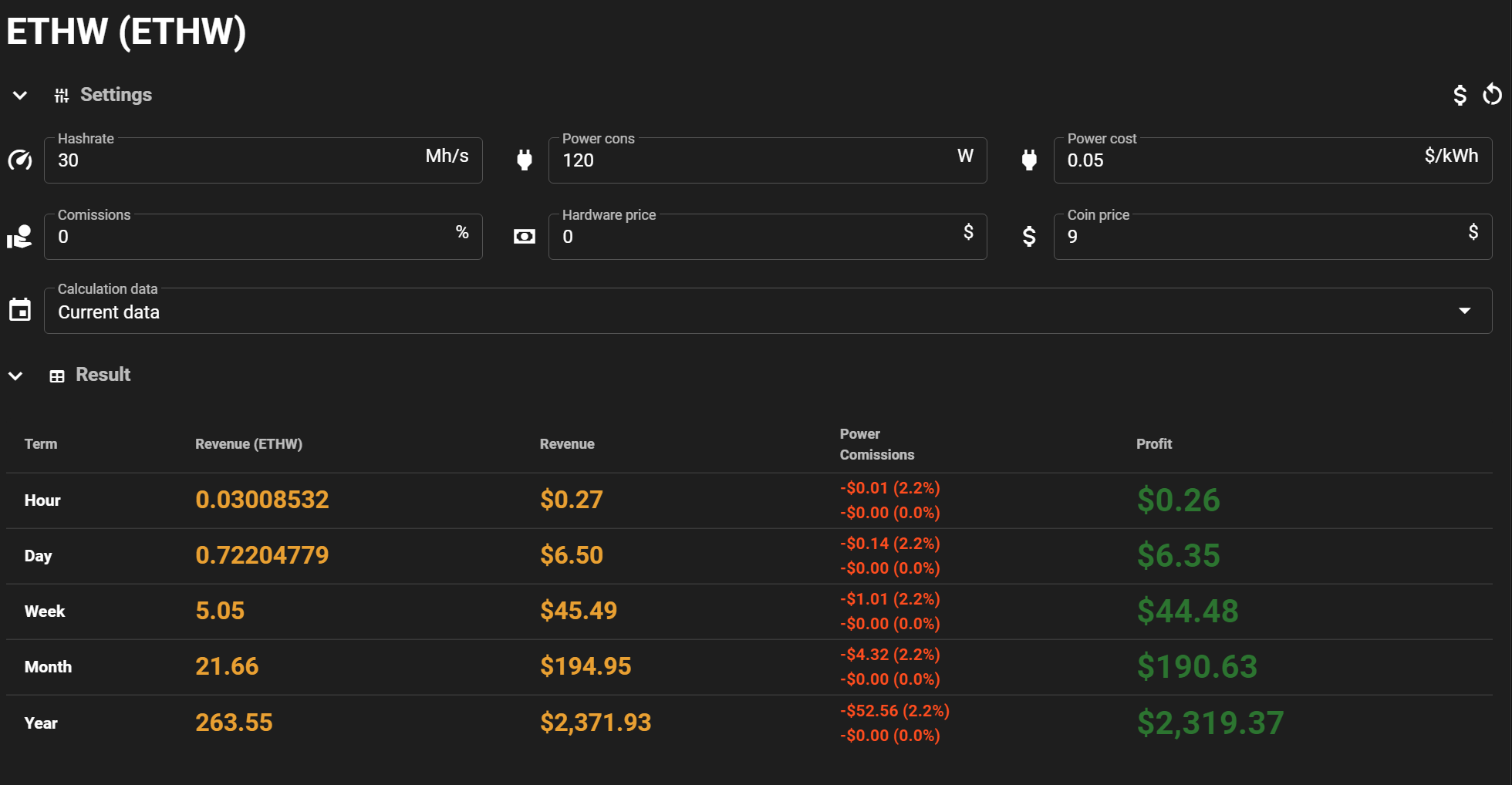 In other words, if the ETHW project cannot offer a full-fledged replacement for the original ETH, then now it's easier to turn off a large share of video cards in mining than to keep them working with minimal profitability or even working in the red.