New miniZ v1.5t3 Nvidia CUDA miner with improvements for ZelHash and BeamHashII algorithms
Details

Created: Wednesday, 13 May 2020 02:55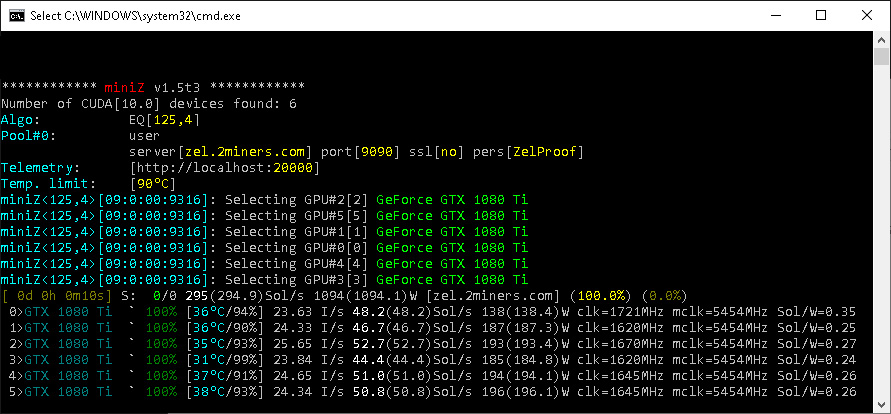 A new version of the miniZ Nvidia CUDA miner 1.5t3 for Equihash-based algorithms is available, where performance has been improved for Equihash 125., 4 (ZelHash) used in ZEL, and Equihash 150,5,3 (BeamHashII) used in BEAM. ZelHash support is significantly improved for many GPUs (e.g. up to 11% for the GTX 1660Ti and up to 8% for the RTX 2070). BeamHashII support is significantly improved for the GTX 1660 Ti and RTX 2070 (3-4%) and slightly for many other GPUs.
In the updated version, the processing of connections to the pool was also improved. The recently added --ocX option to automatically detect the best kernel for your GPUs and OCs (so far only for 125.4 and 150.5.3). Some new macros for "log file name" and "last" are supported, and most importantly, overall mining stability has been improved over previous versions of the miner.
The miniZ miner supports the Equihash 144.5, Equihash 150.5, Equihash 150.5.3, and Equihash 192.7, Equihash 125.4, Equihash 210.9, and Equihash 96.5 algorithms for mining on Nvidia GPUs including RTX - a series of video cards. Executable files CUDA 8.0 and CUDA 10.0 are available, for the work of video cards from the latest generation of Nvidia RTX, use the 10th version of CUDA. Keep in mind that miniZ comes with closed source code and has a built-in developer commission of 2%. Download the latest version of miniZ v1.5t3.