CPU mining: what to mine on the new AMD Ryzen 7950X in 2022-2023?
Details

Created: Monday, 12 December 2022 05:41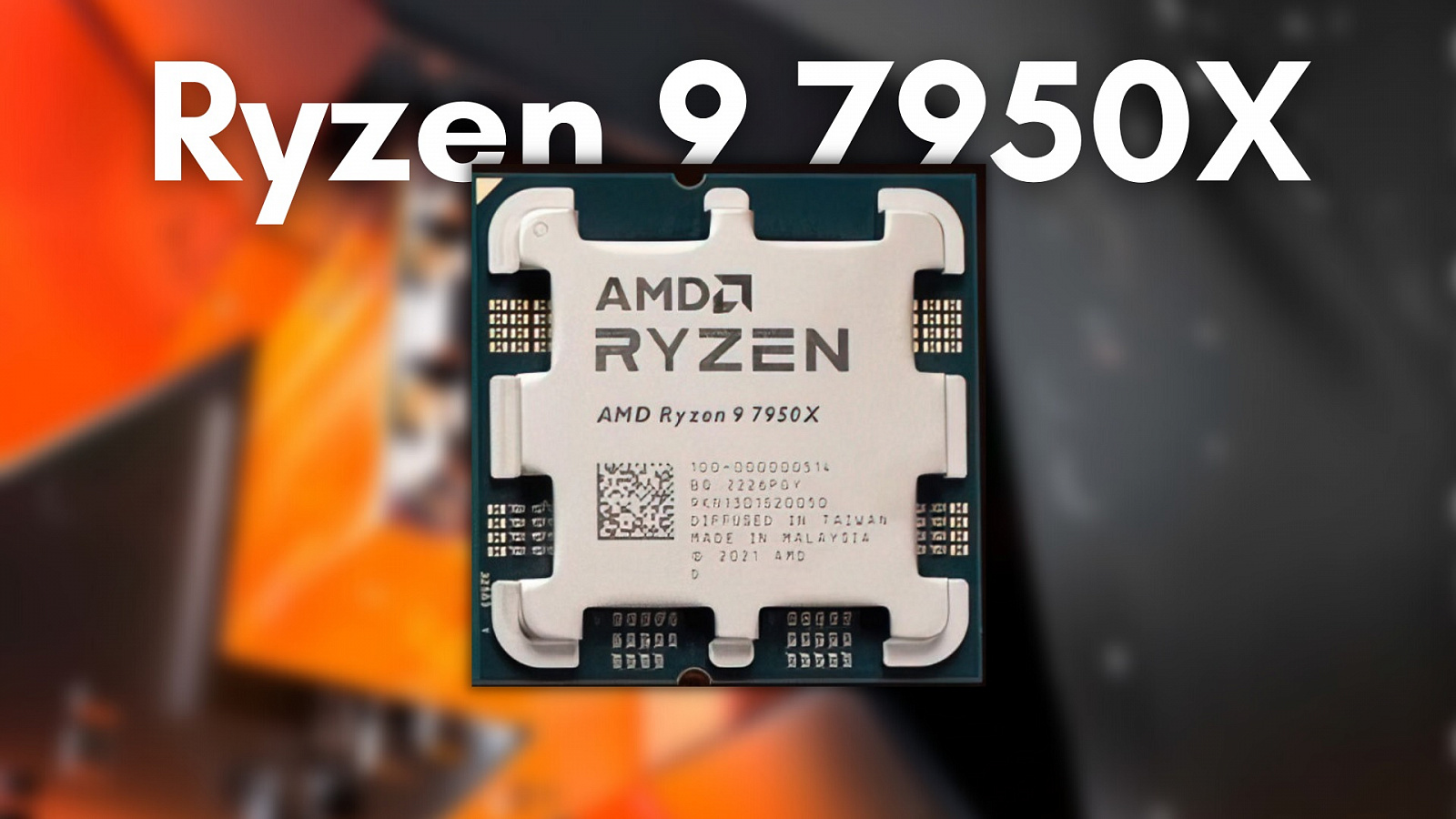 Given the high performance of AMD processors in workloads and cryptocurrency mining, we were wondering how good AMD's older CPU - Ryzen 9 7950X from the new AMD 7000 series processor line is in this business. Let's try to figure out what at the moment (12/12/2022) is the most profitable to mine on this processor and whether it is generally profitable. In addition, we will test this processor and find out its hashrates for the most popular CPU mining algorithms for cryptocurrencies.
The AMD Ryzen 9 7950X processor is currently the fastest mining processor among all consumer CPU models from AMD and Intel. It has 16 cores and 32 threads running at up to 5.7 GHz, and also has a gigantic 64MB L3 cache (which helps it a lot to achieve leadership in some mining algorithms). In addition, the Ryzen 7950X has support for the AVX-512 instruction set (although in this case, this processor does not have a full hardware implementation of 512-bit AVX instructions in silicon, and the processor uses its 256-bit blocks to calculate 512-bit AVX, due to which slightly loses performance compared to if the processor had full support for 512-bit registers for working with AVX). On the other hand, Intel cut out support for AVX-512 in their latest line of 13 series processors, and the use of 512-bit AVX instructions can significantly increase processor performance in some mining algorithms, provided that this instruction set is supported by mining software.
AMD Ryzen 9 7950X Specifications:
Release date: September 27, 2022.
Recommended price: $699.
Process technology: TSMC N5.
Chiplet configuration: 2*CNE + 1 I/OD.
Number of cores (threads): 16 (32).
Base Frequency (Max. Turbo Frequency): 4.5 GHz (5.7 GHz).
Cache L1, L2, L3: 1 MB, 16 MB, 64 MB.
Integrated video core: Yes, RDNA 2, 2 CU. Frequency up to 2.2 GHz.
Socket: AM5.
PCI-e lanes: 28 (24 + 4) PCI-e 5.
RAM support: up to 128GB DDR5 5200 (2 channels).
Thermal package: 170W.
As we can see, the specifications of AMD's new flagship are more than impressive..
Mining popular CPU coins and new hashrates:
Monero (XMR) is probably the most popular CPU coin that is mined using the RandomX algorithm. 
Monero is a fairly old coin that focuses on transaction privacy and decentralization. Thanks to the developers, the coin can be mined exclusively on central processing units (CPUs). This coin changed the PoW algorithm several times to protect against mining on video cards and ASIC miners. In our case, we were able to get a hash rate of around 20 kh/s (20,000 hash/s) on our Ryzen 9 7950X in RandomX Monero mining, while the system was consuming around 300 watts. For comparison, the top from AMD of the last generation: Ryzen 9 5950X showed a hashrate of about 17 kh/sec for this coin.
Raptoreum (RTM) is a coin based on the GhostRider algorithm. One of the most profitable and stable coins for CPU mining at the moment.
Raproreum is one of the most favorite CPU mining coins among miners. Our today's hero, represented by Ryzen 9 7950X, shows approximately 4920 Hashes per second on the GhostRider algorithm, with which this coin is mined. At the same time, the novelty consumes about 300 watts. Previous top R9 5950X shows comparable hashrate.
Verus - a coin based on the VerusHash algorithm.
The Verus coin is mined on its own algorithm called VerusHash. And of course R9 7950X is the best processor for mining this coin. The 7950X delivers a shocking 62 Mh/sec, which puts any Intel processor far behind..
Dero - coin based on AstroBWT/v3 algorithm.
This coin recently switched to the new AstroBWT/v3 mining algorithm. Previously, it could be mined using the AstroBWT/v2 algorithm. Ryzen R9 7950X hits 12300 h/s. Which brings in an average of $0.44 per processor after deducting the cost of electricity.
Vkax - Mike Algorithm Coin.
Vkax is a great choice for CPU mining, its Mike mining algorithm provides a high security blockchain network similar to GhostRider, but with a few changes. In any case, the new product shows exactly the same hashrate as for the GhostRider algorithm, namely about 4920 Hashes per second.
Bamboo (BMB) - a coin based on the Pufferfish algorithm.
And finally, a new interesting Bamboo coin, a great choice for CPU mining. Where the new Ryzen shows 4062 h/s. And it allows you to get a high profit by recent standards in the amount of $0.5 per day at the time of writing from one processor after deducting the cost of electricity.
The results of testing the Ryzen 9 7950X processor in CPU mining algorithms:
RandomX: 20 kH/s@300W.
GhostRider: 4.92 kH/s@300W.
VerusHash:  62 Mh/s.
AstroBWT/v3: 12.3 kH/s.
Mike: 4.92 kH/s@300W.
Pufferfish: 4.06 kh/s.
Profitability of mining on Ryzen 9 7950X:
You can see the current mining profitability for the RandomX, VerusHash and GhostRider algorithms on the Profit-mine.com website.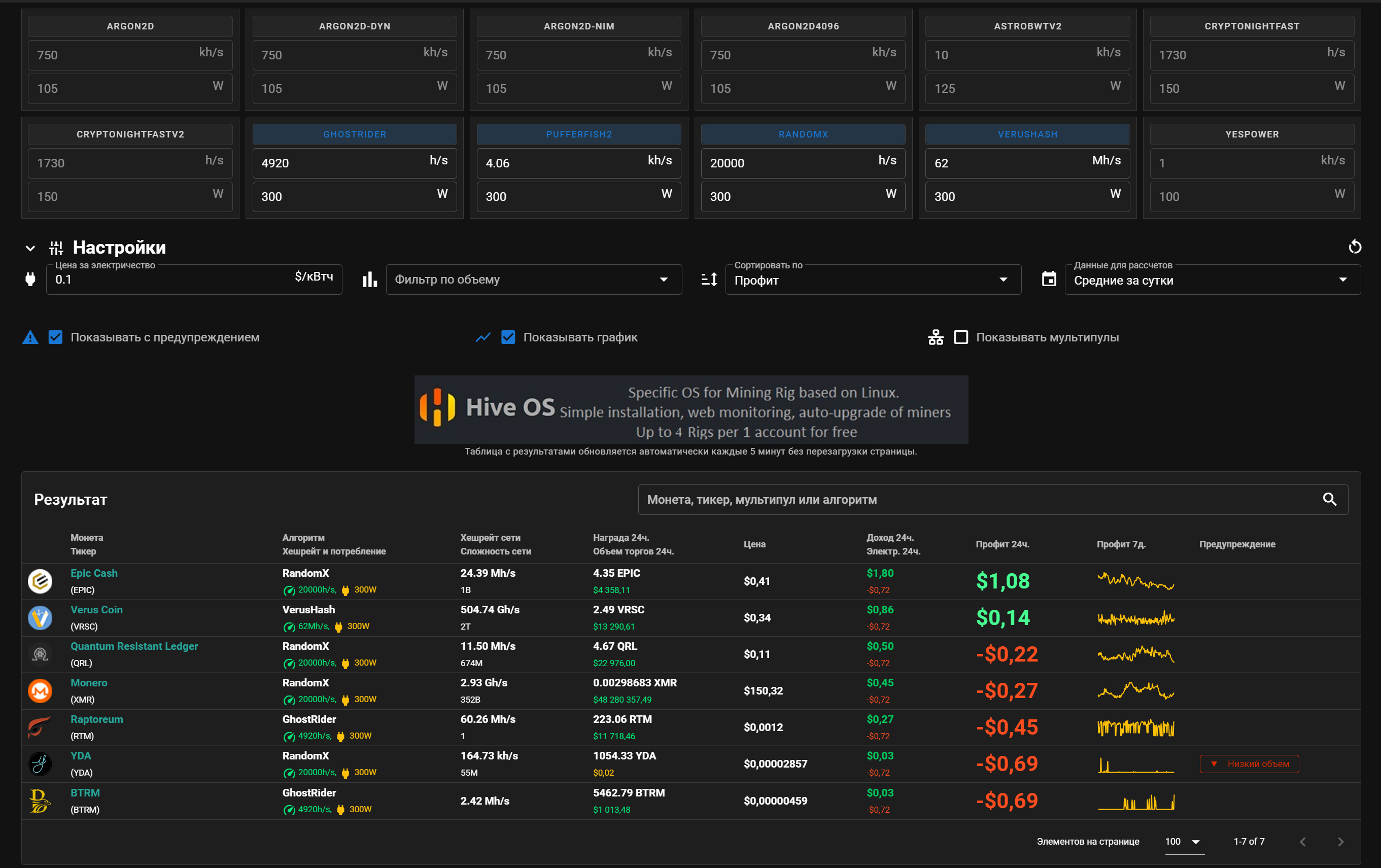 The Dero mining calculator is available at this site.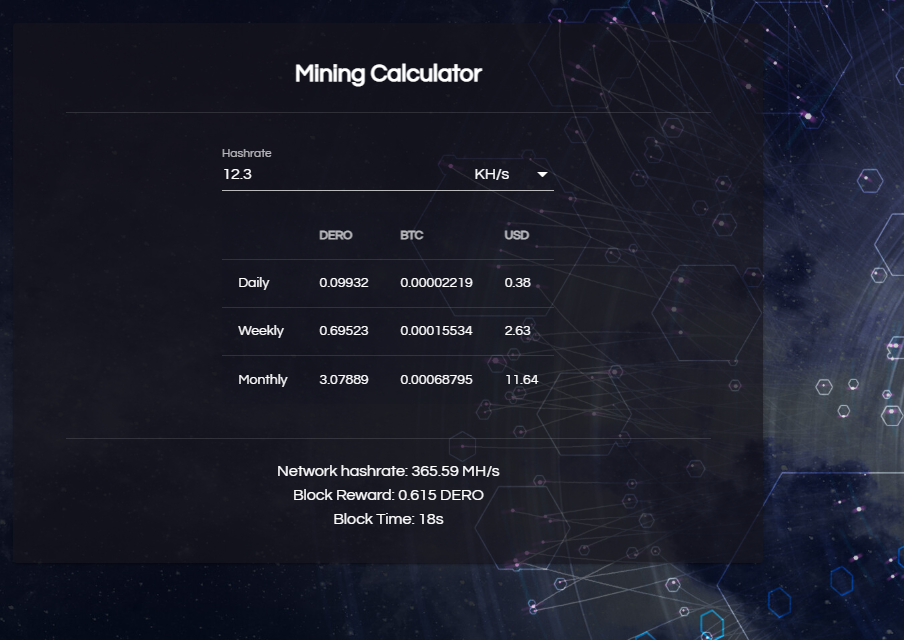 As a result, in the current situation of crypto winter and the "death of mining", income up to $0.5 per processor per day does not look too depressing, especially since the flagship Nvidia RTX 4090 graphics card, which costs almost 3 times more expensive. And AMD or Nvidia video cards of the 3000 generation and below generally mine to zero or even at a loss..
An example of the profitability of one Nvidia RTX 4090 graphics card.