Profitable ERGO mining on old Nvidia and AMD video cards
Details

Created: Wednesday, 18 August 2021 04:22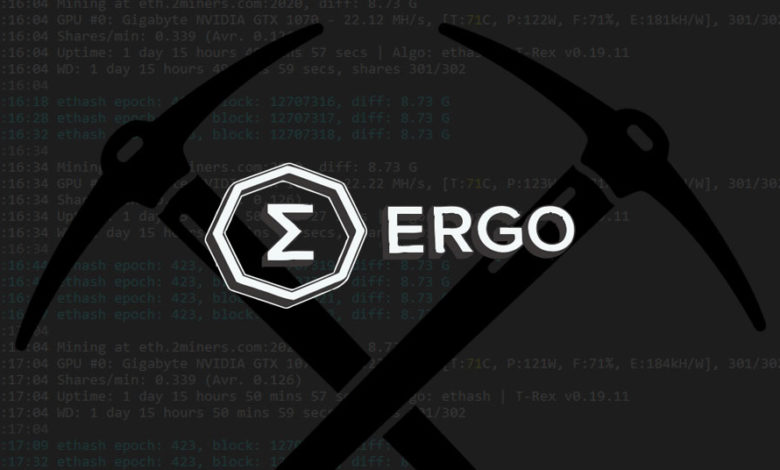 The ERGO cryptocurrency is currently one of the most profitable for mining on video cards, competing in profitability with the well-known Ethereum. ERGO, in contrast to ETH, has significantly lower equipment requirements, since even 2Gb of video memory is enough for ERGO mining. For Ethereum mining, we recall that your video card must have at least 5Gb of built-in fast memory. If you are the owner of old video cards with 4Gb video memory or less, then you should pay attention to ERGO cryptocurrency. In the direction of ERGO, it is worth looking especially to those miners who still have AMD Radeon HD 7970, R9 280X, R9 380X, Fury, R9 290X video cards, which cannot mine Ethereum due to a small video buffer, but at the same time have sufficiently powerful GPUs, which will allow get them a fairly large income when mining ERG.
In addition to the small size of the video buffer, owners of old AMD video cards (Fiji, Baffin, Hawaii, Tonga) are faced with the problem that almost all modern versions of miners do not support AMD video cards older than RX480 (Polaris core).
To start mining ERGO cryptocurrency on old AMD video cards, SRBMiner Multi is best suited. You can also use the Teamredminer and Nanominer miners, but the hashrate for old AMD video cards when using these miners will be lower. For modern video cards, all miners show almost the same results.
In addition to good optimization for outdated video cards, SRBMiner Multi has several more nice features that will also increase your mining income:
GPU and CPU mining. For example, on a video card, you launched mining ERGO (autolykos), and on a processor, mining cryptocurrency Monero (RandomX)
Simultaneous GPU mining of ARGO and Zilliqa (ZIL) cryptocurrencies. Read more about setting up dual mining here
For Nvidia video cards and ERGO mining on the Autolykos 2 algorithm, use NBminer
To trade ERGO, use the Kucoin exchange, where the maximum trading volumes for this cryptocurrency are currently
Hashrate of Nvidia video cards based on the Autolykos 2 algorithm:
Geforce GTX 970 - 32Mh/s
Geforce GTX 1050ti - 24Mh/s
Geforce GTX 1060 3Gb - 50MH/s
Geforce GTX 1070 - 75Mh/s
Geforce GTX 1080ti - 106Mh/s
Geforce GTX1660 Super - 62Mh/s
Geforce RTX 2070 Super - 82Mh/s
Geforce RTX 3060 - 110MH/s
Geforce RTX 3070 - 170Mh/s
Hashrate of AMD video cards based on the Autolykos 2 algorithm:
Radeon HD 7970 - 25MH/s
Radeon R9 280X - 25Mh/s
Radeon R9 290x - 55Mh/s
Radeon R9 380 - 45Mh/s
Radeon RX 460 - 28MH/s (32.5 Mhs (core: 975, Dpm 5, Vdd: 800, vddci 835, mem: 2050) 
Radeon RX 550 - 28MH/s (core: 1050, Dpm 5, Vdd: 800, vddci 850, mem: 2050)
Radeon RX 560 - 28Mh/s (32.5 Mhs (core: 975, Dpm 5, Vdd: 800, vddci 835, mem: 2050) 
Radeon RX 470 (RX 570) - 67Mh/s
Radeon RX 480 (RX 580) - 70Mh/s
Radeon Vega 56 - 170Mh/s
Radeon RX 5600XT - 80Mh/s
Radeon RX 5700 XT -110Mh/s
Radeon RX 6700XT - 92Mh/s
Radeon RX 6800 - 120Mh/s
Conclusion: Ergo cryptocurrency mining is ideal for old models of AMD and Nvidia video cards, which are no longer capable of mining Ethereum cryptocurrency. So, for example, the popular in the past R9 280X (7970) video card in ERGO mining earns 24USD (0.8 USD per day) per month, which is quite profitable compared to other cryptocurrencies, its older brother Radeon R9 290X already shows 55Mh/s, which is already at the level of more modern video cards. Also, owners of entry-level video cards (RX 550, RX 560 and GTX 1050Ti) should be interested in ERGO mining. they all have no more than 4Gb of video memory and at the same time a weak GPU chip, because of which they lose the competition on GPU dependent algorithms such as MTP. But at the same time they show a fairly good hash rate on the Autolykos 2 algorithm. You can calculate the profitability of mining on the Autolykos2 algorithm on the website Profit-mine.com