ICO Crypterium - crypto bank, accessible to everyone
Details

Created: Saturday, 11 November 2017 14:19
After 8 years, the volume of cryptoeconomics will exceed 10 trillion dollars. Crypto banks will be the cornerstone in the relationship between a decentralized economy and everyday life in the future, expanding the payment infrastructure and a set of opportunities, inventing new payment scenarios using crypto-currency and reducing interest rates. Crypterium is a crypto bank, creating the future already goes to the ICO.
Advantages of cryptobank Crypterium
Crypterium is one of the top 50 most promising companies according to Financial IT.
The potential market of crypto-banking is about 10 trillion dollars.
200 million potential customers.
Up to 8 times lower transaction costs.
Up to 100 times higher transaction speed.
There are no borders for international payments.
Cryptobank is a new kind of banks that provides services of a regular bank, but for crypto assets, such as crypto-currencies and tokens, instead of the usual money that we used to use (also called fiat money). Cryptobank is a service-payment infrastructure; a kind of bridge between the crypto-world and the phiatic world, which gives users the opportunity to pay crypto-assets, and merchants receive payment for phyatmoney for services such as telephone, services, fines, loans, taxes, taxis, the Internet, etc. Simply put, crypto-bank allows you to spend crypto currency in normal life.
Crypterium is the leading crypto bank for cryptoeconomics. The goal of the project is to provide vertically integrated services that include the best ideas from the entire community of blockbuster enthusiasts.
The main purpose of the wallet is the transfer and storage of digital assets. You can accumulate funds without getting interest, or make transfers from one crypto-purse to another crypto. Cryptobank Crypterium offers much more. Along with the opportunity to spend digital assets through crypto-payments, the crypto bank provides a wide range of important additional banking services, such as crypto-active exchange, credit, cross-border transfers and acquiring services for companies (with the possibility for merchants to receive payments not only with fiat money) based on their own payment infrastructure . In addition, we provide developers with access to our crypto infrastructure through the open platform OpenAPI.
The core of the system consists of several internal services:
Mobile cryptbank: instant payments by crypto currency without restrictions in 42 million stores.
Crypto currency acquiring: a solution for any sphere of retail trade and services. Native integration with software for points of sale. Conversion of crypto currency into fiat upon receipt of payments.
Open API platform: simple third-party integration. The application store for creating cryptoplatform software and solutions. Own decentralized server structure.
BlockChain system of crediting: instant loans anywhere in the world. A combination of existing scoring systems and smart contracts. Internal exchange to increase liquidity and reduce risk.

The solution for ordinary customers:
Crypterium is a crypto-bank with contactless payments available to everyone. All that you need in your daily life is available through your smartphone: payments, transfers, currency exchange, fast loans. The purpose of the project is to replace its customers with ordinary fiat banks. Now you do not need to wait for the release of a plastic card, any client receives a virtual VISA, MasterCard, American Express card immediately after registration. At the same time, there are no limits on crypto-currency, as well as fiat payments. You will no longer need exchanges, the project will provide the possibility of instant payments in Fiat and Crypto currency throughout the world. Future integration with popular third-party payment solutions, such as PayPal, Gyft, WeChat, Alipay, PayTM. Crypterium offers a loyalty program and cashback for its tokens of holders (owners of ICO tokens of the company). Crypterium is focused on contactless payments - ApplePay, SamsungPay, AndroidPay, QR codes, so that the company's streets will be able to pay for services and purchases through contactless NFC payments.
Solution for sellers and service providers:
Sellers will receive payment in Fiat, even if payment is made using crypto currency.
Ready solutions from the box for popular engines of online stores and site designers.
The commission is much lower than for card acquiring - only 0.5%.
Built-in exchange, platform for marketing and automatic loyalty program.
Integration with modern POS software. R-keeper, Inpass, Cegid, Amber.
18 unique solutions for the sphere of trade and services!
Solution for shops: high cashback (up to 50%), personal and payment information security. Loyalty and bonus mechanics.
Solution for online stores: There is no need to register and authorize on the store's website. Security of personal and payment information. No need to fill in the shipping information. The process of buying is faster up to 10 times.
Solution for street trading: Non-cash contactless payments are now available even in street kiosks. Unsafe and fast payments.
Solution for restaurants: There is no need to wait for the waiter to pay the bill. Faster and more convenient payments.
Parking solution: Pay parking without leaving their car. Keshbek for your parking and transportation costs.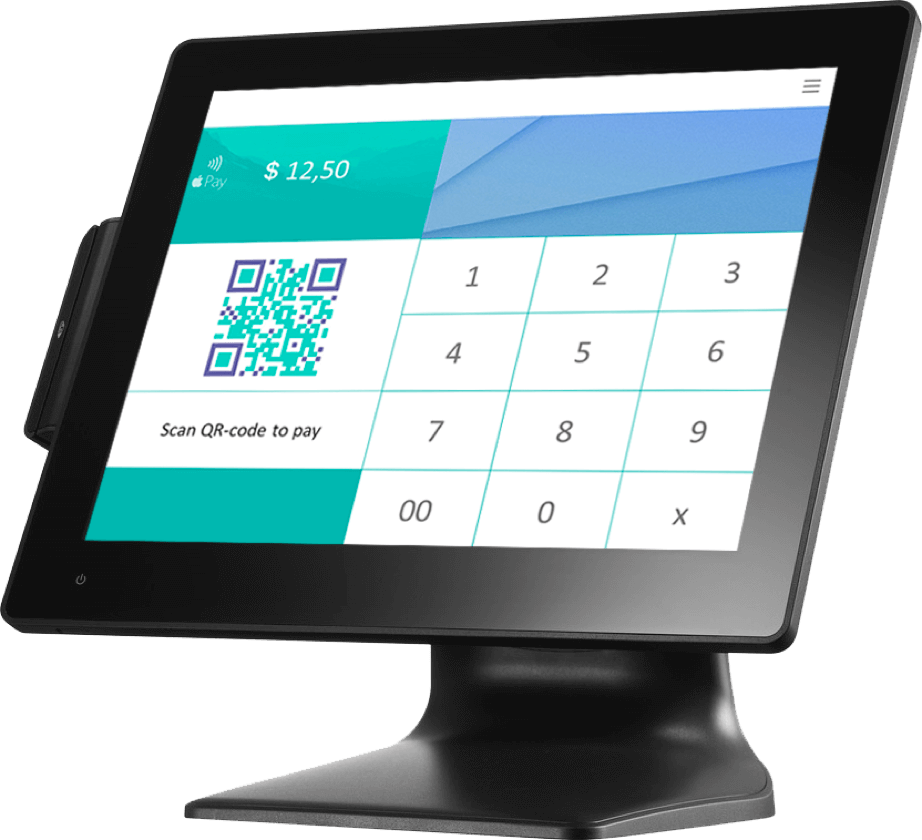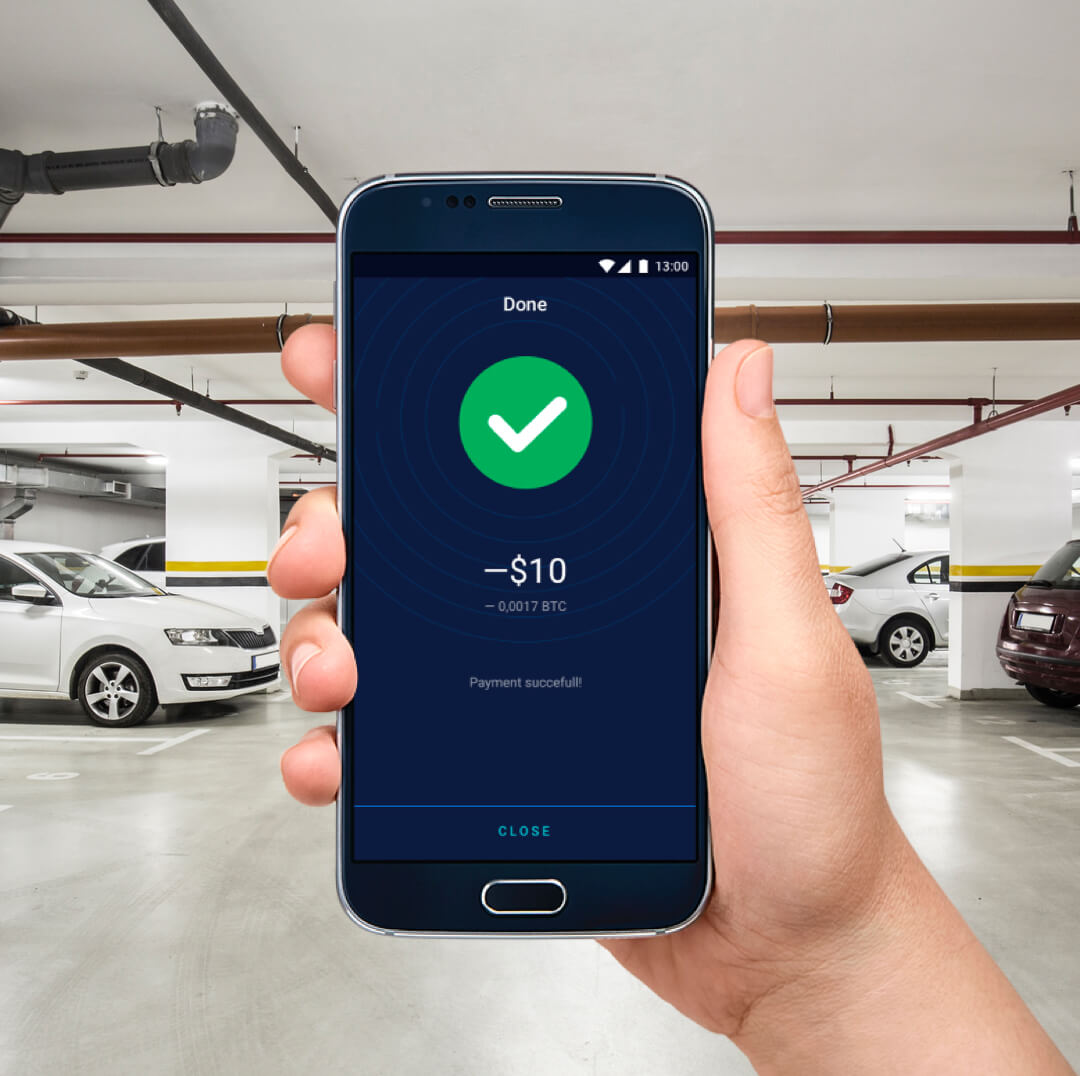 The technology of the credit system based on the block, the credit sub-token.
 Credit sub-token CRED provides the opportunity to create a full-fledged credit system based on Blockchain technology. The lending process consists of several steps:
The client receives a loan by CRED tokens via a smart contract, in which the customer's credit rating is maintained and in turn personal interest rates and terms (which may or may not include a security deposit) are applied.
The client exchanges credit tokens for the currency of their choice at the Crypterium exchange. This operation is easily performed using the mobile bank Crypterium.
The liquidity of CRED tokens is guaranteed by the Crypterium project, which will use its capital to reduce volatility and adjust interest rates.
At the end of the crediting period, the borrower must return the CRED tokens, including interest, by purchasing them on the domestic exchange Crypterium.
After the borrower fulfills its credit obligations, its credit rating is amended, which will be taken into account in the following requests for a loan.
The "crypt to fiat" and "fiat to crypt" cycle creates a constant need for services based on Crypterium and ultimately increased demand for CRED tokens.
As a result, the credit subtoken is the new standard of electronic crediting, based on BlockChain technology. CRED is the first sub-market with secured liquidity. Owners of the credit sub-tenant will receive revenue higher than the market average. CRED is a decentralized database of the reputation of borrowers, created with the help of smart contracts. It is possible to use the CRED token by other banks.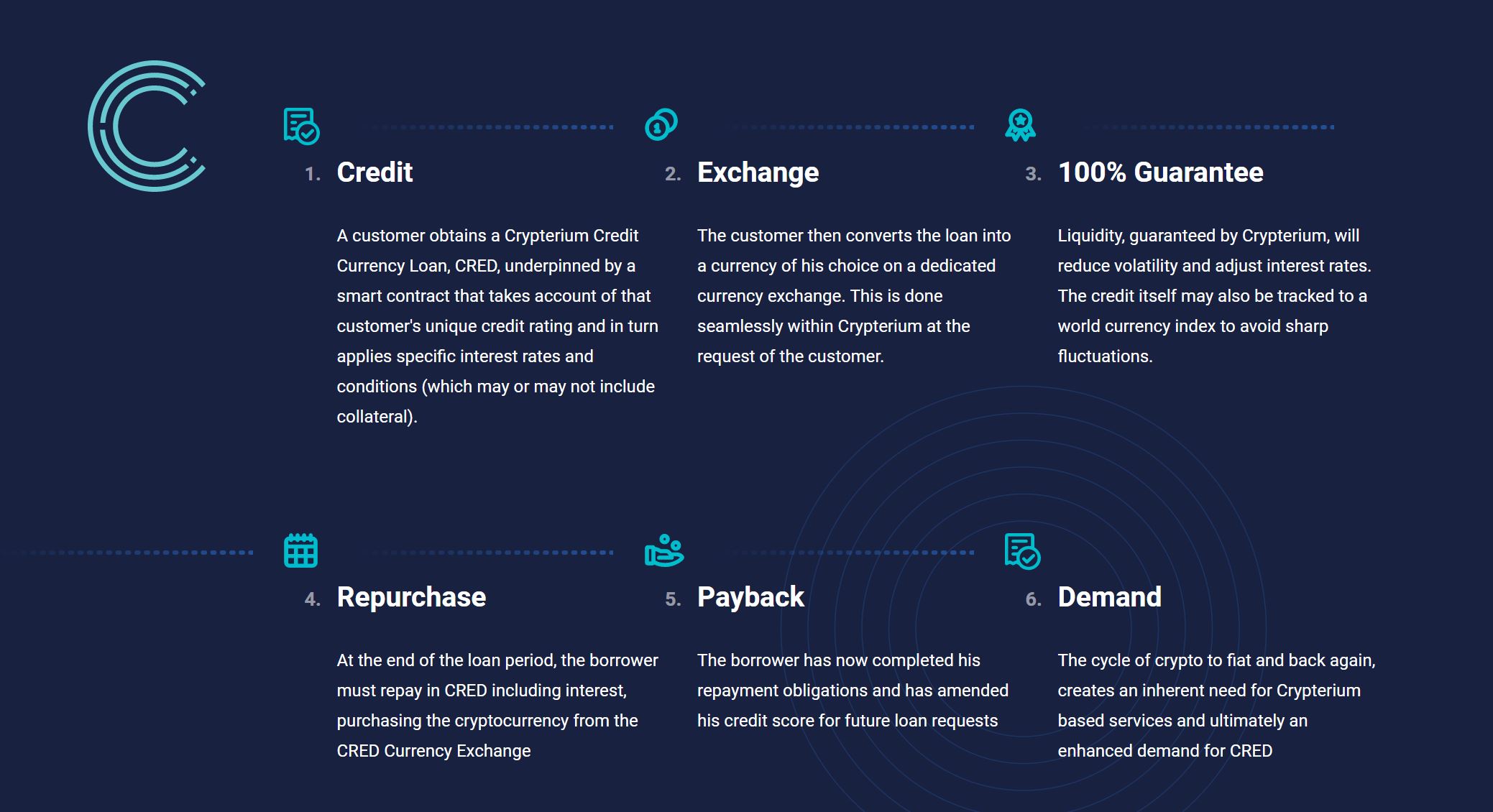 Crypterium OpenAPI
Crypterium OpenAPI is a banking platform that allows developers to create solutions for a decentralized economy:
Modular structure: allows you to easily implement various solutions.
Advanced payment and processing technologies have been finalized for 3 years of development and testing.
A single application store for trading cryptoplatform solutions with the ability to access the Crypterium audience.
"Sandbox" for development in the early stages and testing applications.
The ability to deploy developed software and services on the decentralized server infrastructure of Crypterium.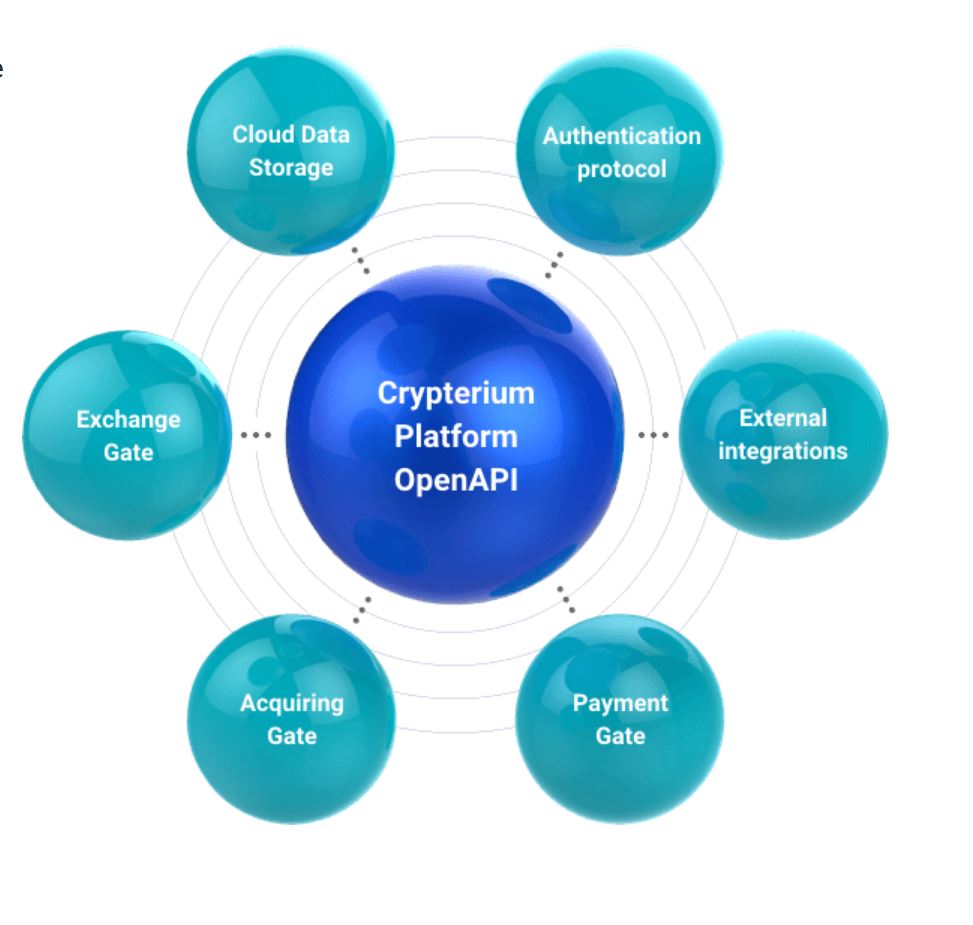 Advantages for the CRPT Holders Tokens acquired during the ICO campaign:
From each payment of the client made through crypto-bank Crypterium, a small commission of 0.5% is charged, which is automatically sent for the purchase of CRPT tokens on the open market and their subsequent burning. As a result of this process, there is a constant demand for tokens.
30% of the revenue from transactions (commissions from sellers) will be used to thank the holders of CRPT tokens, as well as the most active users of the system.
Purchased CRPT tokens are divided between token holders, depending on their activity using the services of the Crypterium bank.
History of the project team: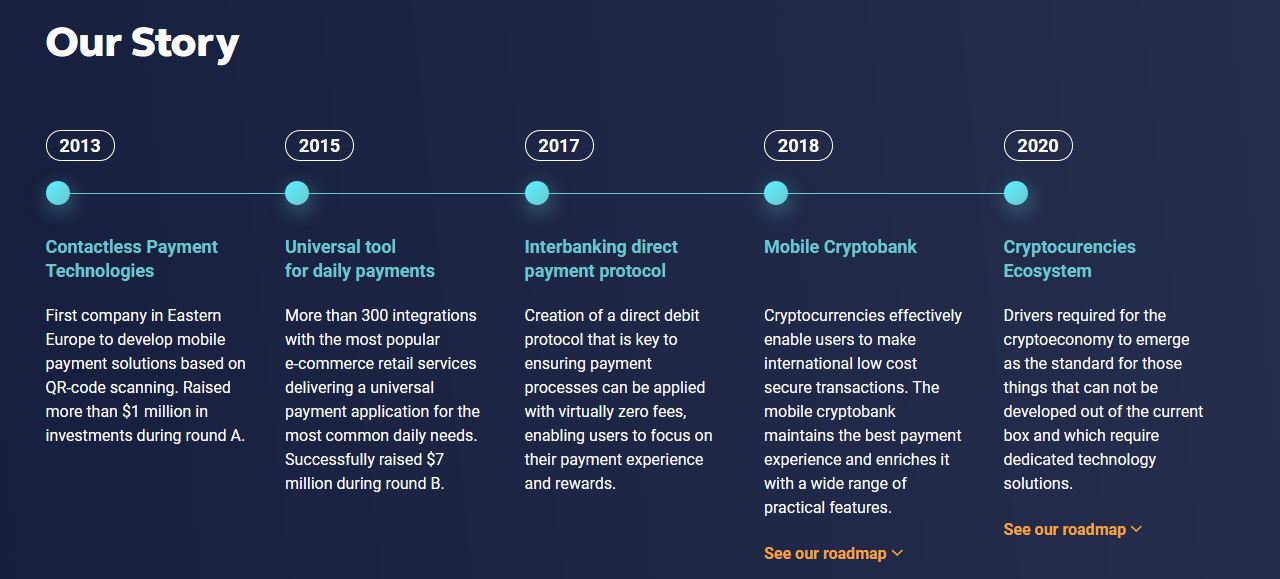 Schedule of ICO: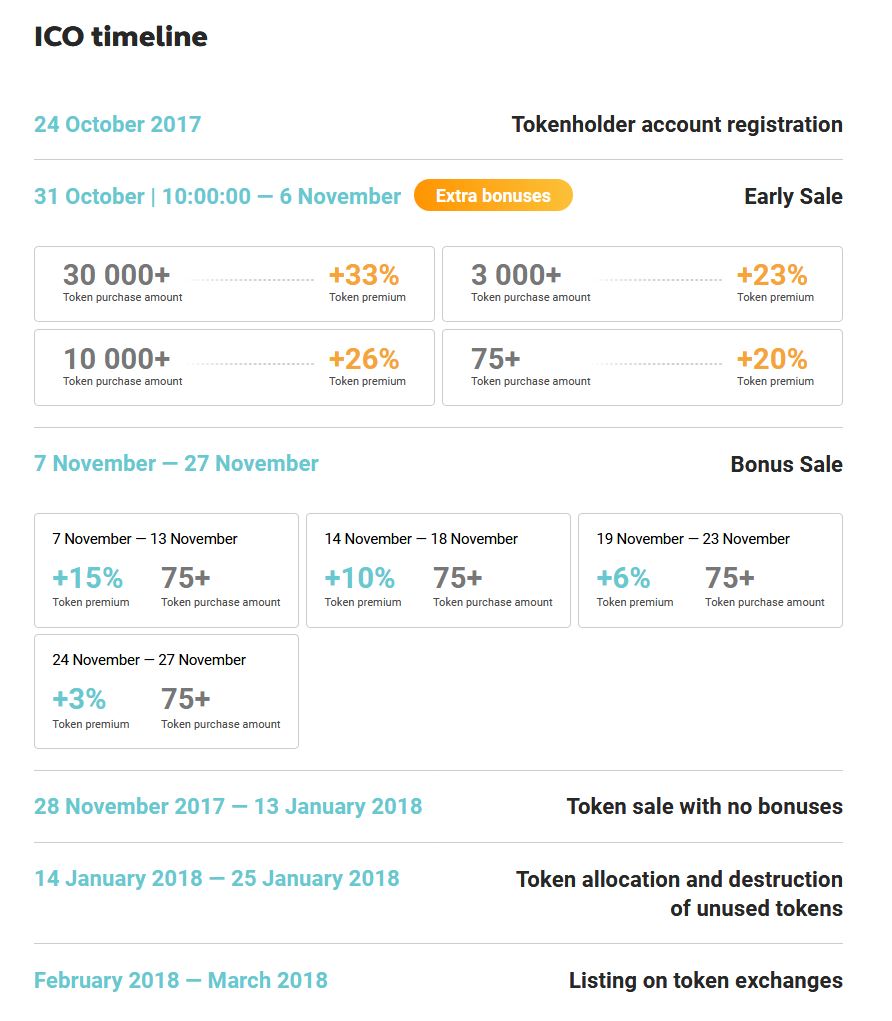 The number of funds collected on the basis of ICO and the results corresponding to them:
3 million US dollars: Crypto currency wallet Crypterium.

8 million US dollars: Mobile bank Crypterium.
15.5 million US dollars: Solutions for crypto-acquiring.
28 million US dollars: Global crypto payment infrastructure.
31 million US dollars: Licensed banking services.
34.5 million US dollars: Open platform OpenAPI.
36.5 million US dollars: Development of additional services.
47 million US dollars: BlockChain-based questioning technology.
Key Features ICO Crypterium campaign:
Token distribution: 70% = buyers of tokens based on ICO campaign, 15% = reserve fund, 9% = founders and project owners, 3% = advisers, 3% = "bounty campaign".
ICO campaign start: the sale of tokens will begin on October 31 and end on January 13 (or earlier in case of early termination).
The duration of the ICO campaign: 75 days with the option of automatic early completion in the event of reaching the final goals of the ICO.
Expansion of goals after the start of ICO: impossible.
The maximum number of tokens: 300,000,000 CRPT.
The cost of one CRPT token: 0.0001 BTC.
Adjustable emissions: yes, all unsold and unallocated tokens will be destroyed.
Methods for purchasing CRPT tokens: Bitcoin (BTC), Ethereum (ETH), fiat payments.
The maximum amount of funds collected on the basis of ICO: 47 000 000 US dollars.
Minimum purchase size: 1 CRPT token.

Partners advisers and project team:
The Crypterium management team is very experienced in digital payments with experience in the most innovative sectors of financial technologies in Europe and they have devoted more than 10 years to developing solutions for digital payments and banking solutions. The team also includes experienced financial specialists and experienced C-level executives with experience in different markets and in different countries.
The team involved in financial technology projects, for the creation and development of which it was responsible, investments in the amount of more than $ 50 million, in such projects as PayQR (the leading independent contactless payment platform in Russia - more in the next paragraph), Workle (digital sales platform, which has more than 1.5 million users selling everything from credit cards to burglar alarms) and the Bonus Club (a digital loyalty program integrated into the websites of leading publishers).