Boosting the Antminer L7 ASIC Miner to 11 GH/s
Details

Created: Tuesday, 12 September 2023 01:13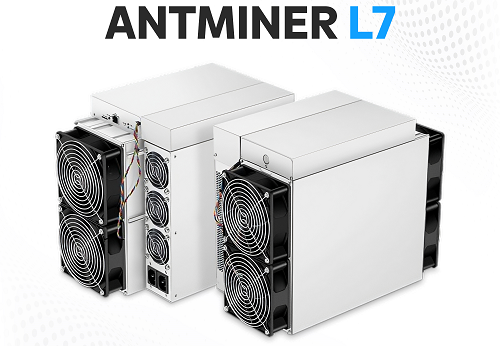 The Bitmain Antminer L7 ASIC Miner is designed for cryptocurrency mining using the Scrypt algorithm. Currently, this algorithm is primarily used to mine cryptocurrencies such as Litecoin and Dogecoin. Since the profitability of dual mining Litecoin and Dogecoin is now at the breakeven point for most miners due to electricity costs, overclocking or, conversely, reducing the hash rate to increase energy efficiency is more relevant than ever.
The standard firmware from Bitmain does not allow users to choose the ASIC's operating frequency and, consequently, its hash rate. To overclock or undervolt the Antminer L7, it is necessary to use third-party firmware.
The best firmware for overclocking Bitmain ASICs is Hiveon's, as it does not require overwriting the manufacturer's standard firmware (thus maintaining the warranty), and all frequency changes are pre-tested using auto-tuning to minimize the negative effects of increased chip frequency.
Hiveon firmware is written to a MicroSD card (4GB is sufficient) as a bootable image using programs like Ethcer, HDDRawCopy Tool, or any other image-writing software. After inserting the flash drive with HiveOn firmware into the ASIC miner, it will boot from the flash drive. If you remove the MicroSD card from the miner, the ASIC will revert to the standard firmware. Therefore, each ASIC miner requires its own MicroSD card.
On the Hive On website, you can download universal firmware for all versions of Bitmain Antminer L7.
You can download the firmware and explore the available options for choosing the ASIC's hash rate and energy efficiency on the Hiveon website.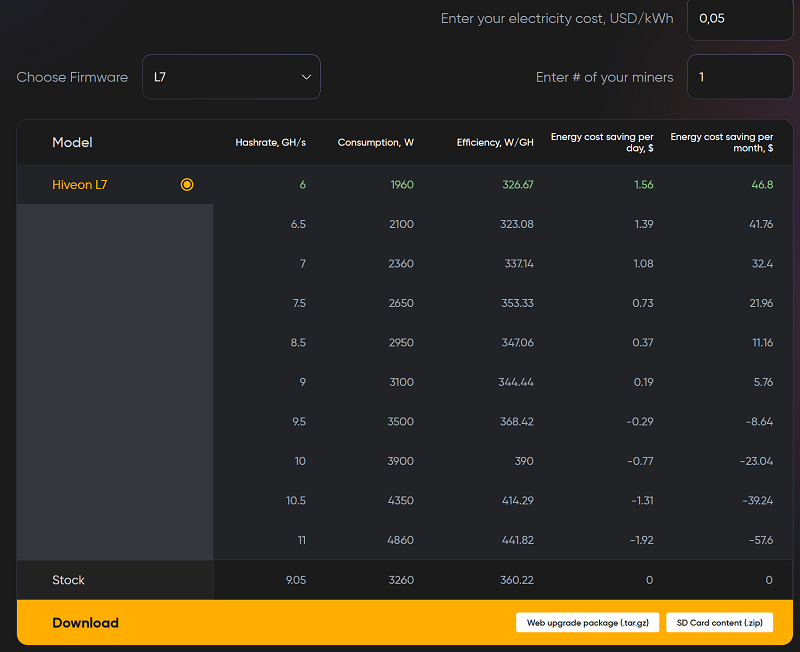 As seen in the table, users have a variety of options for selecting the ASIC's hash rate, power consumption, and energy efficiency (ranging from 6 GH/s at 1925W to 11 GH/s at 4860W).
When selecting a hash rate higher than the standard 9 GH/s, make sure you have adequate cooling for the ASIC miner and a power supply and electrical wiring that can handle the increased device power.
During the initial startup at higher frequencies using the Hiveon firmware, the ASIC miner will spend several hours fine-tuning its settings, causing it to reboot and temporarily disconnect from the mining pool. This is not a critical error, but if reboots continue for more than a day, it is advisable to reduce the ASIC miner's operating frequency.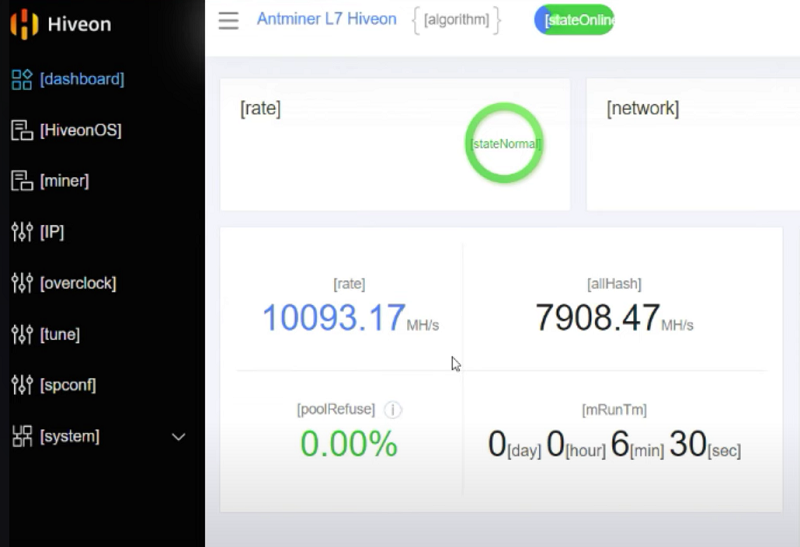 In addition to selecting different ASIC operating modes, Hiveon firmware provides additional capabilities for managing and monitoring the operation of the device. Because Hiveon has its own pool and ASIC HUB monitoring program, so you can simply specify your ID in the firmware for a quick connection.
You can register on Hiveon.com using our referral link (10 USD bonus to your account)