Asic Miner Spondoolies tech SPx36 - 540GH/s on algorithm X11
Details

Created: Thursday, 06 September 2018 02:04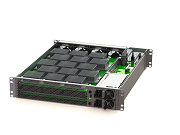 If you have been watching the mining crypto currency for a long time, you probably heard in 2014 about a successful model of the SP 20 miner from the Israeli company Spondoolies tech. Since 2016 this company has left the open market of the asic miners and we have already forgotten about it up to this point. As it turned out, the company still exists and is working on a new asic miner for the X11 mining algorithm called Spondoolies Tech SPx36. The dimensions and power consumption of this asic are calculated for installation in server racks in data centers, so the new product is most focused on the corporate sales sector.
Technical characteristics of the asic miner Spondoolies Tech SPx36:
Algorithm X11
HashRate 540Gh / s
Energy Efficiency 8.1 J / GH
Power consumption 4400W
Dimensions with handles PSU: 595x434x88 mm
Weight 19.5 Kg
Price 15500 USD
Date of first delivery October 2018
180 Days Warranty

Asik Miner SPx36 offers the best energy efficiency for the X11 algorithm. For example, Antminer D3 from Bitmain has an energy efficiency of 57 J / Gh, and more modern competitors in the form of Innosilicon A5 + 23 J / Gh. Those. spondoolies tech has achieved almost threefold superiority of its own asic miner from its closest competitors.
 If you check the payback of such a solution on the sites profit-mine.com or whattomine.com, then per day 540 GH will give dirty about 50 USD or 1500 USD per month, which is 10% of the price of the asic itself. In other words, the payback of SPx36 to date will be at least 10 months, which is a lot considering the fact that usually the real payback is almost always more than the calculated ones due to the increase in the complexity of the network over time.