Configuring HiveOS for mining the GRIN cryptocurrency
Details

Created: Thursday, 21 November 2019 05:00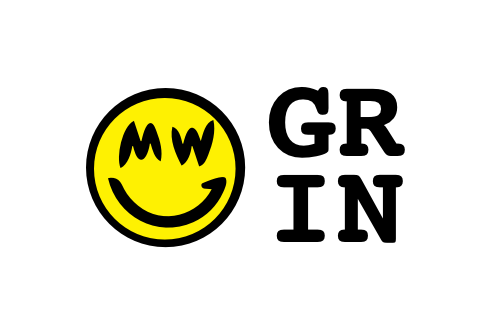 The GRIN cryptocurrency confidently holds the lead in the profitability of mining on Nvidia video cards all of 2019, and the maximum performance in GRIN mining can be obtained only on Linux operating systems, for example, HiveOS. Due to the specific requirements for setting up miners software, many owners of mining rigs are faced with the difficulty of setting up HiveOS for mining GRIN cryptocurrencies using the Cuckatoo31 and Cucarood29 algorithms. Therefore, further we will tell you how to configure HiveOS to work together with F2pool to mine GRIN cryptocurrencies. By the same rules, you can configure the OS for any cryptocurrency based on the MimbleWimble encryption algorithm.
If you are not already registered on the pool F2pool.com and HiveOS.farm - do it. Detailed instructions on how to install HiveOS on your mining rig read in this article.
1 Configuring GRIN Output with F2pool
to configure the output of the GRIN cryptocurrency from the F2pool.com pool, go to the Account settings, then to Mining Accounts
We set the Payout Address: in our case, we chose the Bitforex exchange and indicated our ID on the exchange (7-digit code).
For GRIN29 and GRIN31, the output setting is identical.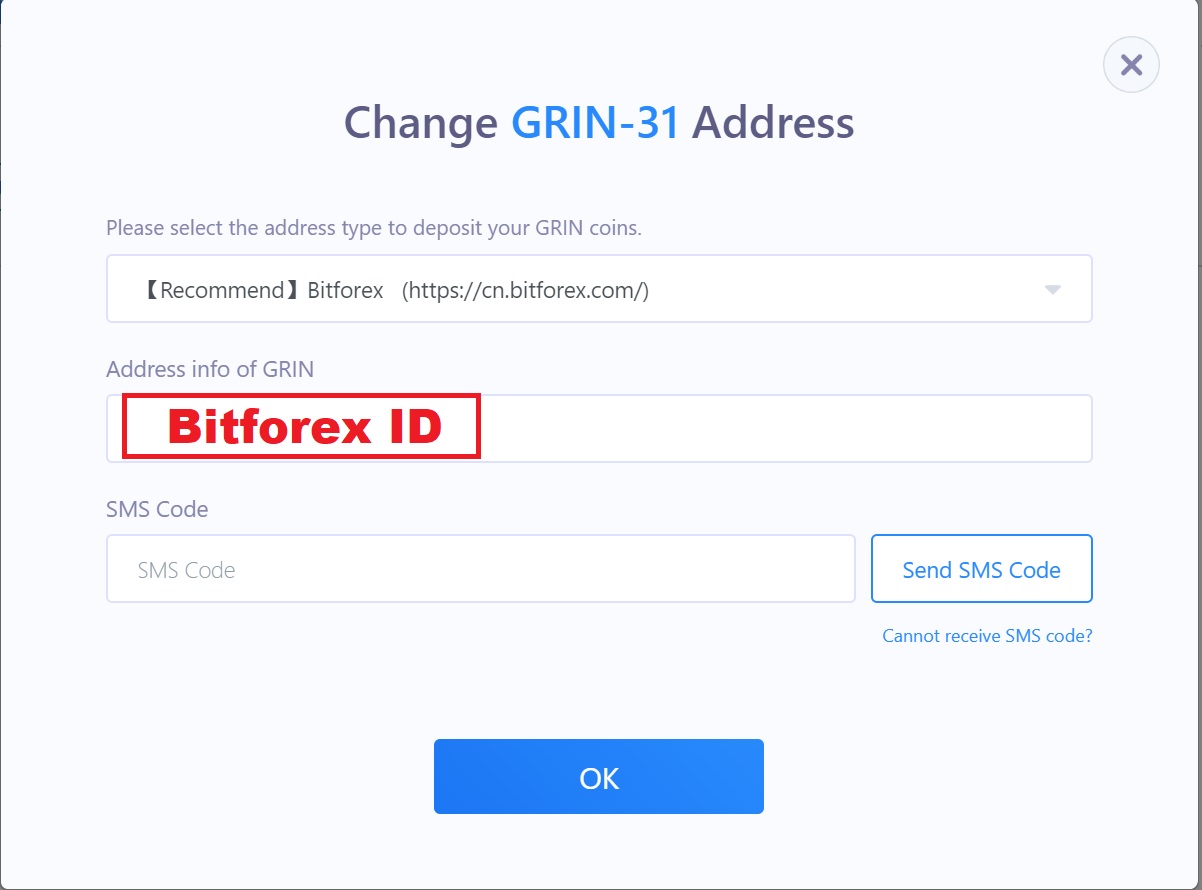 Next, go to the pool in the section on GRIN31 or GRIN29 using the menu in the upper right corner of the site.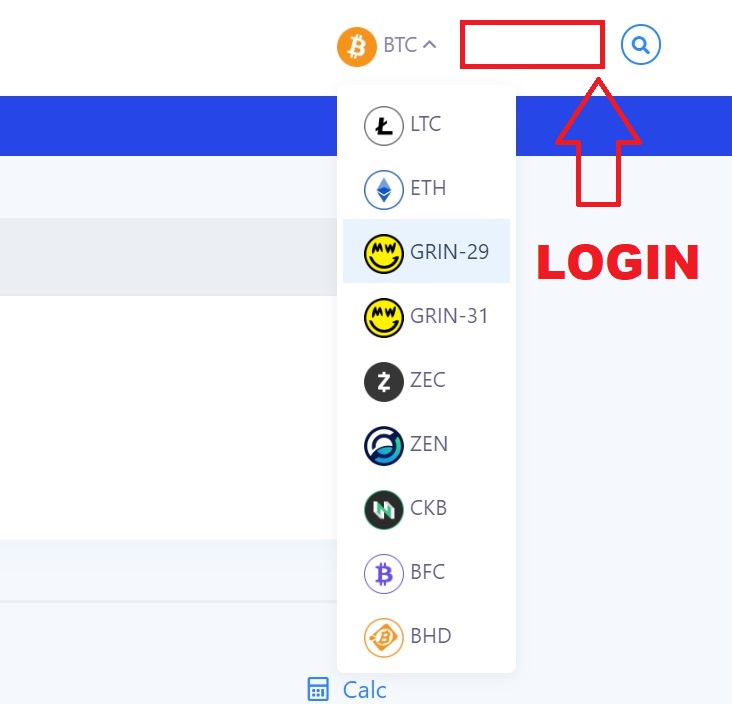 Here we need the following data: your LOGIN and Mining Address.

We recommend choosing a server in Europe (EU) for Europe, Russia and the CIS countries
Для GRIN29 stratum+tcp://grin29-eu.f2pool.com:13654
Для GRIN31 stratum+tcp://grin31-eu.f2pool.com:13654
2 Configuring HiveOS for mining GRIN
First, create a GRIN wallet. In it you need to specify your login (LOGIN) with F2pool.com, select GRIN from the list of cryptocurrencies and come up with your name for this wallet, we just called it GRIN. All other fields are optional.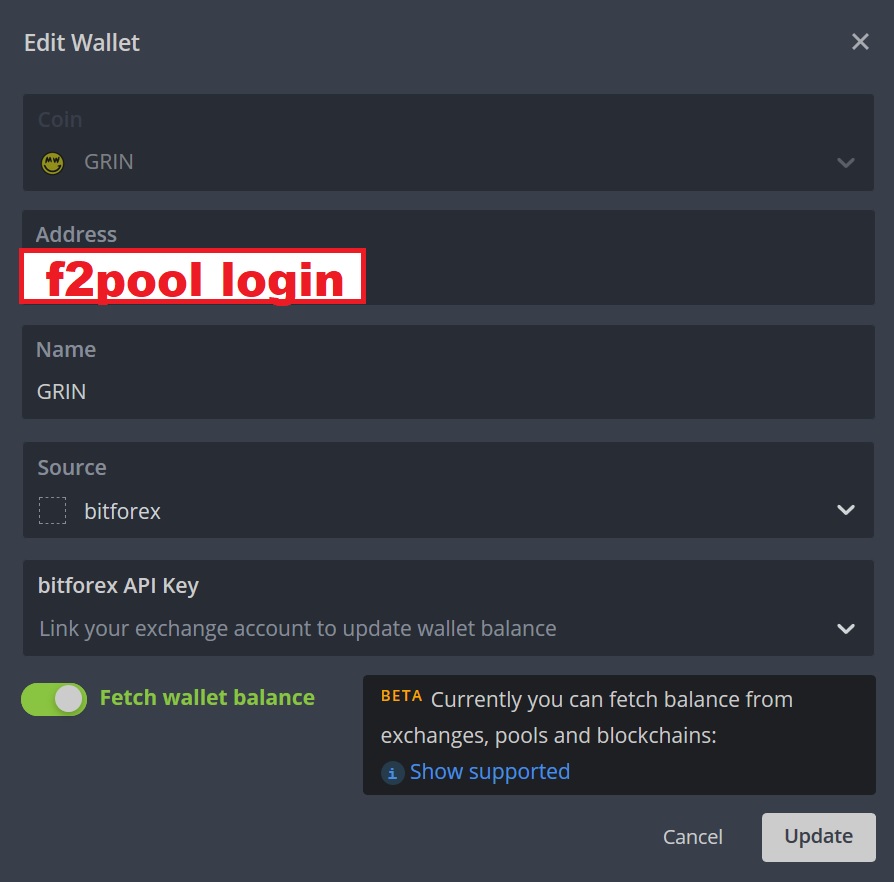 Next, we create a Pallet sheet for the GRIN cryptocurrency.
First, select the GRIN cryptocurrency from the list, then indicate the newly created GRIN wallet, in the pool section select "Configure in miner" and at the last stage select the miner. We chose Gminer as the most stable and productive miner for GRIN and Nvidia video cards to date.

The last step is to configure the miner, the "Setup Miner Config" button
In the "Hash Algorithm" select Cucarood29 or Cuckatoo31
Next, indicate your username in f2pool then the point and name of the worker. For the worker, you can come up with an arbitrary name.
Specify "Pool Server" and the port separately. On the f2pool website, they are indicated by a colon. Please note that the servers for GRIN29 and GRIN31 are different.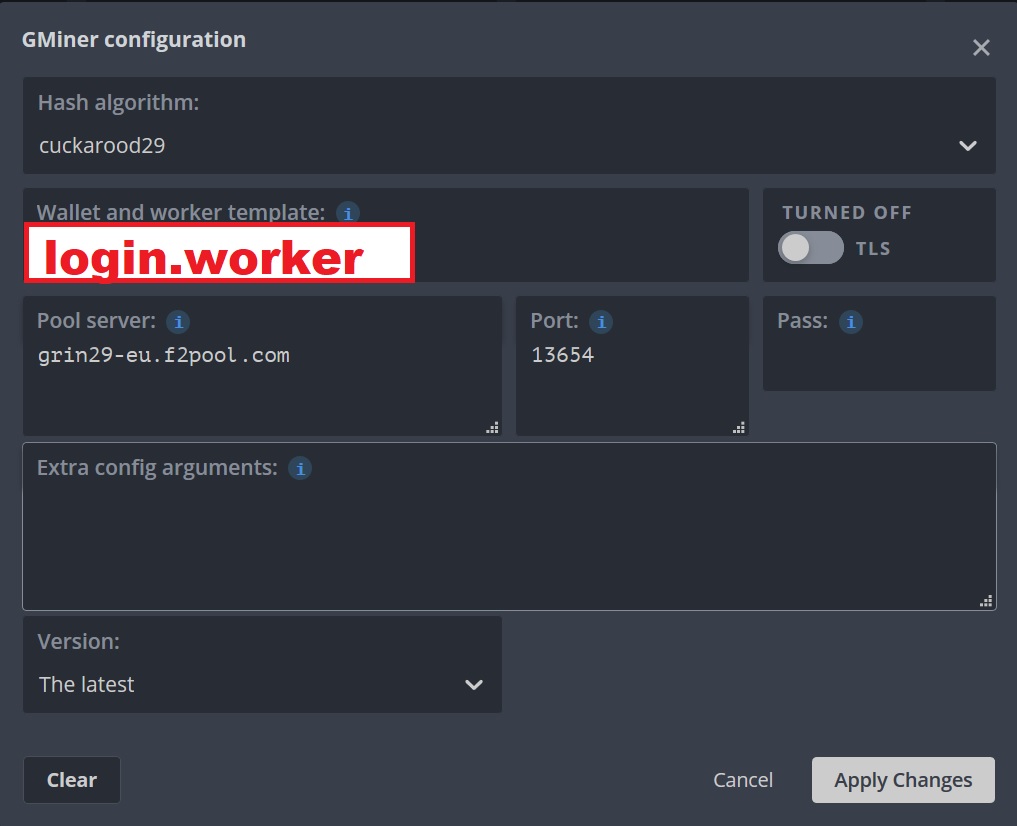 On this setting HiveOS can be considered complete. Click on the ROCKET and enjoy stable and profitable mining of the GRIN cryptocurrency.