YoBit.net virtual mining. What is the performance? Feedback and Review
Details

Created: Friday, 18 September 2020 14:01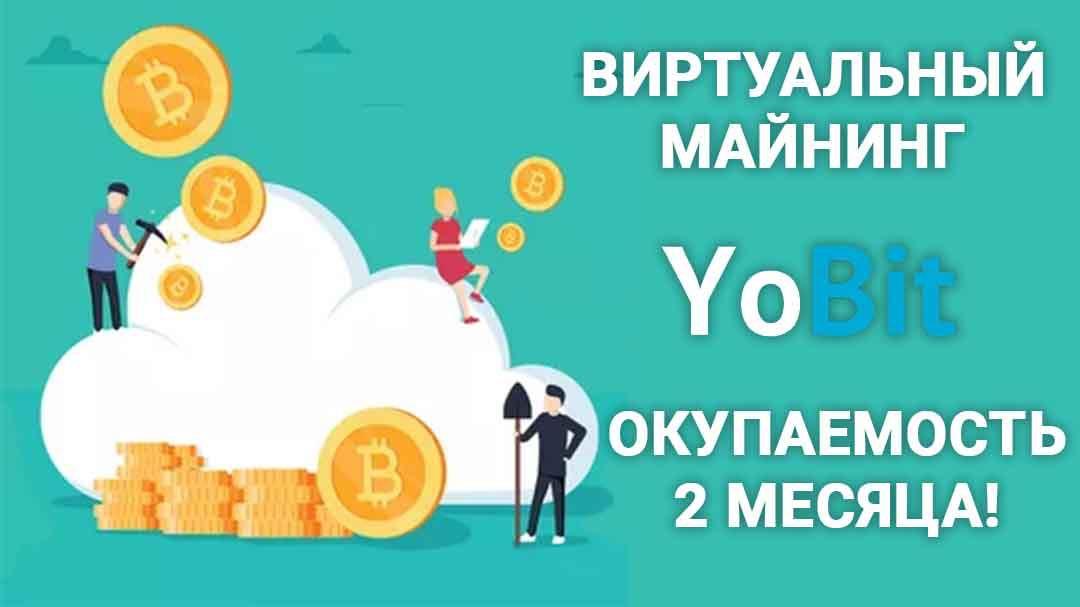 You may have a different attitude towards cryptocurrencies, but you can definitely say it for sure: today it is impossible to deny that this investment method can increase your capital several times over. There are many ways to make money from cryptocurrencies: trade, invest in crypto projects, mining. And if the first two tools have a lot of risks, then mining is considered the most reasonable way to increase the money invested and feel calm, since most investments of this type pay off in about six months, and more often even less.
Virtual mining is a way of making money, which does not mean creating your own farm to mine cryptocurrencies, but rather renting computing power from data centers. This makes it possible to mine cryptocurrencies for people who do not have the opportunity to acquire their own farm or technical knowledge to assemble the equipment and configure the software themselves.
The purpose of this article is to show you, using the example of a cloud mining system from the largest crypto exchange in the CIS, the YoBit platform, what the best service for investing in cryptocurrencies, Vmining , should look like.
In September 2020, Russia's largest platform for cryptocurrency trading, YoBit, launched its own service: Vminig, designed for cloud mining.
Why trust Yobit?
YoBit is one of the oldest platforms on the market with a daily trading volume of $ 50 million, according to CoinMarketCap, and has been offering its services to traders around the world since 2014. This is one of the most popular options among the traders due to its user-friendly interface and high level of security, which makes YoBit one of the best of many international crypto exchange rankings.
You can be sure that the investment will be worth it, because the growth in the price of the mined token is provided by a completely new development and advanced technologies in the field of cloud mining. Demand increases day by day, the popularity of the new system grows, this is what guarantees the stability, reliability and profitability of cloud mining. Also, to secure the funds, with each purchase of a miner, the support price in the Minex / BTC trading pair increases by 0.1%, and part of the funds goes to support the mined Minex token.
What income does YoBit virtual mining provide?
Vmining gives users the power of YoBit, which has its own state-of-the-art equipment and resources. The profit will depend on the power of the selected miner: 
For example, a Micro starter pack will cost ~ $ 100 in BTC, investments that will pay off in 2-3 months. This option is perfect for users with a small deposit to make a profitable investment.
Reviews on YoBit's Vmining site
Thousands of satisfied Yobit users choose this site for its optionality, simplicity, smooth operation and maximum security. Below you can read the opinion of users about the new product, which has already attracted attention not only in thematic forums, but also in the reviews of YouTube bloggers.
Yobit is by far the top platform that is constantly evolving. If you are looking for a secure platform that you can earn a lot of money from, you should definitely pay attention to your new service. Register using the link and you will receive 1700 FreeDollars, which will be available to trade from October 1 to all new users.