How to help Folding @ Home COVID-19 with your mining rigs.
Details

Created: Tuesday, 24 March 2020 07:31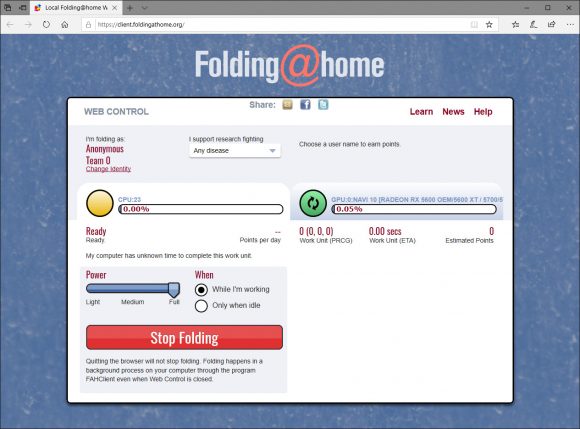 Distributed calculations for finding alien life and calculating protein folding existed long before the advent of crypto mining. Although the SETI@HOME project announced that it will cease to distribute tasks, will go into sleep mode at the end of March, the FOLDING @ HOME project announced its plans to use its efforts to assist in the fight against the COVID-19 coronavirus. Now, any user can participate in the fight against coronavirus by switching their mining rigs (CPU and GPU) to help the FOLDING@HOME project to help better understand how the SARS-CoV-2 virus that causes COVID-19 can be destroyed with antibodies and low molecular weight drugs. Given the current situation in the cryptocurrency market and the low-profit coin mining process caused by panic due to the coronavirus, doing something for the common good may be a good idea, right?
All that is required of you to do this is to download, install and run the Folding @ Home client software for your operating system, which is available for Windows, Linux and MacOS. After that, simply run the downloaded software and select "Any disease" from the "I support research" drop-down list", and you are ready to help your efforts to combat coronavirus. If you want to remain anonymous, you can not provide any information about your personality, but simply provide your capacities to the project, or you can register and even join the team. In fact, there are also some crypto projects that allow you to earn cryptocurrency, while you are helping the FOLDING@HOME project, and although this is not so important at the moment, just keep in mind that this is possible.
If you use a special operating system for mining HiveOS cryptocurrencies, you can also relatively easily switch your mining power to using Folding@Home instead of mining. A detailed guide is available here, which step by step will tell you how to switch to Folding @ Home without having to change the operating system in your mining rigs. Further information on the efforts of Folding @ Home COVID-19.