Return of the King. AMD Radeon 7 - 116MH/s on the ETHash algorithm.
Details

Created: Thursday, 04 February 2021 02:24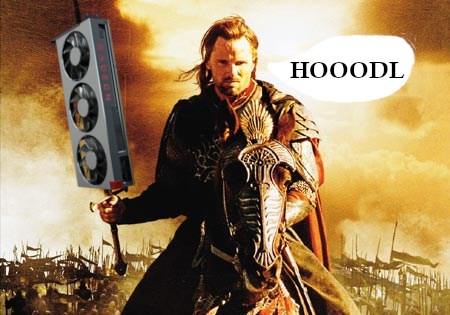 The AMD RADEON 7 video card, immediately after it went on sale in February 2019, confidently took the pedestal among all video cards as the most powerful and energy efficient video card for mining Ethereum cryptocurrency. The power and superiority of the Radeon 7 lasted almost two years before the release of the Nvidia Geforce RTX 3080 and Geforce RTX 3090 graphics cards with GDDR6X video memory on board. If a Radeon 7 video card with HBM 2 memory produced 80-90 MH/s, when all the other competitors were at most capable of 55Mh/s at twice the price. Then, against the background of the new products RTX 3080 (95-105Mh/s) and RTX 3090 (100-120Mh/s), the Radeon 7 was defeated and displaced from the first line of the most powerful and energy efficient graphics cards for mining on the Ethash algorithm.
Oblivion did not last long, because with the release of the 8th version of TeamRedMiner , enthusiasts and mining experimenters were able to get 116MH/s out of the old man instead of the previous 80-90Mh/s, or vice versa, with not the highest hash rates (90-100MH/s), the Radeon 7 video card began to show miracles of energy efficiency.
We will discuss how to get the new mining king from AMD Radeon 7 in our article.
The first mode: the mode of maximum performance of AMD Radeon 7 in Ethereum mining

Ethash: 116Mh/s 280W 2.4W/MH
All results were obtained on RaveOS using TeamRedMiner 0.8.0 C-mode and the following overclocking parameters:
GPU: 1890Mhz 965mV
Memory: 1150Mhz 965mV
Memory Tweak (Hynix): --RTP6 --REF7500 --RCDRD 13 --RP 12 --RRDS 3 --FAW 12 --RAS 19 --RC 40
For RaveOS, memory timings can be changed using the AMDMemoryTweak utility, the command to change memory timings will be as follows (SET menu in the Tuning tab)
amdmemtweak -i[GPU_ID_BY_TYPE] --RTP 6 --REF 7500 --RCDRD 12 --RP 12 --RRDS 3 --FAW 12 --RAS 19 --RC 40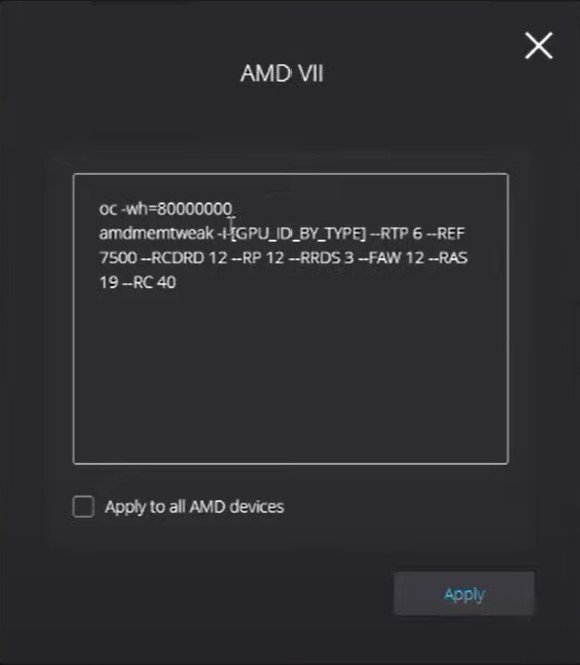 Important: Because AMD Radeon 7 graphics cards are notorious for their unreliable operation at maximum power consumption modes, so use the above overclocking at your own risk.
Mode Two: Optimal Energy Efficiency and Performance
 Ethash: 102 Mh/s  230W  2,25W/MH
GPU: 1635Mhz 900mV
Memory: 1000Mhz 900mV
Memory Tweak (Hynix): --RTP6 --REF7500 --RCDRD 11 --RP 11 --RRDS 3 --FAW 12 --RAS 19 --RC 30
Command for AMD Memory Tweak:
amdmemtweak -i[GPU_ID_BY_TYPE] --RTP 6 --REF 7500 --RCDRD 11 --RP 11 --RRDS 3 --FAW 12 --RAS 19 --RC 30