The Nvidia LHR mining limiter is fully unlocked in the NBminer and T-REX miners. Video Card Tests
Details

Created: Wednesday, 11 May 2022 03:54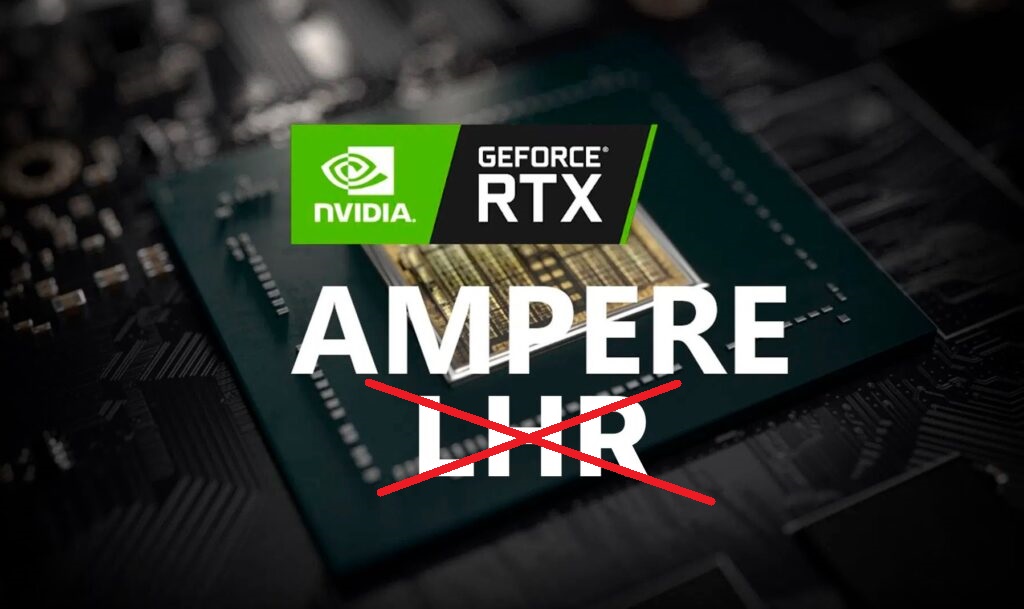 Nvidia is known not only for producing the most powerful and popular graphics cards for mining, but also for mining hashrate limiting technology called LHR. LHR technology began to appear in graphics cards in May 2021 with the announcement of the Geforce RTX 3070 ti and RTX 3080 ti graphics cards. Throughout this year, all mining software developers fought for every percentage of Nvidia unlocking these artificial restrictions, eventually reaching a figure of 79%. All this time, miners with LHR cards felt cheated, because. for the same price, they received less hashrate in Ethereum mining. Until May 2022 hits, or until the next crypto market crash begins, or until video cards are sold at recommended prices (everyone can choose a more pleasant version for themselves). Because it is at this moment that a new version of NBMiner and T-REX is released, which completely remove the LHR block for mining the Ethereum cryptocurrency.
It should be noted right away that 100% blocking is only valid for RTX 3060, RTX 3060 Ti, RTX 3070, RTX 3070Ti, RTX 3080, RTX 3080Ti video cards and only for the Dagger-Hashimoto (Ethash) algorithm. For other FiroPow, Autolykos mining algorithms, LHR GPUs still show lower hashrate than non-LHR GPUs.
For RTX 3050 and RTX 3080 12Gb video cards, LHR was only 90% unlocked, and then only in the beta version of NBMiner 41.4. This is due to the fact that these video cards were released by nvidia last and they have a new LHRv3 mining limiter built into them.
Testing Nvidia video cards with LHR mining limiter (NBminer 41.4)
| | | | | |
| --- | --- | --- | --- | --- |
| Video Card | Hash rate EThash | GPU | Memory | TDP |
| RTX3050 | 28Mh/s | 1222Mhz | 2125Mhz | 75W |
| RTX 3060 LHRv2 | 50Mh/s | 1575Mhz | 2600Mhz | 120W |
| RTX 3060 Ti | 61Mh/s | 1380Mhz | 2050Mhz | 125W |
| RTX 3070 LHR | 62Mh/s | 1410Mhz | 2200Mhz | 115W |
| RTX 3070 Ti | 81Mh/s | 1500Mhz | 2700Mhz | 190W |
| RTX 3080 LHR | 100Mh/s | 1100Mhz | 2000Mhz | 220W |
| RTX 3080 12Gb | 110Mh/s | 1325Mhz | 2800Mhz | 270W |
| RTX 3080 Ti | 120Mh/s | 1425Mhz | 2500Mhz | 300W |
During testing, unstable operation of video cards is noted due to the constantly jumping load on the GPU, which does not prevent the shown hashrate from being transferred to the mining pool, but it may be necessary to review your video card settings for frequencies and power consumption.
NB Miner 41.4. already available for HiveOS operating system users
Conclusion: The developers of NBminer and T-REX have made great strides in unlocking nvidia's artificially created LHR mining limiter, achieving almost 100% unlock. Because of this, the total hashrate of the Ethereum cryptocurrency network has been continuously growing over the past few days, because. owners of LHR video cards are gradually switching to new versions of miners with an unlocked LHR mining limiter.