CryptoBit - new cloud mining (high-yield investment program), the heir Xmine
Details

Created: Sunday, 25 September 2016 12:29

We present you the new, recently launched pseudo cloud mining CryptoBit, which apparently is the successor of the project X-mine. CryptoBit has been working for about 4 days, kicked off September 21, 2016 and it is based on the modified engine from the former popular, recently soskamivshegosya project X-mine. Here we will see: the ability to obtain one of the three cryptocurrency choice: Bitcoin, LItecoin or Dogecoin; Competition referrals, very similar to that of the former X-mine, but here the 15 finalists ref-race, which is held every 10 days will receive a fixed reward of 1 BTC at all. The project is available both in Russian and English languages, made and decorated with very high quality and running quickly, without any delay. For registration in the project accrue 1500 DOGE Coin, which immediately converted to the 1 power level. Profitability of the project is from 1.17% to 2% per day depending on your power level.
Immediately after the registration in the project bonus 1500 DOGE converted into 1 power level (from 10 available) with which you will have a yield of 1.17% per day. To increase the income you will need to buy or bring heshreyt referrals, thereby increasing your power level. It should also be noted that the one-tier affiliate program here, 10% of all purchases your referrals instantly capacities will be used to increase your power level.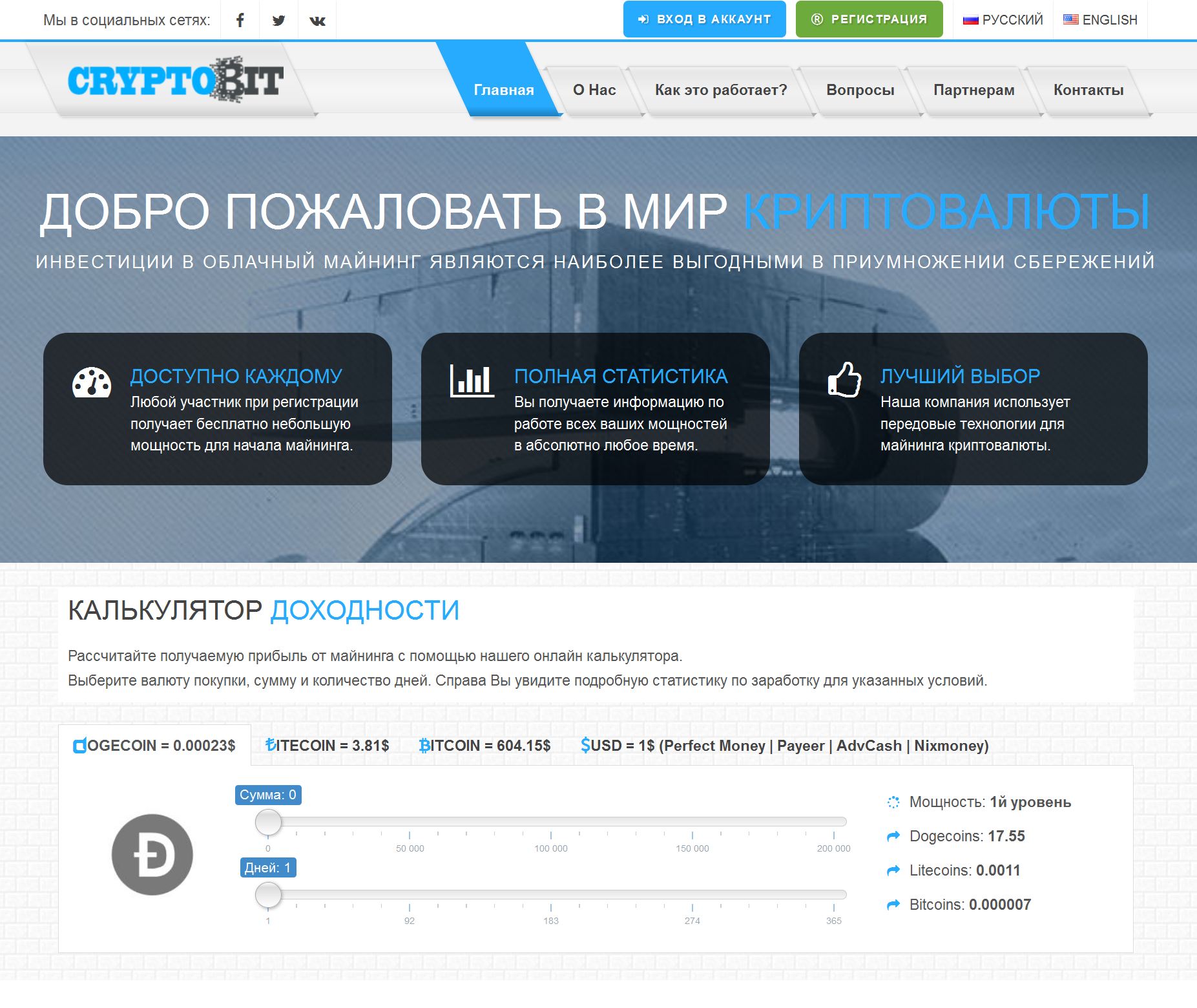 Features of the cloud service of mining CryptoBit:
Project start: 21.09.2016.
Improved and revised script from Xmine.
English and Russian languages
Affiliate program 10%.
Battle referrals: the race is held every 10 days and the first 15 finalists will share the prize of 1 BTC as an equivalent production capacity.
Deposit: BTC, LTC, DOGE, PerfectMoney, Payeer, AdvCash, NixMoney.
The minimum deposit amount: BTC: 0.001, LTC: 0.1, DOGE: 1500.
Minimum withdrawal: BTC: 0.001, LTC: 0.1, DOGE: 1500.
Withdrawal: BTC, LTC, DOGE.
Possibility Reinvest by exchange earned BTC, LTC, DOGE to power.
Instant processing of applications for withdrawal.
No additional fees for withdrawal and deposit of funds.
DDoS protection: DDOS-GUARD.
SSL encryption certificate.
The high level of execution of the project design and user's personal cabinet.
Built-in calculator income on the home page.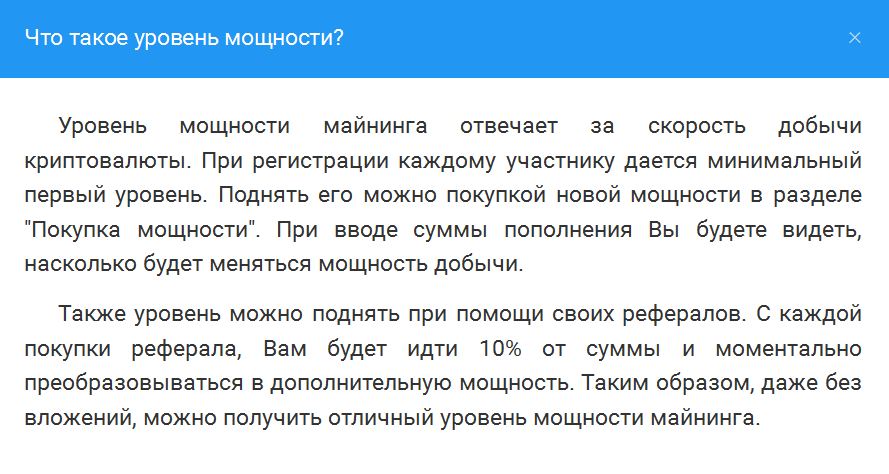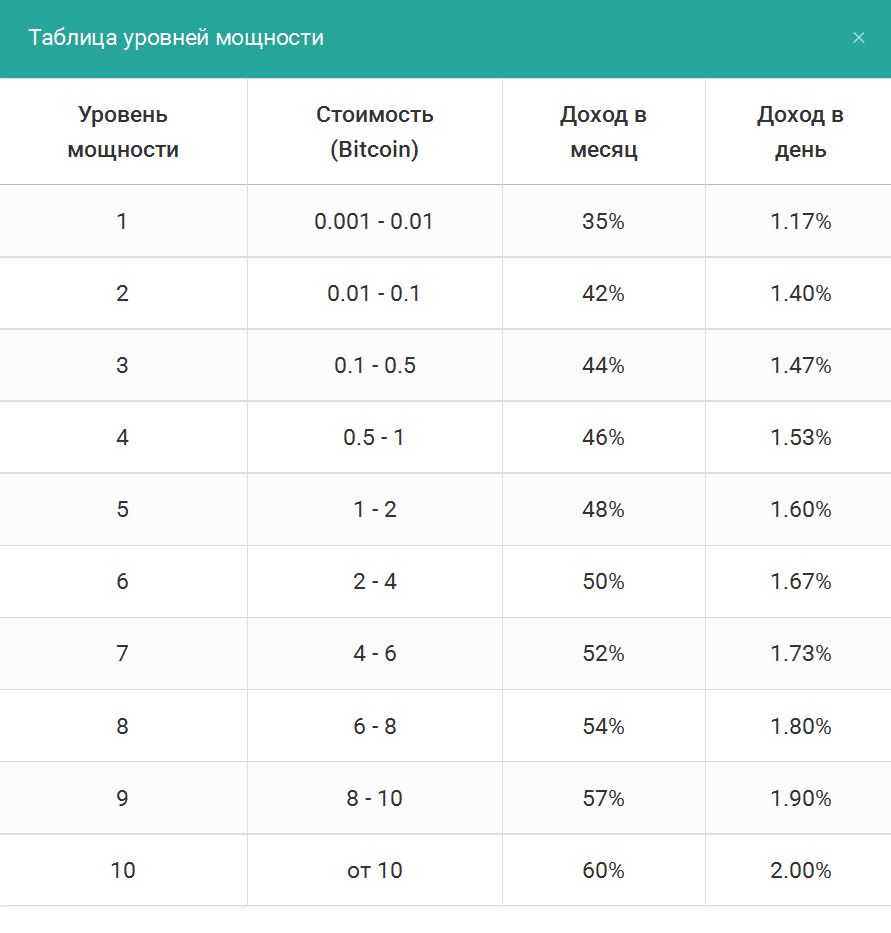 Registration and deposit:
Registration process, as in all such projects, it is very simple. You only need to fill in the registration form available on the button "Registration" on the main page of site, specifying your username, password, e-mail and PIN for payment transactions. For more buying power, you have to go to your personal user account (login), and then click on the left menu "Financial operations - Get power". Then you have to choose with the help of a payment system you want to make a deposit: one of the three supported cryptocurrency: BTC, LTC and DOGE or by other known payment systems, such as: PerfectMoney, Payeer, AdvCash and NixMoney. For example, for the purchase of capacity using Bitcoin, enter the amount of deposit on the other hand strki Bitcoin and click "Pay". Then you will see a window with the amount and the BTC-address to which you want to transfer the funds to buy in BTC hashrate.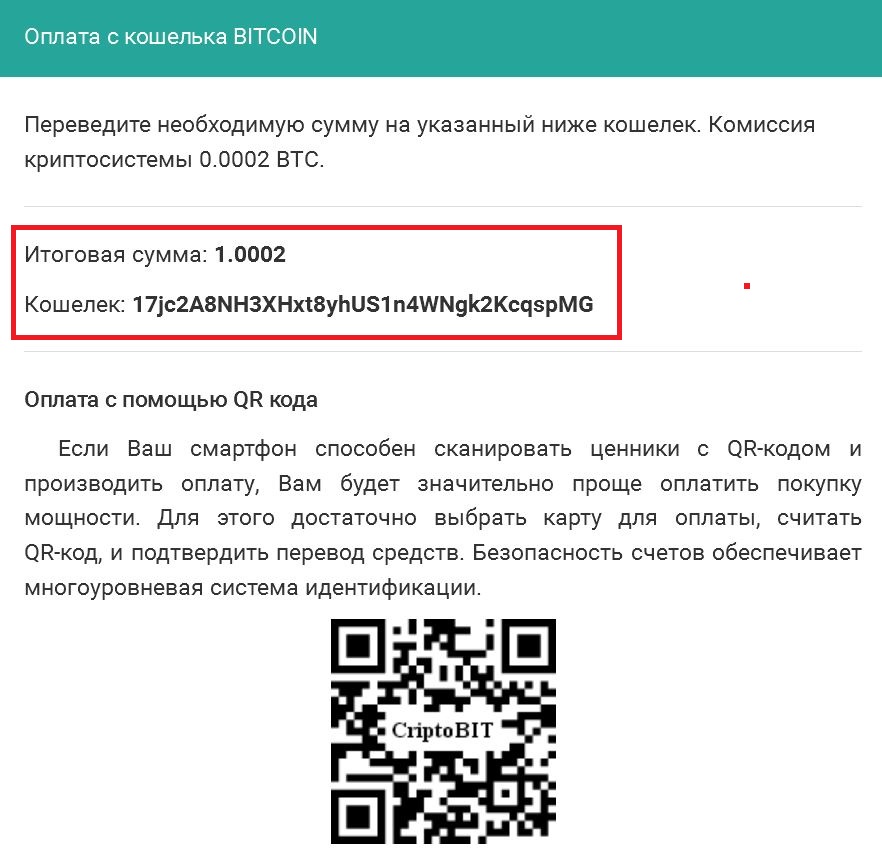 We are, as usual, add the project to our CryptoBit cloud mining monitoring and will monitor its development and payment status.
Register on CryptoBit and obtain 1 hashrate levelcloud mining monitoring