First ASIC miner Lyra2Rev2 - DAYUN Zig Z1
Details

Created: Wednesday, 19 September 2018 02:41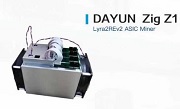 DAYUN Zig Z1 asic lyra2rev2For the last week we have repeatedly heard about the new Asic miner under the Lyra2Rev2 algorithm called DAYUN ZIG Z1. Although we have not found confirmation of the real existence of this device, we decided to write about it anyway. the appearance of an ASIC of power equal to 6.8 GH / s, which is equivalent to 100 GeForce GTX1080Ti-level video cards, can completely displace graphics cards from the crypto currency Vertcoin, Verge, Monacoin and other crypto-currencies based on the Lyra2Rev2 algorithm.
As we have already said, the developers of the new ASIC promise 6.8Gh / s when using the chip on the obsolete 28-nm process technology. At the same time, the power consumption will be 1200W. Those. if such a device really exists, it will not be difficult to release improved versions of this miner on new technical processes, which will be 2-3 times more energy efficient. Therefore, most likely you should not give 8000 USD for a device that can become obsolete in a few months immediately after release.
Since the first information about the DAYUN Zig Z1 has appeared, it's been more than a week, but we still do not see a sharp increase in the hash of crypto currency on the algorithm Lyra2Rev2. Those. It is too early to speak about the existence of the DAYUN Zig Z1 asikas on any large scale.