Icy Dock ToughArmor MB872MP-B Compact Adapter for 12 M.2 SSD
Details

Created: Friday, 30 April 2021 04:56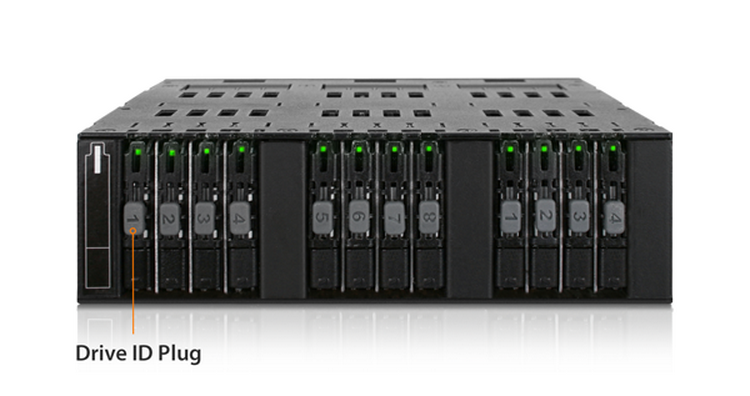 For mining the Chia cryptocurrency, which is mined on HDD or SSD disks, niche products have become popular that allow you to connect many drives to one computer. We have previously written about a motherboard with 32 Sata connectors from Onda. This time we want to introduce you to another equally curious device that allows you to connect up to 12 SSD drives with an M.2 slot. Moreover, this device is installed in the case of any personal computer that has compartments for 5.25 inch devices (for example, DVD-RW drives).
The device for connecting 12 SSDs is called ToughArmor MB872MP-B from Icy Dock. I am sure that none of our readers have ever heard of this company before.
But in modern realities, its products, including the ToughArmor MB872MP-B, can be in great demand on the market.
A removable tray with an indication of operation is provided for each SSD. A fan is installed on the back to cool the SSD drives.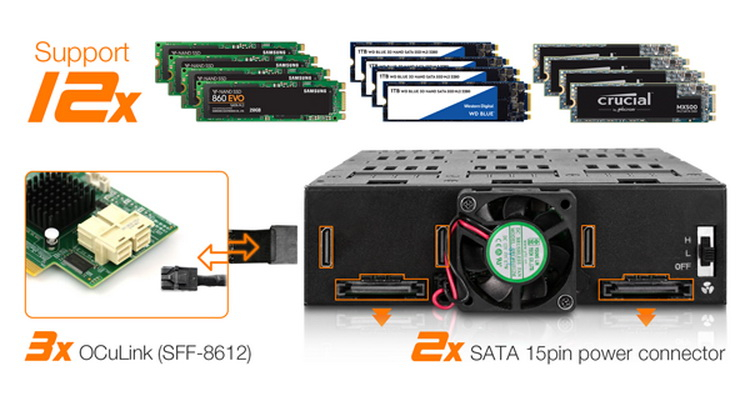 The adapter is connected to the motherboard via three high-speed OCuLink interfaces (SFF-8612). A special expansion card is installed in the PCIE slot. The device is powered by two 15-pin SATA cables.
In addition to the device already described, Icy Dock can offer other similar solutions for HDD, NVME SSD disks in various designs and a different number of connected disks.