Intel to unveil first-generation SHA-256 Bonanza Mine ASIC Miner
Details

Created: Monday, 21 February 2022 04:50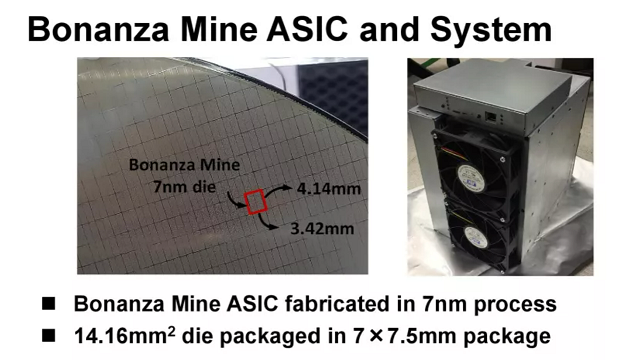 Not so long ago we already discussed the news that Intel is preparing to present its first bitcoin mining ASIC at ISCC 2022. A few days before the presentation the details and characteristics of the first generation of Bonanza Mine ASIC miner from Intel became known. Which is based on 7nm BZM1 chip, though it is not specified at which factory these ASIC chips are produced: Intel or TSMC. 
BZM1 is made in a 7*7.5mm FCLGA open chip package with 132 pins. Each BZM1 chip calculates 258 SHA256 hashes in parallel. The chip runs from 1.35 to 1.6GHz while consuming 7.5W, which is equivalent to an energy efficiency of 55J/TH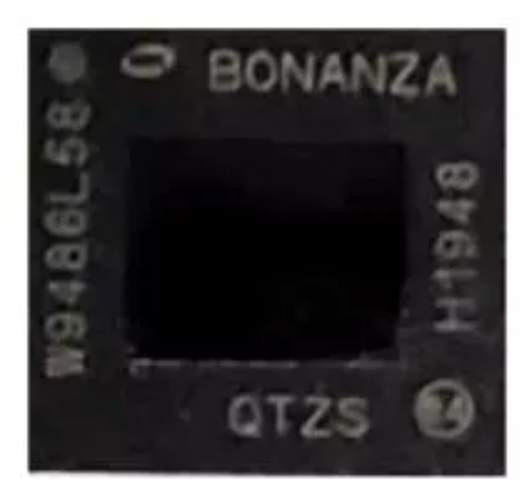 Each BZM1 chip is capable of delivering up to 137GH/s, and if each miner's ASIC has 300 such chips installed, the total performance of the first-generation ASIC Bonanza Miner will be about 40TH/s at a power consumption of 3600W.
With such not the most outstanding results, the new product from intel will be able to compete only with Bitmain S15 generation ASICs (28TH/s 1600W), released back in 2018. Modern Bitmain Antminer S19 Pro miners show much better results: 110TH/s, 3260W.
Intel itself on its slides compares its products with the ASIC AVALON A9, which as well as the Antminer S15 was released back in early 2018.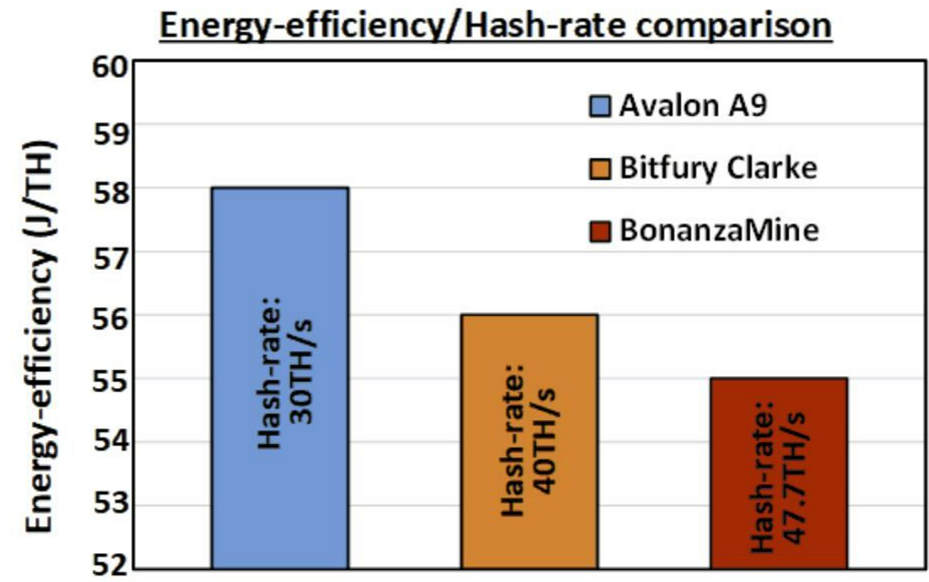 In the current deficit and impossibility to buy asic miners from other manufacturers, such obsolete products from Intel will probably be in demand, but in normal conditions Bonanza Miner first generation is completely non-competitive product.
INTEL is well aware of that, as all long-term contracts concluded with GRIID Infrastructure, BLOCK and ARGO Blockchain for the supply of their asic chips are already second-generation BZM2, characteristics of which are unknown at the moment.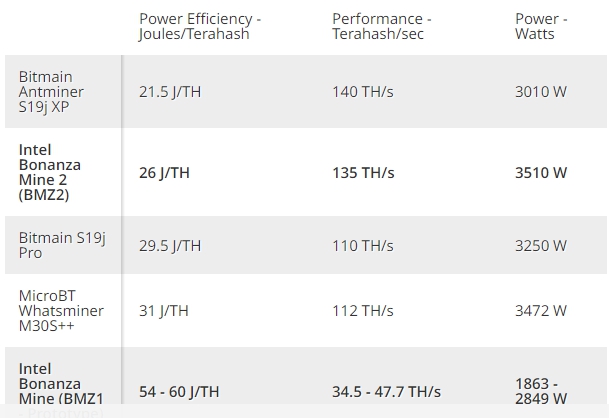 While INTEL will only supply ASIC chips for BLOCK, the other customers will already have fully completed devices as shown on the slide below.