AMD Radeon RX 5500XT - mining test Dagger-Hashimoto (ETHASH) Ethereum cryptocurrency
Details

Created: Friday, 13 December 2019 03:02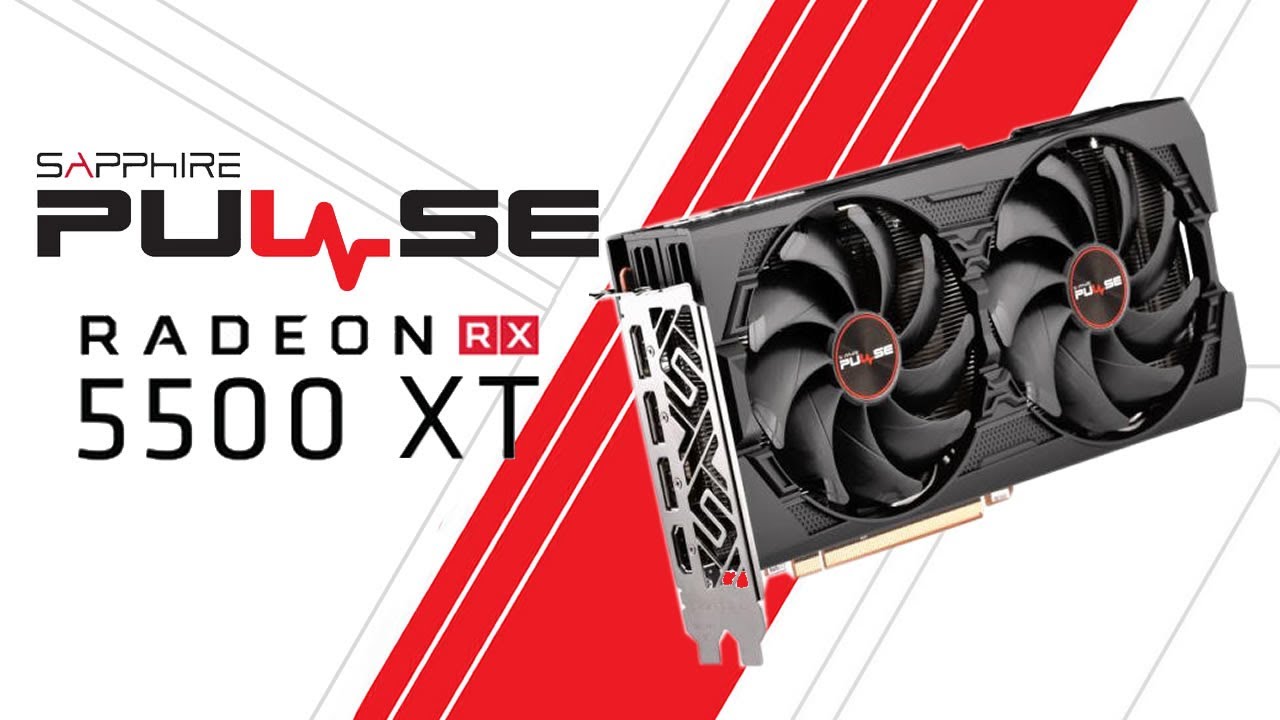 Yesterday, AMD announced its next-generation budget graphics card with RDNA architecture called the Radeon RX5500XT, which replaced the RX560, but in terms of gaming performance it can compete with the more powerful RX580 graphics card of the past generation. Due to the use of a new generation of GDDR6 memory, even taking into account the 128 bit memory bus, the memory subsystem bandwidth is 224Gbit/s. For comparison, this indicator for the RX580 is 256Gbit/s with a 256 bit memory bus and GDDR5. As we know, when mining Ethereum and other cryptocurrencies on the Ethash mining algorithm, this parameter is very important, and since the RX5500XT and RX580 practically coincide, therefore the hashrate of the RX 5500XT video card should be very close to the results of the RX580. Let's check these guesses in practice.
Software selected for testing: Claymore`s Dual Ethereum AMD + Nvidia GPU Miner version 15.
At stock frequencies, the AMD Radeon RX5500XT showed a hashrate slightly above 25.5MH/s at 81W. For comparison, the Radeon RX580 at stock frequencies shows 24MH/s, but due to the possibility of changing memory timings, this result can be increased to 30-33MH/s. Because At the moment, there is no way to change the timings for the new AMD RX 5500 and RX 5700 graphics cards, therefore we will limit ourselves to overclocking the memory and lowering the GPU frequency.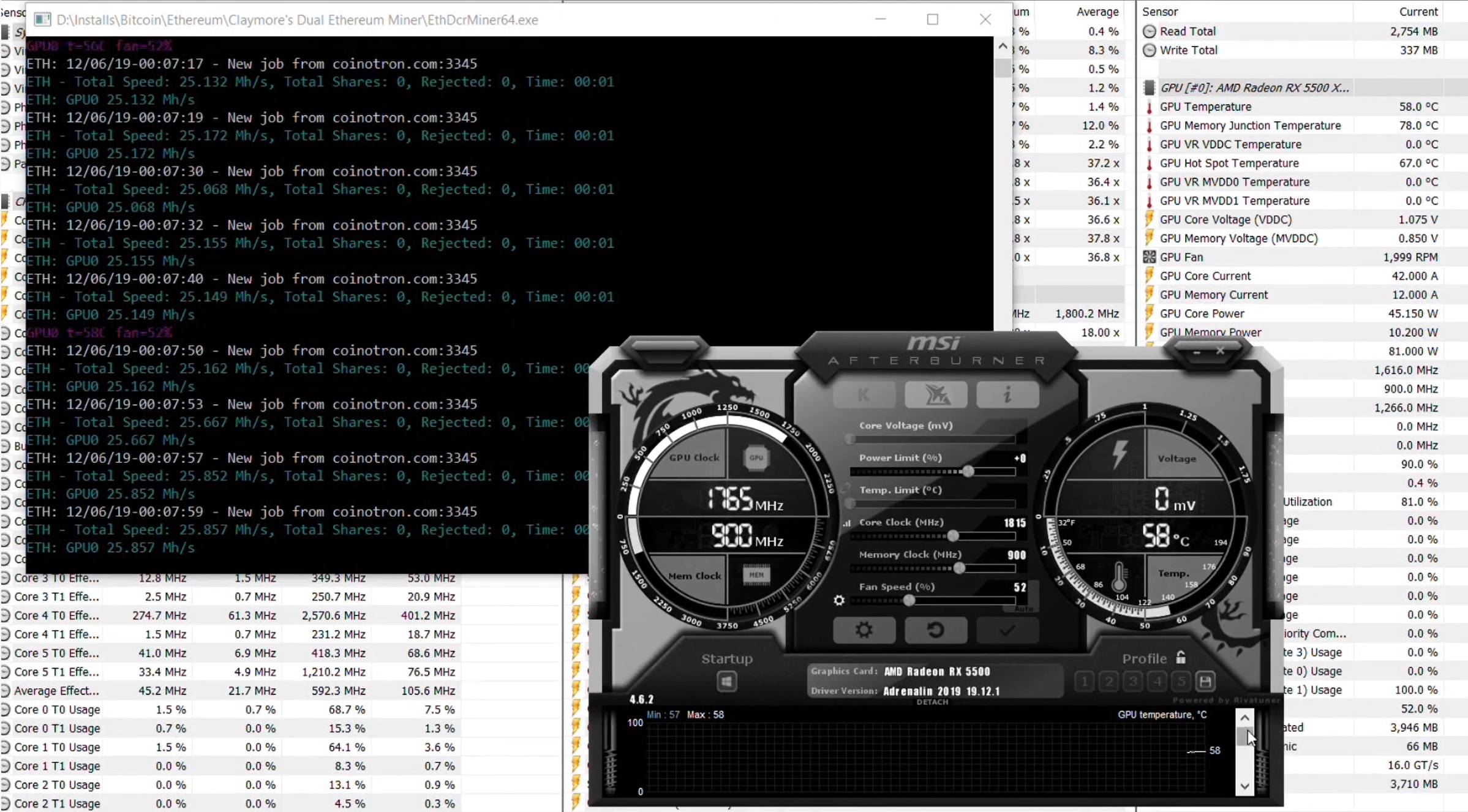 In the next step, the Power Limit is reduced by 50% and the GPU frequency is reduced to 1235Mhz. With these settings, we got the same 25.5Mh/s, but at the same time the power consumption of the video card decreased from 81W to 65W.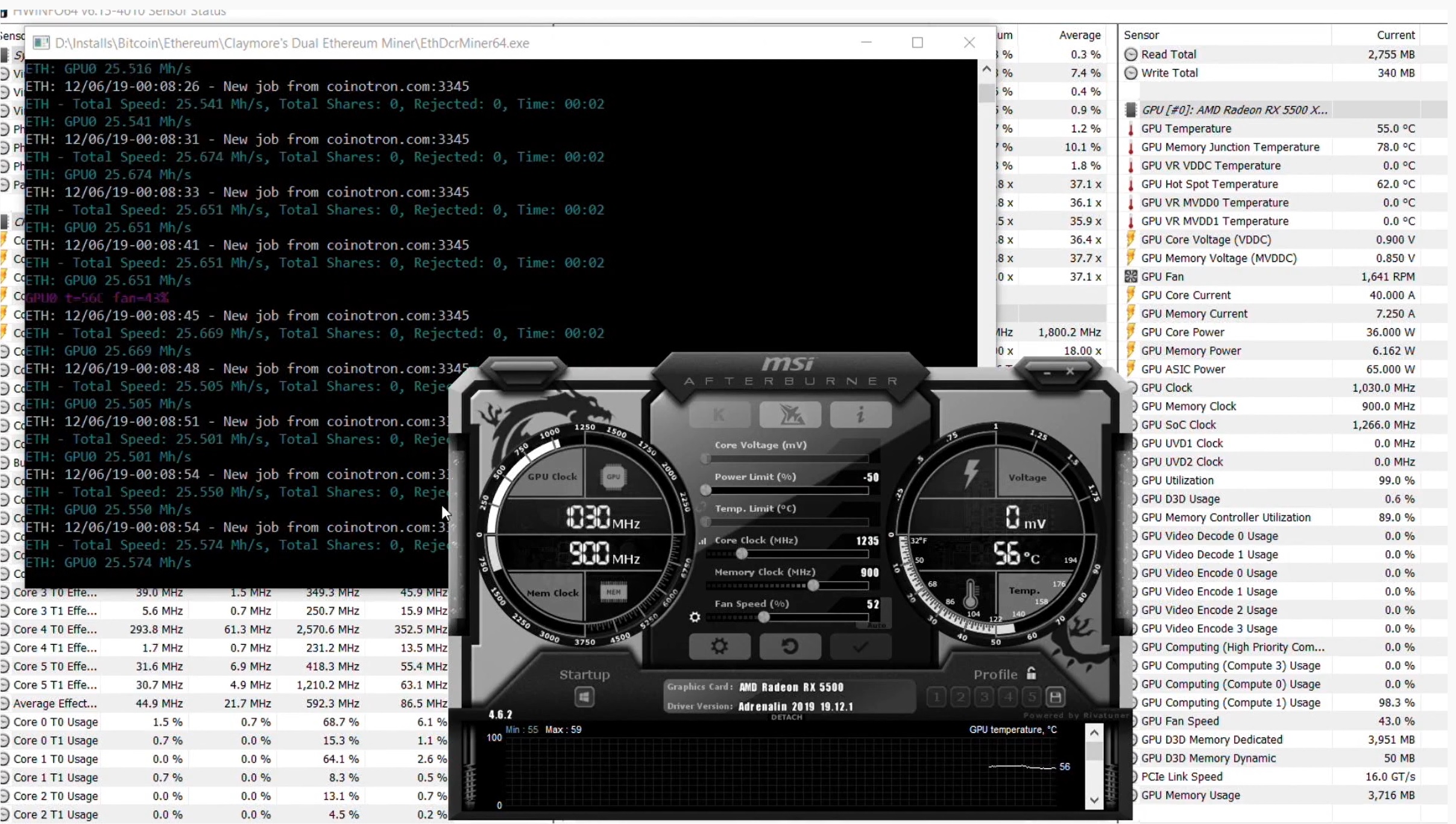 At this stage, the memory frequency is increased to 930Mhz instead of 900Mhz. Hashrate on the Dagger-Hashimoto algorithm grew slightly to 26.3MH/s, which is only 3% higher, but at the same time the power consumption of the video card remained at the same level of 64-65W.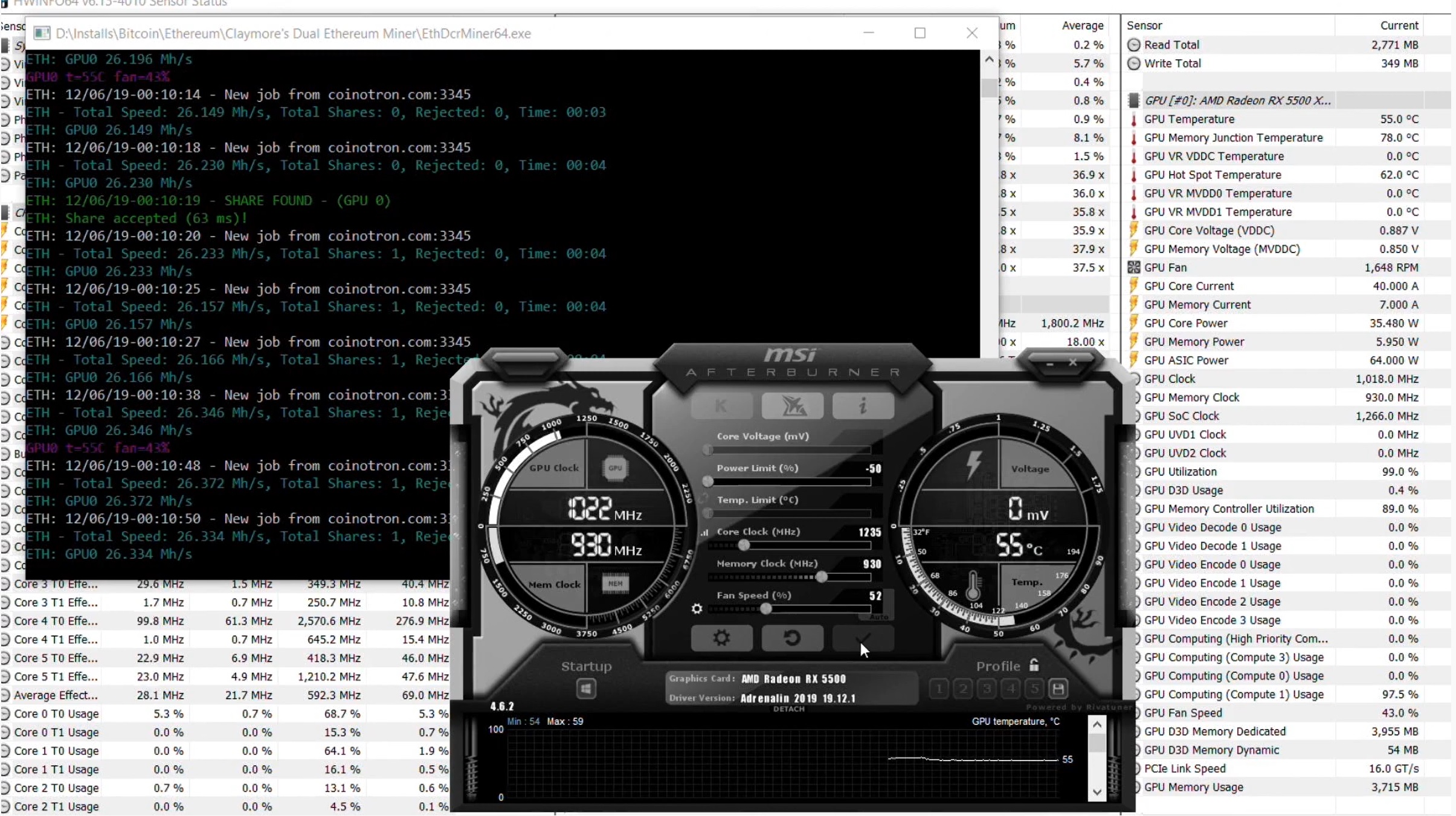 Conclusion: At a price of 170-200 USD, getting a performance of 25-26Mh/s at the end of 2019 would not be the right choice, because even the new RX 570 and RX 580 can already be bought for less than 170 USD, not to mention the used  video card. If we focus on the energy efficiency of the RX 5500XT, the Hash parameter per watt of the new product due to the 7nm process technology will be higher. RX 5500XT (26.3Mh/s and 65W) - 0.4H/W, RX580 (31Mh/s and 100W) - 031 H/W. Those. RX5500XT without changing the memory timings is 29% more energy efficient than the previous generation represented by the RX 580. If we assume that in the near future the RX 5500 video cards will be able to change the GDDR6 memory timings, then the hashrate of the Ethash  will increase to those of the RX 580 30-33Mh  . That will increase energy efficiency compared to the RX 580 to 50%.