The new motherboard for mining AsRock X370 Pro BTC+
Details

Created: Friday, 31 August 2018 02:14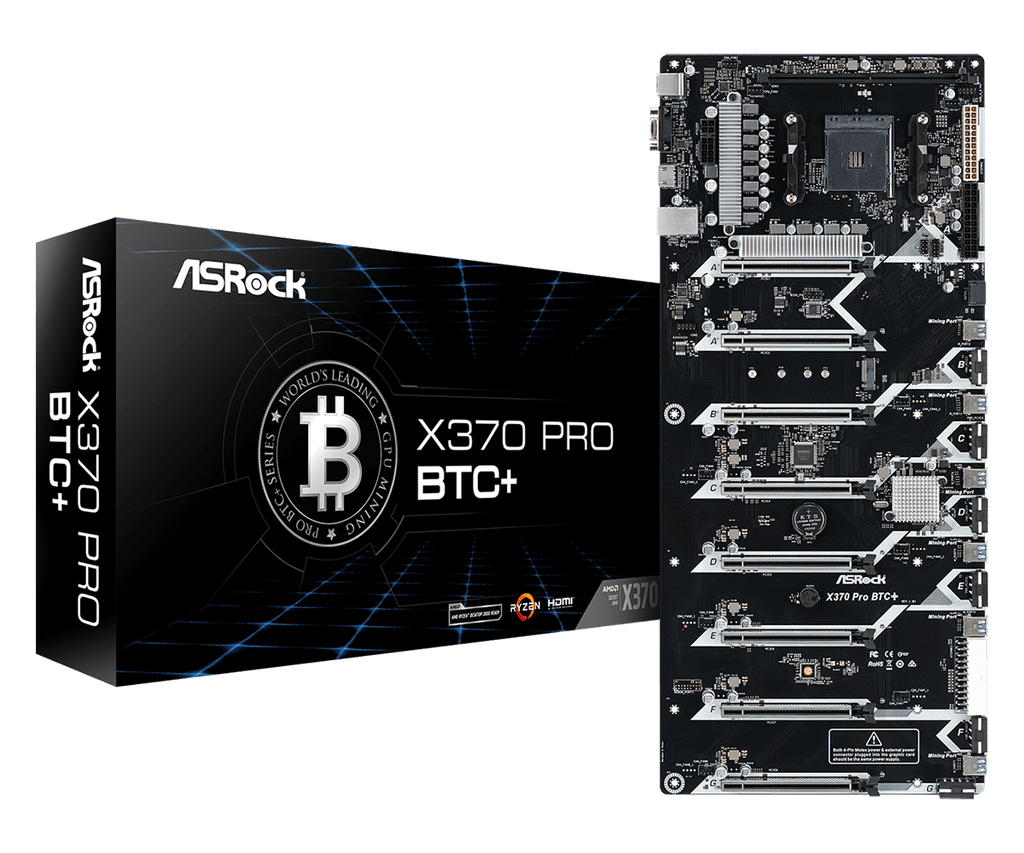 AsRock is well known as the manufacturer of the most popular motherboards for the crypto currency. Once upon a time this company created the trend of "miner's motherboards", the release of its first model AsRock H81 Pro BTC. Since then, many companies manufacturing motherboards have followed in the footsteps of AsRock and supported this trend with their motherboard models. And today we have a choice of such models for mining for every taste and purse. While the novelty AsRock X370 Pro BTC + is not as revolutionary as its predecessor, it still brings a number of new opportunities for miners, in the form of the ability to install new APUs from AMD. Typically, processors costing about $ 100 do not support enough PCIe lines to work with a large number of video cards simultaneously, although this motherboard with a new AM4 connector can change this, due to compatibility with forthcoming inexpensive Rizen processors that will support 28 PCIe lines.
 As the name suggests, the motherboard is based on the AMD X370 chipset, which was introduced on September 5, 2016. In addition, the motherboard supports Bristol Rigge and Raven Ridge APU, as well as Summit Ridge and Pinnacle Ridge CPU based on the ZEN architecture.
What makes this motherboard a miner is the support of a large number of PCIe slots. AsRock X370 Pro BTC + has 8 PCIe x16 connectors, one of which works in x4 mode, and others in x1 mode. In addition, the motherboard allows the use of up to 6 production ports through a set of USB risers.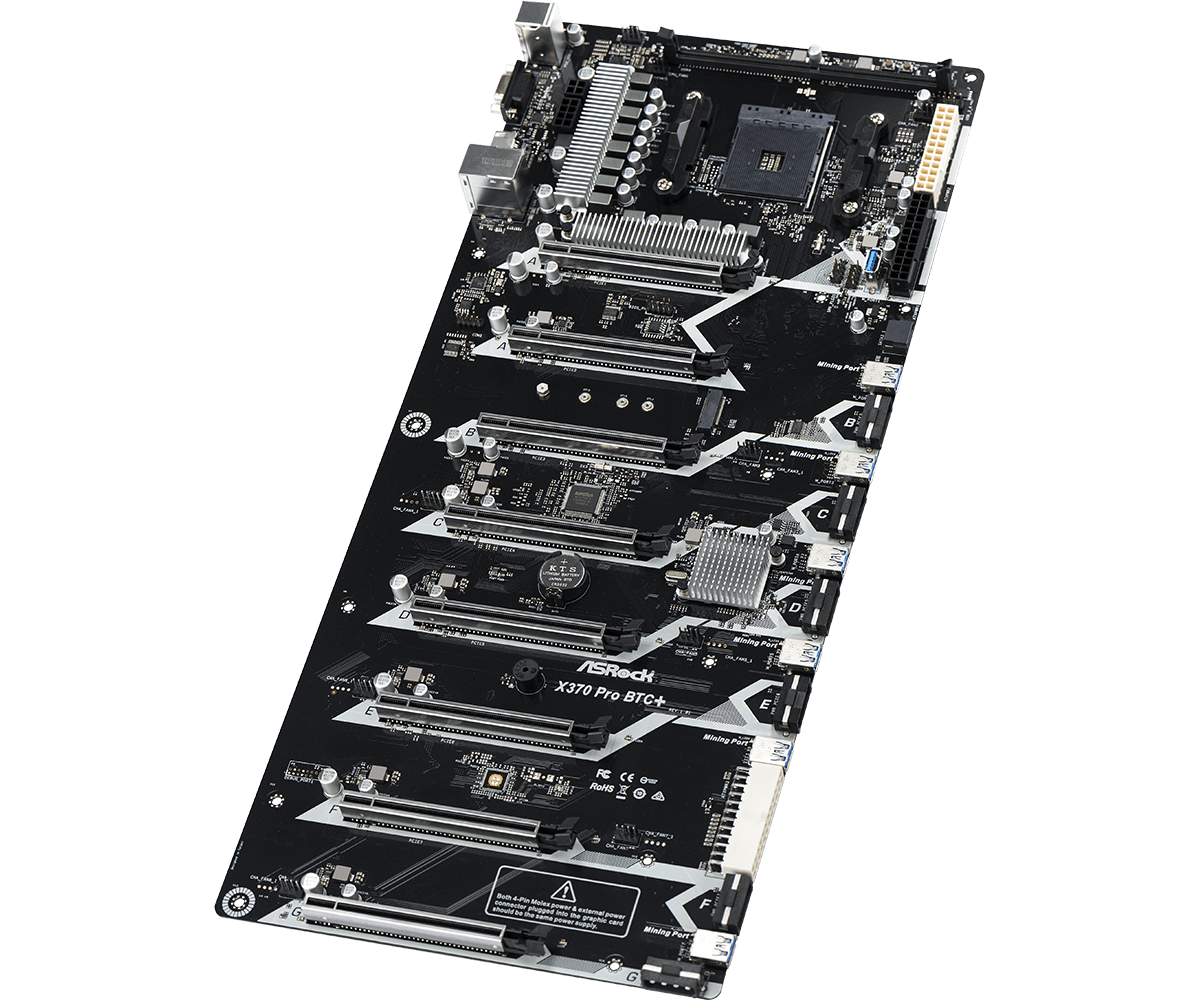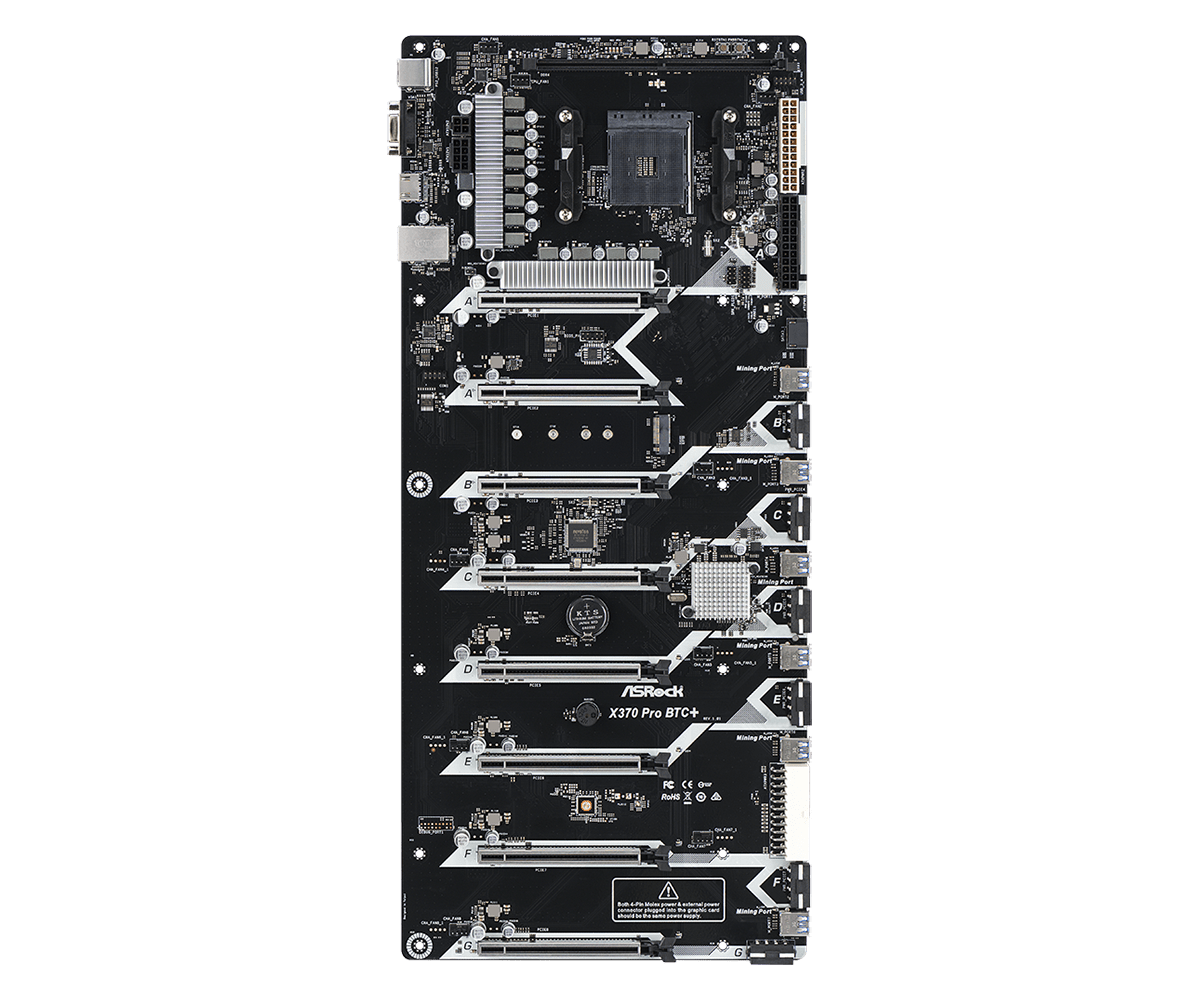 Although the possibility of connecting such a large number of GPUs to one motherboard and looks promising, but there are several details. Modern processors on the Zen architecture do not have an integrated video core. And this means that to configure the Mining Rig you will need to connect an HDMI cable to one of the video cards. Using the APU, on the other hand, limits the number of PCIe lines that we can use. APU Bristol / Raven Ridge were not designed for use on motherboards with as many PCIe slots.
Despite this small nuance, X370 Pro BTC + is a pretty decent addition to the family of Miner's motherboards from AsRock. The AsRock X370 Pro BTC + has 3 * 24-pin ATX power connectors, 8 * 4-pin EPS and several Molex outputs. Thanks to the built-in PowerOn and Reset buttons, the motherboard can be easily operated without installation in a computer case.
In addition to the features described above, there are also some limitations that make this motherboard intended for use only in the crypto currency. The first limitation is the presence of one DDR4 DIMM slot, which means that based on AsRock X370 Pro BTC + does not build a powerful gaming PC. The second limitation is the size of the motherboard. The size is not standard and the motherboard is not suitable for installation in a conventional computer case. The third and last big limitation is the lack of built-in sound.
Will AsRock X370 Pro BTC + be a good purchase in August 2018?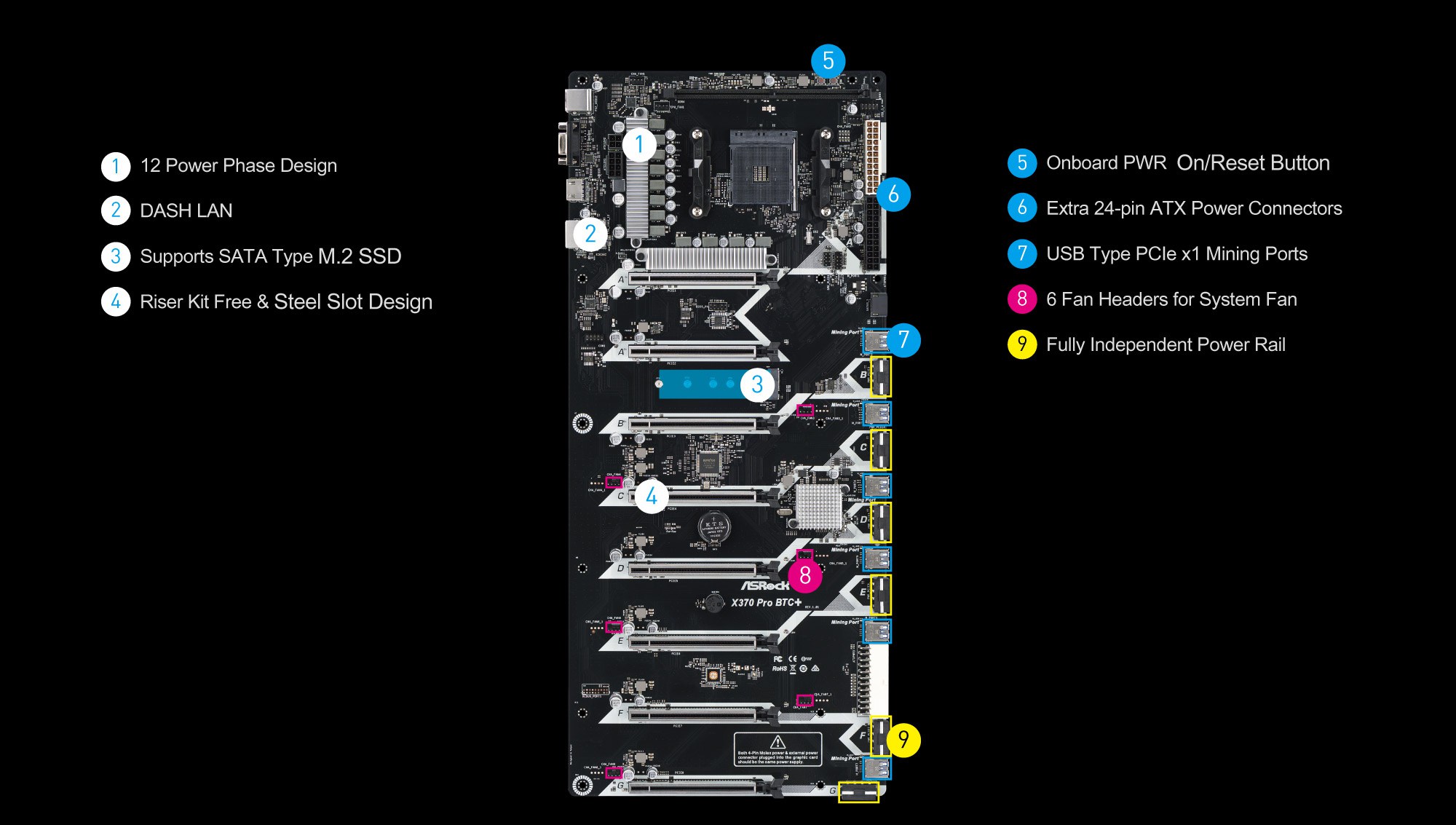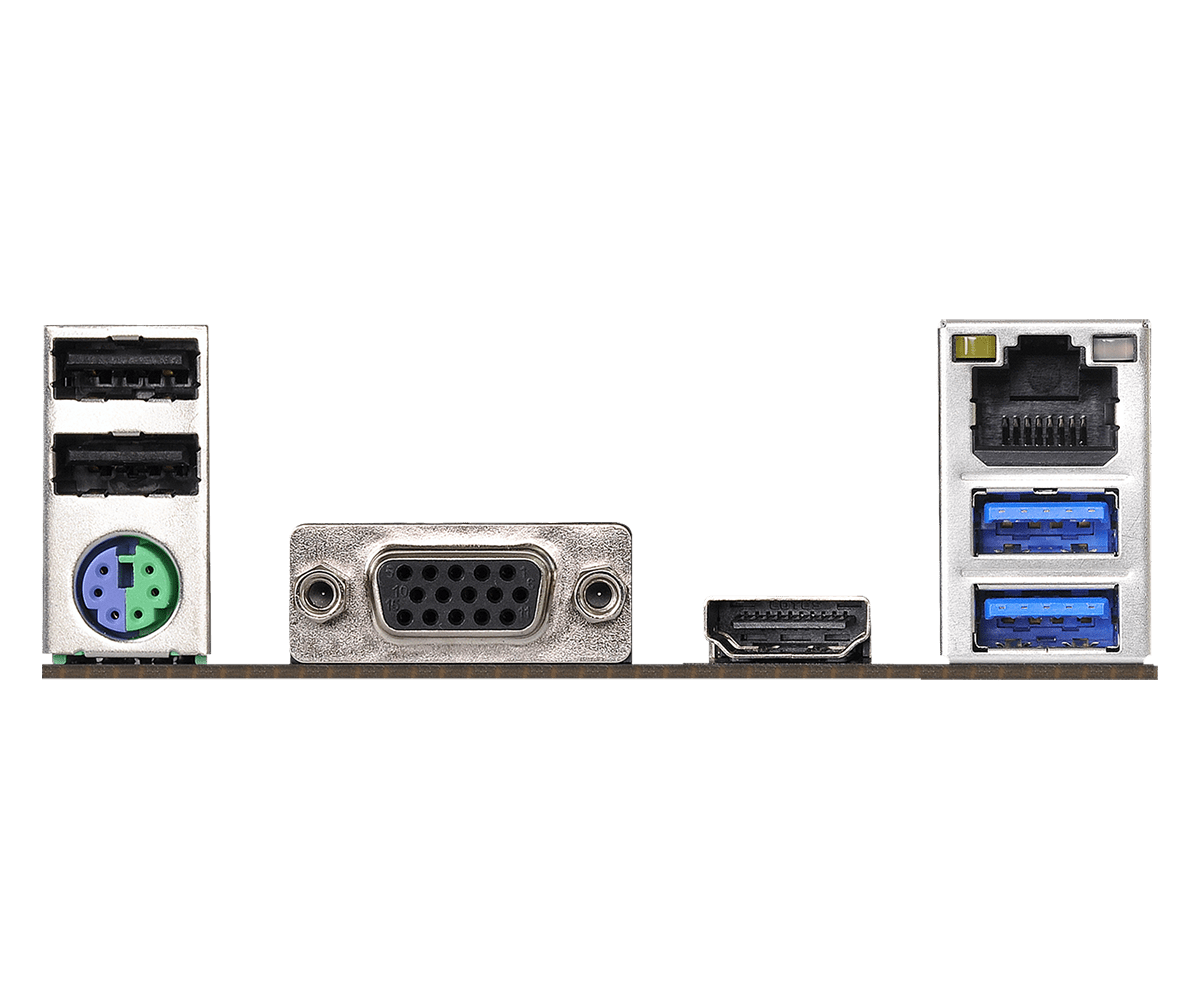 At the moment, the final price of the new board has not yet been announced. At the same time, regardless of how much the novelty will cost, many believe that buying a payment will be a waste of money, because of the current situation in the crypto currency market. Although we support the idea that it is only worthwhile to extract the crypto currency when production is profitable, we also noticed that many people are used to considering mining as a way to make money quickly, which is not always the case.
The recent "boom" in the crypto currency market has too high expectations for most people. Many still connect the crypto currency with the "gold rush" that occurred in 2017. However, the times when it was possible to return their investments in just 3 months have long ago been over. And in the current realities, mining is not a "how fast to get rich" scheme.
PoW mining first of all exists to protect the network of the block system. The award we receive for helping us with this task is designed to be an incentive sufficient to pay electricity and earn a little in the long run.
Unlike the popular opinion that mining "kills" video cards faster than games. When everything is properly assembled and configured, as well as equipment is constantly serviced, it can work out for 4-5 years, so from our point of view the payback within 2-3 years is satisfactory, although not very good.
For example, we are still mining on the R9 280x cards, which are already more than 5 years old and which worked all the time in 24/7 mode in good temperature conditions. While these cards can still be used for games, even modern games will "fly" on them at medium and high settings.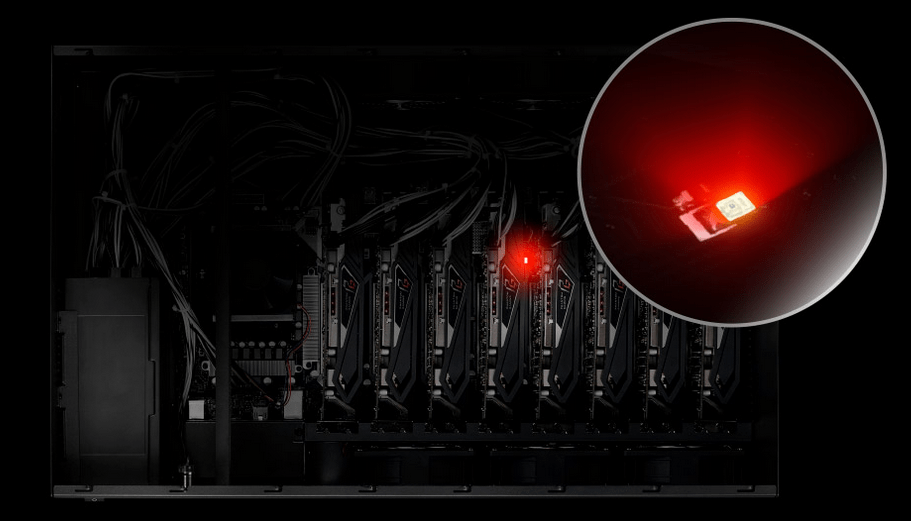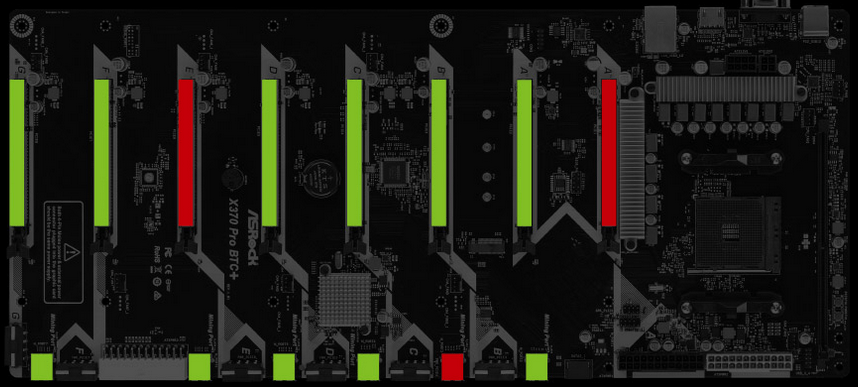 The recommended processor and RAM for AsRock X370 Pro BTC +:
AsRock X370 Pro BTC + is an excellent motherboard that will allow you to use future low-cost AMD Rizen processors. To buy a motherboard with so many slots for video cards should only be if you have enough time and experience to solve the problems of compatibility and errors that arise on your way with the simultaneous launch of such a huge number of GPUs.