LolMiner 0.7 - BEAM mining on GTX1060 3GB and R9 280x video cards
Details

Created: Monday, 28 January 2019 05:05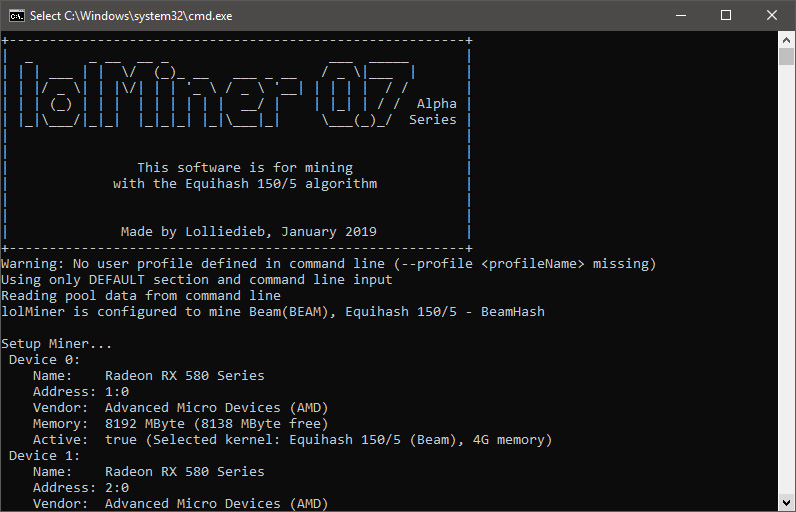 Lolminer is so far the only miner that allows the use of video cards with 3Gb video memory in the mining cryptocurrency Beam, which include the popular GTX 1060 3Gb miners and the almost forgotten legends R9 7970, R9 280x and their analogues. And the old AMD R9 from 2012 is not only nominally able to mine the Beam cryptocurrency, but also generate income from such mining even considering their high power consumption. Lolminer will be appreciated not only by the owners of "vintage" AMD video cards, but also by the owners of modern AMD RX video cards for the high hash rate comparable to Nvidia video cards.
Hashrate videocards AMD and Nvidia when mining BEAM:
HD 7950: 8 sol/s
R9 280: 8-10 sol/s
RX 560: 6.0 sol/s
RX 570: 11.0 sol/s
RX 580: 12.0 sol/s
Vega 56: 19.5 sol/s
Vega 64: 21 sol/s
GTX 1060 3G: 10 sol/s 
GTX 1060 6G: 12 sol/s 
GTX 1070: 16 sol/s 
RTX 2060 20 sol/s
Be careful before turning it on, because the miner is quite voracious and uses the video card to the maximum.
Download the latest version of Lolminer on the Bitcointalk forum.