AMD Ryzen 9 7950X CPU hashrate based on RandomX, Ghostrider, AstroBWT and PufferFish2 algorithms
Details

Created: Tuesday, 11 October 2022 01:11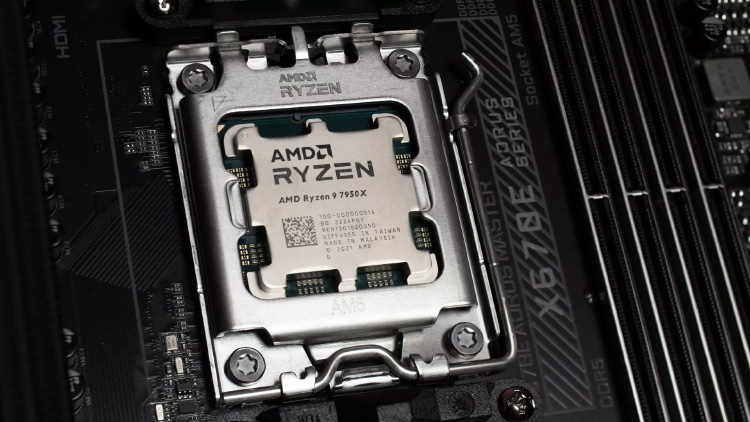 AMD's Ryzen 9 7950X CPU is currently the most powerful consumer CPU available. includes 16 cores and 32 threads running up to a frequency of 5.7Ghz. And at the same time it costs 699 USD, which is 100 USD less than the previous Ryzen 9 5950X model. Which quite reasonably may be of interest to buyers to use this processor for cryptocurrency mining. In order to calculate the economic efficiency of using mining equipment, in addition to the price, you need to know two more important parameters - this is the available hashrate on various mining algorithms and power consumption. If you can find the price on the website of any computer store, then you will learn the hashrate of the AMD Ryzen 7950X processor for the RandomX, Ghostrider, Dero and Bamboo algorithms from this article.
AMD Ryzen 9 7950X hashrate based on RandomX algorithm, Monero cryptocurrency.
Testing was carried out with RAM DDR5 6000Mhz, CL36
Let's start our review today with the most popular algorithm for mining on central processors - RandomX, the Monero cryptocurrency.
Testing was carried out with different settings for frequency and power consumption.
18200H/s - 4,2Ghz, 0,95V, 144W*
20550H/s  - 4,5Ghz, 0,97V, 170W (base operating frequency)
22100H/s  - 5,1Ghz, 1,1V, 217W
22500H/s - 5,3Ghz, 1,25V, 295W
20500H/s - 5,3GHz, 1,25V, 260W, EXPO OFF

*In this and all subsequent tests, the processor frequency is indicated for all 32 threads, power consumption is indicated for the entire bench, and not for the processor separately.
From the above tests, we can conclude that in XMR (Monero) mining, it is possible to achieve the operation of all 16 cores and 32 threads at a frequency of 5.3Ghz with a base parameter of 4.5Ghz, but at the same time, the processor's power consumption increases significantly - almost twice, and the performance increase in mining is only at the level of 10% (growth from 20,500 hashes to 22,500 hashes per second).
It is also worth noting an interesting fact with the disabling of EXPO / XMP profiles for memory. With the EXPO profile disabled, the hashrate in Monero mining is expected to drop, but at the same time, the power consumption of the entire stand also drops, which is why the overall energy efficiency of mining suddenly only grows. So, for example, with the EXPO profile turned on at a frequency of 5.3Ghz, we have an energy efficiency of 76.2H / W, then with the EXPO profile turned off, the energy efficiency is already 78.8H / W. From this we can conclude that with the transition to the new DDR5 memory, the dependence of the hashrate of Ryzen processors on fast memory is no longer as straightforward as it was with DDR4 memory for the Ryzen 3000 and 5000 series CPUs.
AMD Ryzen 9 7950X hashrate based on GhostRider algorithm, Raptoreum cryptocurrency
4442H/s - 4,0Ghz, 0,9V, 96 - 137W EXPO Off
4448H/s  - 4,0Ghz, 0,9V, 107 - 152W EXPO On
5809H/s  - 5,3Ghz, 1,25V, 182 - 316W EXPO Off
AMD Ryzen 9 7950X hashrate on AstroBWT algorithm, Dero cryptocurrency (Dero miner)
15,6Kh/s - 4,0Ghz, 0,9V, 128W EXPO Off
15,6KH/s  - 4,0Ghz, 0,9V, 141W EXPO On
20,5KH/s  - 5,3Ghz, 1,25V, 295W EXPO Off

AMD Ryzen 9 7950X hashrate based on PufferFish2 algorithm Bamboo cryptocurrency (SRBminer)
3,2Kh/s - 4,05Ghz, 0,9V, 122W EXPO Off
3,2KH/s  - 4,05Ghz, 0,9V, 132W EXPO On
4,2KH/s  - 5,3Ghz, 1,25V, 265W EXPO Off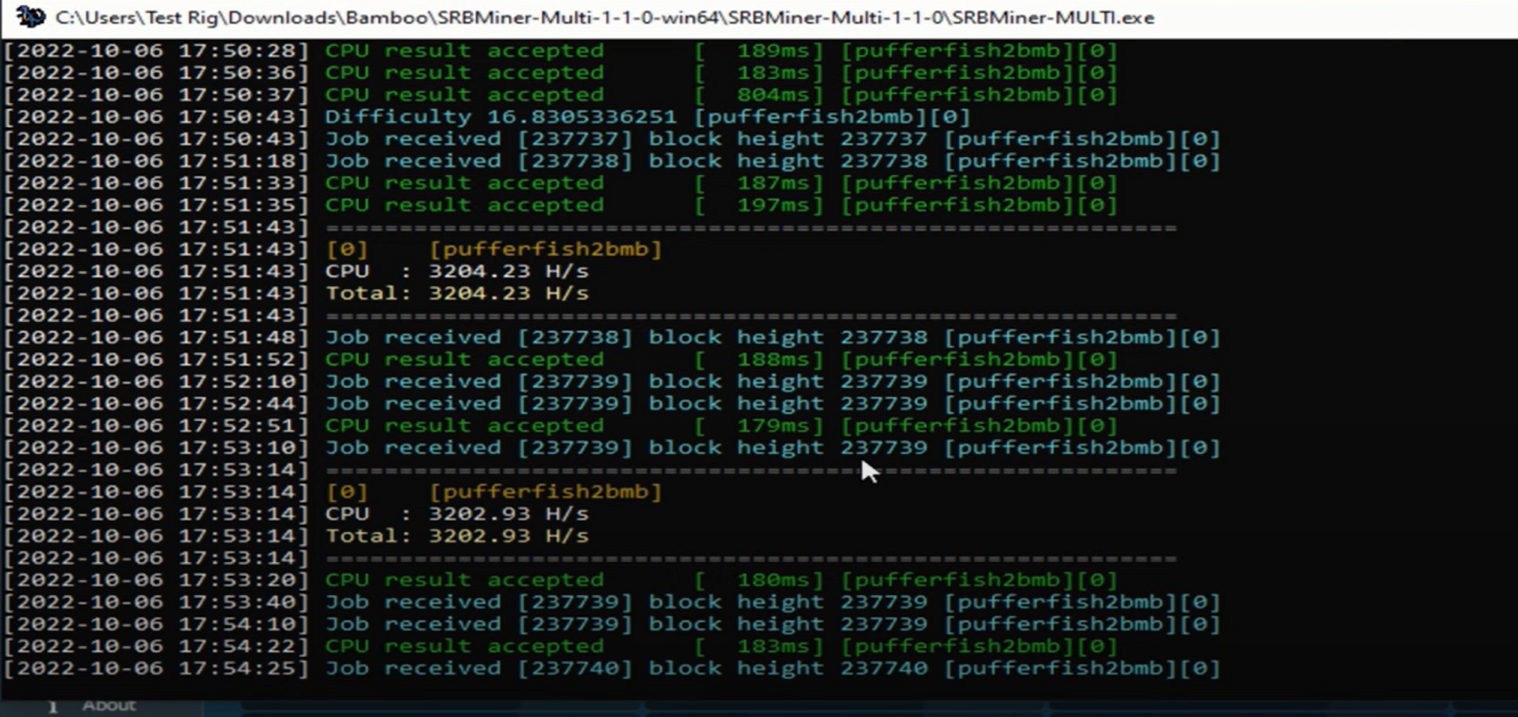 Conclusion: With the release of the AMD Ryzen 9 7950X CPU, we have a new leader among consumer processors in cryptocurrency mining computing tasks. Which displaced its predecessor Ryzen 9 5950X from the first line of the rating. Compared to the previous generation, a decrease in the dependence of the hashrate on the speed of the RAM can be noted. In all algorithms, except for RandomX, disabling the EXPO profile for RAM, a decrease in the power consumption of the test bench without a drop in hashrate is noted. You can calculate the profitability of mining on the CPU on the website Profit-mine.com