Nvidia Geforce RTX 4070 hashrate in cryptocurrency mining
Details

Created: Wednesday, 19 April 2023 02:00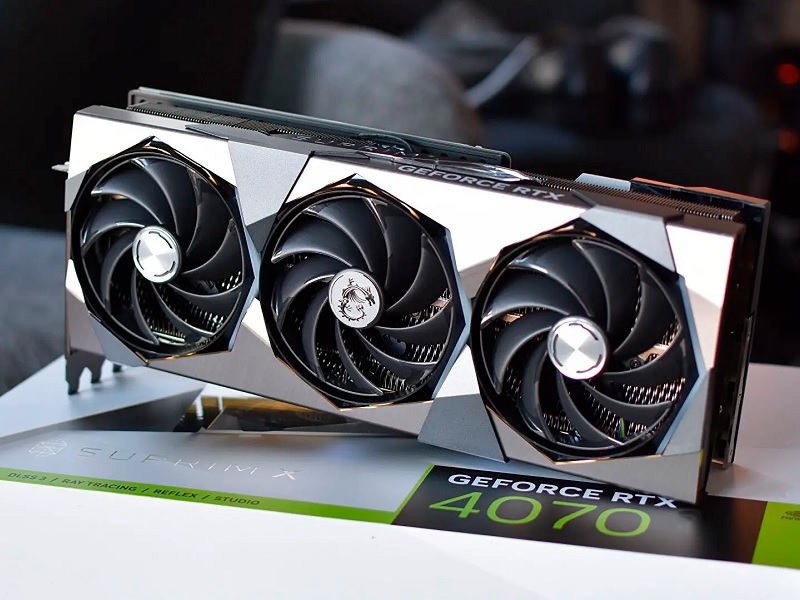 Nvidia has launched the next Ada Lovelace RTX 4070 generation graphics card, which may be of significant interest to miners due to the growing popularity of mining cryptocurrencies with an emphasis on pure GPU performance: Nexa, Kaspa and others. If the RTX 4070 can offer the same mining efficiency as its older brethren, then it could be the best choice for miners, as has been the case with previous mid-range Nvidia graphics cards. Actually, this is what we will try to find out and evaluate the RTX 4070 video card as a tool for cryptocurrency mining, and not a gaming solution.
But first, a few technical characteristics of the RTX 4070 in comparison with other video card models.
Specifications
RTX 4070
RTX 4070 Ti
RTX 4080
RTX 3070
RTX 3070 Ti
RTX 3080
Release date
 13.04.2023
05.01.2023
16.11.2022
29.09.2020
10.06.2021
17.09.2020
Frequency GPU (BOOST) MHz
 1920 (2475)
2310 (2610) 
2210 (2505) 
1500 (1725)
1580(11770)
1440 (1710)
Cuda Cores
 5888
7680
9728
5888
6144
8704
GFLOPS FP32
 29150
 40090
48740
20314
21750
29768
Memory
 12Gb GDDR6X
12GB GDDR6X
16Gb GDDR6X
8Gb GDDR6
8GB GDDR6X
10Gb GDDR6X
Memory bus width
 192
 192
256
256bit
256bit
320bit
Total memory bandwidth
 504
504
716
448Gbit/s
608Gbit/s
760Gbit/s
Power usage
 200W
285W
320W
220W
290W
320W
Announced price, USD
 599 USD
799 USD
1199 USD
499 USD
599 USD
699 USD
 
 
 
 
 
 
 
Etchash Hashrate

 63Mh/s

124W

 65Mh/s

126W

 91Mh/s

182W

60-65Mh/s

135W

75-81Mh/s

190W

95-110Mh/s

240W

Kaspa Hashrate

 878Mh/s

105W

 1150Mh/s

131W

 1450Mh/s

203W

 560Mh/s

105W

 620Mh/s

120W

 910Mh/s

190W
Test results of Nvidia Geforce RTX 4070 on other mining algorithms:
ETHash/ETChash (Ethereum classic): 63Mh/s 124W
KheavyHash (Kaspa): 878 Mh/s 105W
KawPow (Ravencoin): 33Mh/s 160W
Zelhash (Flux): 67H/s 124W
NexaPow (Nexa): 122Mh/s 173W
Autolykos2 (Ergo): 134Mh/s 83W
DynexSolve (Dynex): 2.9Mh/s 55W
Radiant (Radiant): 1.2GH/s 105W
Blake3 (Alephium): 1.84Gh/s 116W
ERGO (autolykos2): 132Mh/s 100W
Conclusion: If we compare two generations of Nvidia RTX 3000 and RTX 4000 video cards, we can conclude that with the new generation RTX 4000 on GPU-dependent algorithms (Kaspa), a significant increase in hashrate is noticeable. Which is not surprising, since it was the GPU that received the main improvements compared to the RTX 3000. Unfortunately, the RTX 4070 video card not only received improvements in the form of more modern GDDR6X memory and a larger 12GB instead of 8Gb for the RTX 3070, but also received a narrower 192-bit memory bus instead of 256. What affected not in the best way the memory dependent algorithms (Ethash, ETChash). Actually, this can be seen from the results, where the RTX 4070 shows the same 60-65MH / s as the RTX3070, but with lower power consumption.
But in GPU-dependent algorithms (Kaspa), the new RTX 4070, like all new Nvidia video cards, shows a hashrate increase of more than 50% with the same power consumption. If we compare the price per MH using the kHeavyHash algorithm, then among the released models of 4000 series video cards, the RTX 4070 will not have the worst price: 0.68 USD/MH. For comparison, RTX 4070 Ti has a price per megahash of 0.69 USD/MH, RTX 4080 has 0.82 USD/MH, but RTX 4090 is a little out of the general trend, when the price per MH does not decrease in more expensive models, but vice versa grows, showing a result of 0.65 USD/MH.
Summing up, we can say that if you take the RTX 4070 video card with an eye on mining GPU dependent algorithms, then this will be a good choice in terms of price / hashrate, however, like the entire line of RTX 4000 video cards. For ETHash algorithms and its derivatives, the RTX 4070 no longer looks so presentable, especially given its price compared to last year's RTX 3070 and even more so the RTX 3070 Ti.
There is, of course, the RTX 4090 video card, which breaks all the patterns, and if you find this video card at a good price and are ready to put up with its hot temper, then today the RTX 4090 will not only be the ultimate cryptocurrency mining solution, but also one of the the most profitable in terms of return on investment.