Nvidia Announces GPUs for "Professional Mining" Cryptocurrencies
Details

Created: Friday, 19 February 2021 10:36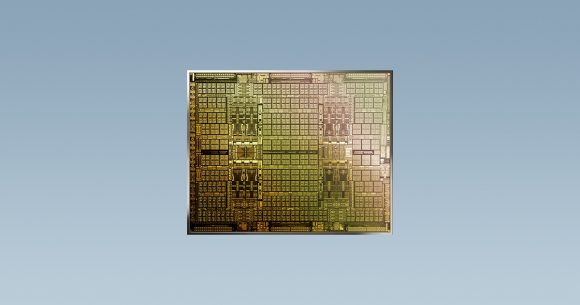 The latest news regarding Nvidia may be of interest to both miners and gamers, and Nvidia appears to be trying to take drastic measures to make gaming GPUs available to gamers. With the upcoming release of new Geforce RTX 3060 graphics cards on February 25, the company wants to make sure the new graphics cards can go public rather than being bought out by miners before they hit store shelves. The upcoming drivers for Geforce RTX 3060 will detect Ethereum mining-specific operating modes and will limit hashrate and mining performance by about 50%. Thus, you will only get 50% of the performance when mining cryptocurrencies than if the video card was working at full strength. For RTX 3060, the expected hash rate on Ethash is in the region of 40-45 MH / s (using memory overclocking) and if the drivers cut the hash rate of the video card by 2 times, you will only get 20-22.5 MH / s, and at a rather high price. This fact will make Nvidia RTX 3060 processors completely unattractive for cryptocurrency miners and video cards will appear on sale at more or less normal prices for players, and most importantly, they can be bought in regular stores, unless, of course, mining enthusiasts find a solution to bypass the performance blocking for RTX 3060.
In addition to this fact, the company is going to introduce special GPUs for mining Nvidia CMP HX as a solution for cryptocurrency miners (in particular for mining Ethereum and Ethereum Classic). There will be no video outputs in the line of GPUs for mining, so they will not be of interest to gamers.
Nvidia has announced 4 new dedicated GPUs for mining, two of which will be available in the first quarter of this year, and the rest are planned for the second quarter. The Nvidia CMP 30HX GPU for mining will provide a hash rate of about 26 MH / s with a power consumption of about 125W and will be shipped in a configuration with 6GB of video memory. Nvidia CMP 40HX: Provides 36 MH / s @ 185W with 8GB installed. These two models will be available at the beginning of the year. The remaining two models are Nvidia CMP 50HX with 45 Mh / s at 250 W with 10 GB of memory and Nvidia CMP 90HX with 86 MH / s at 320 W consumption and 10 GB of memory on board.
Considering Nvidia's announced GPU specifications for mining, they probably won't be as interesting for miners as Nvidia would like. (Unless, of course, they are much cheaper than analogs from the gaming segment). In comparison, the RTX 3060Ti and RTX 3070 currently deliver around 60 MH / s at 120-140 watts (overclocking and downvolting) and 50+ Mh / s at stock settings. In fact, this makes future video cards "for miners" 30HX, 40HX and 50HX not very interesting for mining cryptocurrencies, unless of course their price is much lower than gaming counterparts that offer a comparable hash rate. As a result, only one card, namely the 90HX (which will most likely be based on the RTX 3080 and which will possibly be equipped with high-speed GDDR6X memory) may have any chance of becoming popular with miners. It is almost impossible to find an RTX 3080 on sale at an adequate price now, and this is not surprising, because it boasts a hash rate of up to 95 MH / s with a consumption of 240W if properly configured and optimized. RTX 3090 after overclocking and undervolting, so generally shows up to 120 MH / s at 300 watts.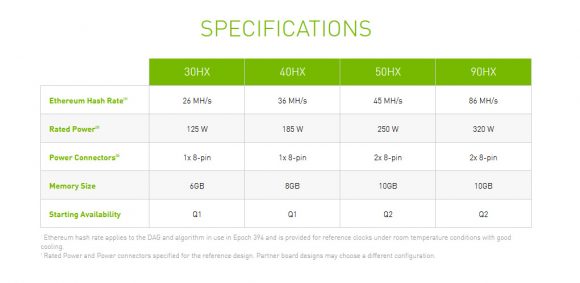 As a result, we can only wait and see at what prices the new items will come out, as well as look at the prices and availability of gaming solutions from Nvidia. Nvidia already had a track record of releasing "mining solutions" in 2017 and then they did not become very popular among miners. This was due to the fact that the prices for "miner video cards" were comparable to gaming ones, they did not give any special advantage in hash rate compared to gaming GPUs (these were in fact defective gaming solutions with disabled parts that are responsible for displaying the image, yes also with a shortened warranty period), and most importantly, they were little liquid in the secondary market, because such a video card can no longer be sold to gamers after several years of mining, and you cannot recoup half of its price (as most miners are used to doing).
It is quite possible that this time Nvidia has made some conclusions for itself and will present competitive products at adequate prices. In addition, we hope that the new items will have a normal warranty of 1-3 years, as for gaming video cards, and not 3-6 months ... Read more about the new items on the official Nvidia website.