Nvidia CMP 30HX mining graphics card goes on sale
Details

Created: Tuesday, 13 April 2021 04:38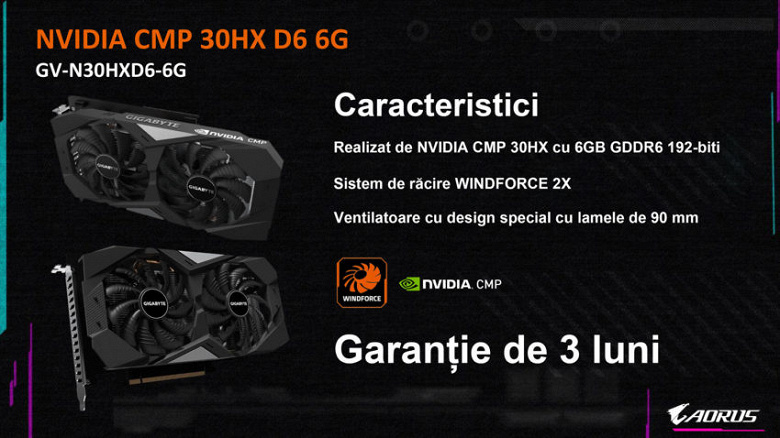 In February, Nvidia announced the launch of a line of specialized video cards for mining called Nvidia CMP. This line of mining devices includes 4 models: CMP 30HX, CMP 40HX, CMP 50HX and CMP 90HX. Two months later, the first and simplest model of a video card for mining Nvidia CMP 30HX appeared in stores.The first video card in the CMP line was a model from vendor Gigabyte called CMP 30HX D6 6G with a declared hashrate on the Ethash algorithm of 26MH / s, which corresponds to Geforce GTX 1660 Super video cards and GTX 1660 Ti.
Sales of Gigabyte CMP 30HX D6 6G began in Romania at a price of 2.975 Lei or 720 USD. This model has a limited warranty of 3 months and does not have video outputs, which is not critical for mining, but completely excludes the use of such models of video cards for ordinary computers.
For comparison, the Nvidia Geforce GTX 1660 Super video card, similar in performance in mining, is now sold even cheaper, although it has a recommended price of 230 USD. But at the same time, you have a full set of video outputs and a 1-3 year warranty (depending on the model and manufacturer).
Therefore, the new line of Nvidia CMP video cards released to reduce the demand from miners for conventional video cards, according to Nvidia, most likely pursues completely different goals, namely the official increase in the selling price for video cards by Nvidia itself. And instead of gaming models of video cards, their cheaper counterparts went into production, but at a price doubled. At the same time, the shortage of gaming video cards will most likely only increase, since production capacities are limited, and it doesn't seem logical to release a GTX 1660 Super video card instead of the CMP 30HX, which is half the price. I think you yourself have guessed which models of video cards will be given priority to the manufacturer's conveyor capacities while there is an increased demand from cryptocurrency miners for video cards.