Bitmain XMR Miner X5 - an ASIC miner for the RandomX algorithm
Details

Created: Tuesday, 29 August 2023 00:35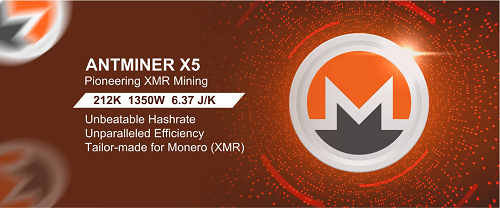 Bitmain has announced the first ASIC miner for mining the cryptocurrency Monero using the RandomX algorithm. The RandomX algorithm itself is considered GPU and ASIC resistant and is designed for mining on central processing units (CPUs). For comparison, an RTX 3090 graphics card achieves 2KH/s on this algorithm with a power consumption of 290W, which is equivalent to a mobile Intel i7 1250U processor consuming 9W. If we take a modern desktop processor like the AMD Ryzen 9 7950X, its hash rate on the RandomX algorithm would be 26KH/s with a power consumption of 200W. In other words, prior to the appearance of the first ASICs, RandomX was intended exclusively for CPU mining, and whether Bitmain has managed to change this assertion will be revealed further in this article.
Let's start with the technical specifications of the XMR Miner X5:
Algorithm: RandomX
Hash Rate: 212Kh/s
Power Consumption: 1350W
Energy Efficiency: 6.37W/KH
Cooling: Air cooling
Dimensions: 428195290
Price: Unknown
Delivery: September 2023
For more details, visit the official Bitmain website.
To assess the success of the initial ASIC miners for the RandomX mining algorithm, let's compare the energy efficiency of this device with processors and graphics cards.
Geforce RTX 3090 - 145W/KH Ryzen 9 7950X - 7.69W/KH XMR Miner X5 - 6.37W/KH
As seen from the comparison, the new ASIC miner does not offer a significantly better energy efficiency for Monero cryptocurrency mining. Therefore, the introduction of Monero ASICs won't bring about significant changes for current miners.
According to the company's statements, the ASIC is developed based on RISC-V architecture processors

The success of this new product will depend on the price of the XMR Miner X5. If it competes well with the cost of assembling regular PCs with the same hash rate, it could be considered for purchase due to the simpler management of a single ASIC compared to multiple PC assemblies.
However, since Bitmain is offering a $1000 USD discount to those who come closest to guessing the price of the new ASIC on Twitter, we wouldn't hold high hopes for a low price on the XMR Miner X5.