BitCash (BITC) - the new interesting crypto-project
Details

Created: Thursday, 20 September 2018 02:52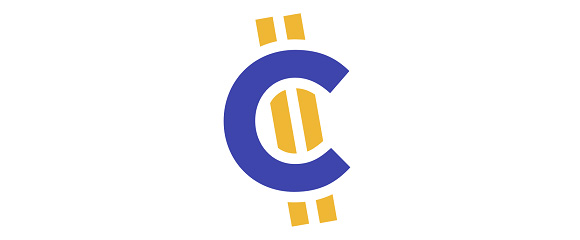 BitCash (BITC) - this is a new interesting cryptoproject that combines the power of Blockchain technology with the features of banking in order to create the most suitable for use by ordinary people crypto currency. The BitCash project combines the advantages of crypto currency (speed, confidentiality, decentralization, low commissions) with traditional phyto banking systems (transaction records, account names, electronic reports, integration with accounting software), which makes this project quite interesting for that , to monitor its further development.
In addition, if you are looking for new interesting coins for mining, you can try to mine BitCash. For the extraction of BITC, the same algorithm is used as in mining Merit, about which we spoke recently, but in the Coughoo algorithm for BitCash the value Edgebit 27 is used, and not 26, as in the case with Merit. As a result, you will need a specific miner for BitCash (BITC) and you will get a much lower compared to Merit hash due to the difference in the parameters of the algorithms. Unfortunately, the official miner for Merit will not work for you, but there is already a third-party miner who supports the extraction of both coins and Merit and BitCash.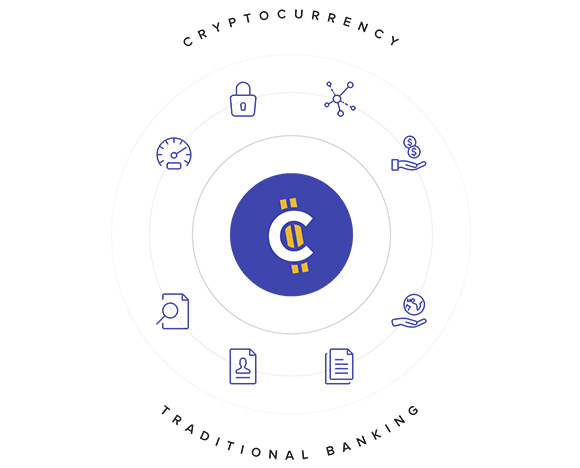 Although BitCash uses the same production algorithm as Merit, the concepts of these projects are very different, so BitCash can not be considered just a fork Merit. BitCash has a maximum number of coins of 100,000,000 BITCs, an average blocking time of 1 minute, and a fee per block is generally 21.5 BITC. However, there are 9.7% of preamps and 10% of the reward for the block comes to the developers. In addition, there is no Proof-of-Growth and Proof-of-Stake mining, so coins can be largely namaineny and sold out, although at the moment there are no exchanges that would support the trade of BITC. At the moment, the project only a couple of days and its ecosystem is just beginning to develop. If you are interested in buying or selling BITC you can do it on the official channel of the project on Discord.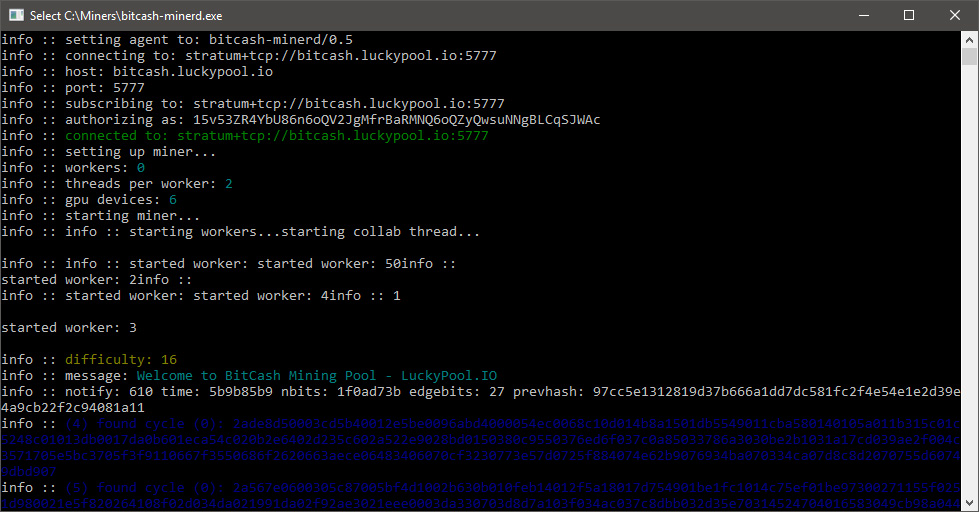 If you have previously obtained Merit, then most likely you will already be familiar with the official BitCash miner. This is essentially the same software with minor changes, and it only works on NVIDIA graphics processors. Unfortunately, at the moment there is no miner for the Cuckoo algorithm for video cards from AMD. BitCash minerd produces about half the hash, compared to the Merit miner. This is due to the various parameters of the algorithm, so do not worry if you see a lower performance of your equipment compared to the production of Merit. It should also be noted that BitCash extraction is quite dependent on the CPU, so when using slower processors in the system, the hashtrack will be lower than using a rig with a more powerful CPU. In addition, due to a weak processor, there may be problems with the stability of the work of the miner.
An example of using a .bat file with a rig with a 6-GPU:
:loop
start bitcash-minerd.exe --url stratum+tcp://bitcash.luckypool.io:5777 --address YOUR_WALLET_ADDRESS --gpu 0 1 2 3 4 5 --cores 0
wmic process where name="bitcash-minerd.exe" CALL setpriority 16384
timeout /t 1800
taskkill /f /im bitcash-minerd.exe
goto loop
You can download the official bitcash-minerd.exe for Windows, there is also a version for Linux (Ubuntu 18.04 and Ubuntu 16.04). Please note that the miner requires NVIDIA graphics processors with at least 4 GB of memory, as well as a fresh version of the Nvidia drivers installed in the system.
Here is the list of currently available pools for BitCash. It is better to mine using a pool, since solo mining may soon become meaningless.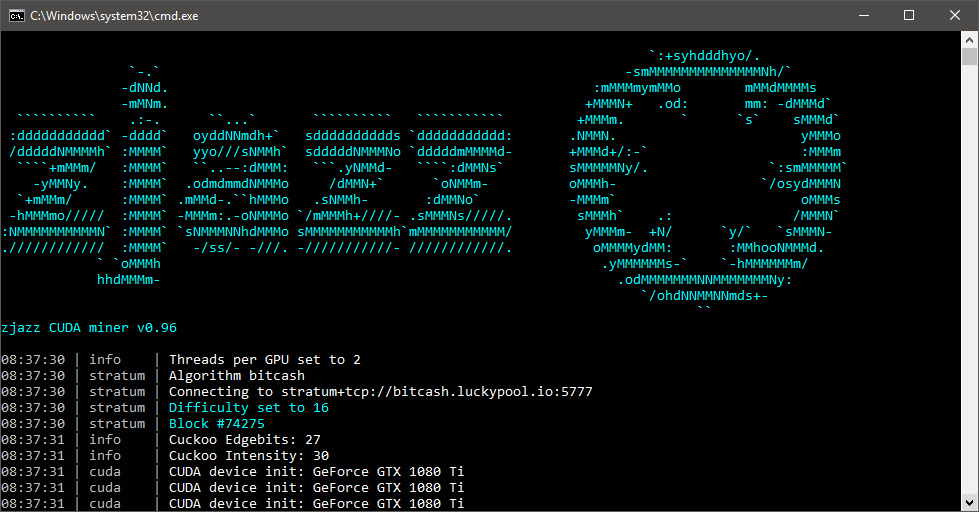 Yesterday zjazz released an update for its Zjazz Cuda Miner for the Cuckoo cycle algorithm, adding support BitCash (BITC) to previously available supportMerit. Zjazz cuda miner - this software is for mining with closed source code, available as binaries for Windows and Linux. Zjazz cuda miner offers much more opportunities to increase production productivity with slower or faster CPUs, compared to the official miners for BitCash and Merit. Although for this he takes 2% commission of the developer. Keep in mind that the miner is still an early version and is in the process of further development, so you may have technical problems using this software, although from our point of view it is much faster and more stable than the official version of the miner.