New Z-enemy 1.22 miner with support CUDA 10 and GPU RTX2080-2080Ti
Details

Created: Monday, 08 October 2018 03:23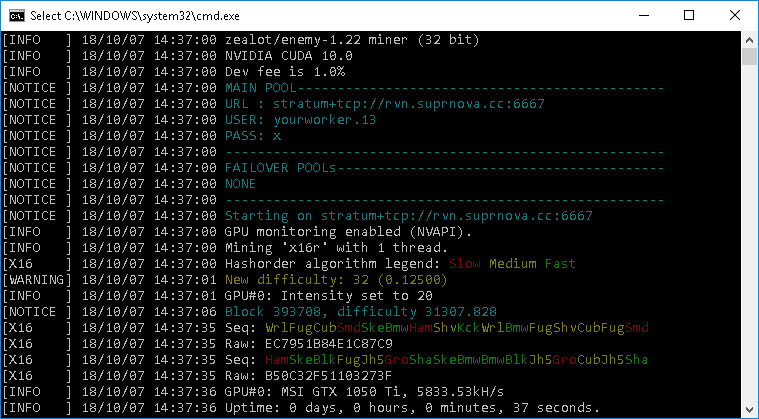 Great news for owners of new NVIDIA Gegorce RTX 2080 and RTX 2080 Ti GPUs. An updated version of the popular NVIDIA GPU miner Z-enemy 1.22 has been released with experimental support for CUDA 10 and the next-generation NVIDIA video cards Turing.
Support for the new CUDA 10 should improve the speed and stability of working with the RTX 2080 and 2080 TI, which are also able to work with old CUDA binary files, but do not provide maximum performance. In addition, the new version of the miner has increased the productivity of production by about 2-5% for most of the supported algorithms. (HEX, X16, X17, Bitcore, C11, etc.)
Keep in mind that the CUDA 10 version, both 32 and 64-bit, should work faster in most algorithms even on older AMD graphics processors. However, you should make sure that the latest drivers are installed on your rigs (the minimum required version is 415 or newer).
The latest version of Z-enemy 1.22 is available for CUDA 9.1, 9.2 and CUDA 10 for 32 and 64-bit versions of Windows, as well as for CUDA 9.0, 9.1, 9.2 and CUDA 10 for Linux (HiveOs, PiMP OS, EthOS, Ubuntu). We remind you that the miner Z-enemy has a closed source code and is available only as executable files, contains 1% developer fee to support the further development of this software.
Download z-enemy 1.22 for Windows:
Download z-enemy 1.22 for Linux (HiveOs, PiMP OS, EthOS, Ubuntu):