BITEXBOOK and TRON signed a cooperation agreement
Details

Created: Thursday, 15 November 2018 02:19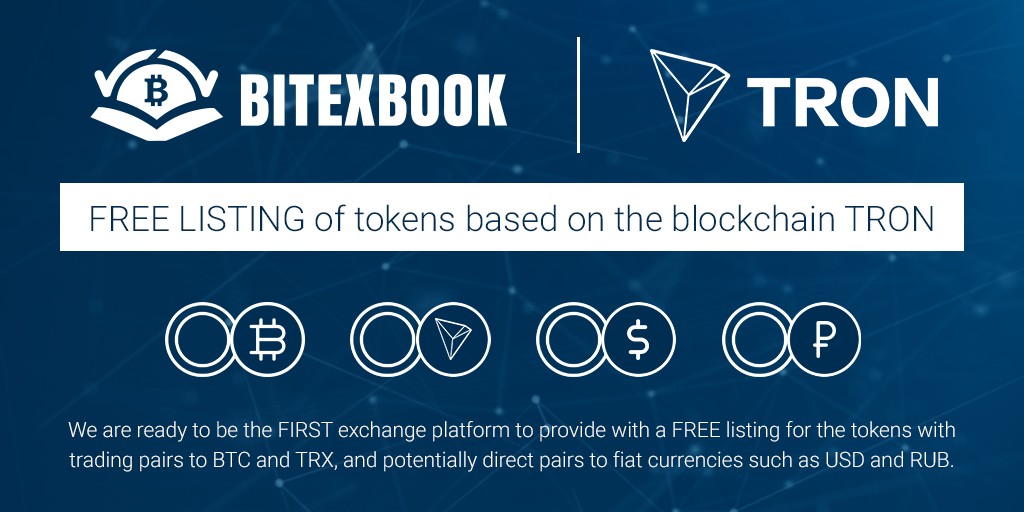 We have previously reported that on November 2, Bitexbook Exchange concluded a partnership agreement with the TRON Foundation. Today we would like to talk about it in more detail.
Having developed joint steps to develop partnerships, the exchange has assumed obligations for a free listing of tokens based on the blockchain TRON, which have successfully passed the ICO stage and have proven themselves on the positive side:
- The team actively participates in communication with its community;
- Corresponds to and follows the declared Rodmapu;
- has a mature and promising product that allows you to further carry out a full-fledged launch of the project.

For these projects, we are ready to act as the FIRST exchange platform and provide them with a FREE listing to BTC and TRX, and in the future, direct pairs to fiat currency USD and RUB. This step will allow these tokens to bring their projects to a new level and get access to investors who work mainly with classical fiat and cryptoresources (USD, RUB, BTC, ETH, etc.). Our exchange provides the ability to deposit and withdraw using payment cards Visa, Mastercard, MIR, as well as electronic money systems such as Webmoney, Ya.Money, Kiwi, etc.
We look forward to working with partners such as TRON. As for the future, we hope to establish close cooperation, which could expand and grow.