The best mining pools for Ethereum. Selection by parameters
Details

Created: Thursday, 12 November 2020 01:07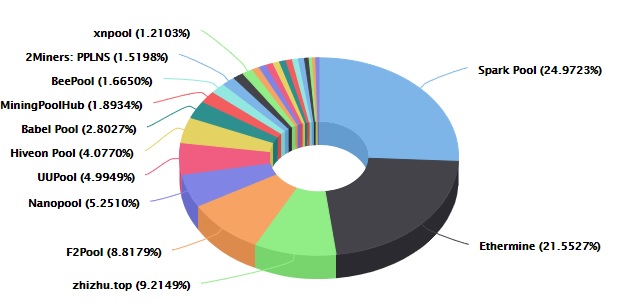 Ethereum cryptocurrency is the most popular among miners, because for a long period of time remains one of the most profitable cryptocurrencies for mining on video cards. Actually, over the past 5 years, all miners began their journey precisely with an acquaintance with the Ethereum cryptocurrency. And one of the problems that a novice Ethereum miner faced was the choice of a mining pool. In this article, we will compare the top 10 ETH co-mining pools and help you choose your best option.
You can determine a good Ethereum pool from a mediocre one by the following parameters:
Pool hashrate
Reward system
Commission size
Server location (ping)
Ease of use
We have already talked about all these parameters in more detail in the material: How to choose a cryptocurrency mining pool
Therefore, we will not dwell on the description of all the parameters of mining pools this time, but we will immediately proceed to a direct comparison of the top 10 Ethereum mining pools at the end of 2020.
Options
Sparkpool
Ethermine

(ZhiZhu.top)

F2pool
xnpool
Since year
2018
 2016
 2018
 2013
 2017
 2017
 2014
 2018
 2017
 2017
Hasharate
64,3Th/s
58,4TH/s
24Th/s
23,1Th/s
 15,1Th/s
10,1Th/s
5,2Th/s
4,8Th/s
3,3Th/s
 3Th/s
% network
27,6%
25%
10,3%
9,9%
6,5%
 4,3%
 2,2%
 2%
 1,4%
 1,3%
Payment type*
 PPS+
 PPLNS
 PPS+
 PPS+
 PPLNS
 PPS+
 PPLNS
 PPS/PPLNS
 PPS+
 PPLNS/Solo
Min. pay
 0,01ETH
 0,05ETH
 0,1ETH
 0,1ETH
 0,05ETH
 0,1ETH
 ?
 0,08ETH
 ?
 0,05ETH
Commission
 1%
 1%
 2%
 2%
 1%
 0-3%**
 1%
 1%
 1%
 1%
UNCLE payout
+
+
?
 +
+ 
?
?
?
 ?
?

Commissions

payout

+
+ 
? 
 +
+
? 
? 
? 
? 
? 
Mobile APP
+
+
 +
 +
+
 +
 -
 -
-
 -
SSL
+
+
 -
 -
+
 +
 -
 +
?
 +
Stratum
+
+
 +
 +
+ 
 +
 +
 +
? 
 +
registration
+
-
 +
 +
-
 +
 +
 +
 +
 -
Server

China

South asia

Korea

Japan

Europe

Asia

USA East

USA West

China

China

Europe

North

America

Europe

USA East

USA West

Japan

Asia

Australia

Russia

Europe

Asia

North

America

USA

Europe

Asia

 China
China

USA

Europe

Asia
* You can read more about the types of payments on mining pools in this article.
** HiveOn pool works in conjunction with the HiveOS operating system, which offers free maintenance for up to 4 rigs. With a larger number of rigs, the commission is 3% or the fee is 3USD per month from each rig.
Now let's discuss which parameters you should pay attention to in the first place, and which can be omitted, so that the choice of a pool for Ethereum mining would be optimal for you.
We also recommend that you familiarize yourself with the new Ethereum Binance Pool (0% commission, instant entry to the Binance exchange without commissions and Pool Savings with a charge of up to 30% for storing cryptocurrency.) 
Choosing a mining pool Ethereum by parameters
First of all, pay attention to the pool hashrate, because the higher the hash rate, the more stable you will receive income from mining. On large pools, mining income will tend to the calculated data on mining calculator sites. You can also ignore the type of payment PPS + or PPLNS for large pools if you plan to mine Ethereum in the long term, and not jump from pool to pool.
The second most important parameter is the payment of commissions and UNCLE, because often, on the Ethereum network, commissions can be several times higher than the standard block reward. Unfortunately, almost all pools do not indicate information on commission payments to miners, so you need to check it yourself or look for information on the forms. In the table, we indicated a "+" for commission payments by those pools where it is indicated directly, or we personally used one or another pool. For other pools, we cannot give exact information on this type of payments, but most likely they all pay commissions and UNCLE to their miners, otherwise they would simply not be on this list.
The next most important parameter is finding the server. The closer the server is to you, the less delays there will be when transferring a ball and the less chance that the pool will reject your balls as being late (Stale share). For European countries, it is logical to choose a server in Europe, it is better for a miner from the USA to opt for a pool with a server in the USA. If you have a lot of Stale balls during mining, then it is recommended to change the server on the pool or the pool itself.
Commission is also an equally important parameter, as it directly affects your mining income. Accordingly, the lower the commission, the better.
If you have a small power for Ethereum mining, then pay attention to the size of the minimum payment, i.e. the lower the minimum payout, the more often you will receive the earned ethers to your wallet.
STRATUM is a protocol that tells your mining rigs that a block is in the network, thereby preventing unnecessary work of finding a ball for an already found block. Used on all pools.
SSL - traffic encryption, use encrypted pools if you really need it.
Registration - pools without registration are more anonymous because there is no need to specify your email, but they usually have less functionality compared to pools that have registration.
As a result, for mining Ethereum, you can use any of the top 10 Ethereum hashrate pools, depending on your location and other preferences.